Clam chowder is probably something you wouldn't expect to be veganised, or at least not well. But you may be pleasantly surprised.
Traditional clam chowder has a creamy base, chewy texture, incorporating potatoes, and a fishy undertone.
This vegan clam chowder recipe is so close to the original, you'd genuinely question whether you're eating plant-based food when you try it.
What do you need for a vegan clam chowder?
Oyster mushrooms
Onion
Potato
Butter
Oat milk
Oat cream (no soya or alternative vegan creams, they don't mix as well)
Veggie stock
Bladderwrack powder
Salt
The oyster mushrooms are the perfect texture to emulate the clams without including actual clams.
The bladderwrack powder provides a solid "sea" taste which creates more authenticity for any sceptic.
The first time I made this it didn't last long, at all, I ate 2 bowls one after the other LOL.
What makes a good (no) clam chowder?
A good vegan chowder is rich, creamy and tasty. Seasoned with minimal ingredients and making the oyster mushrooms the star of the show.
This vegan clam chowder recipe is ideal for cold winter days and evenings indoors, where you'd need a toasty broth to keep you cosy. This recipe also works great as a starter, just make sure you serve a small portion, as it is rather heavy.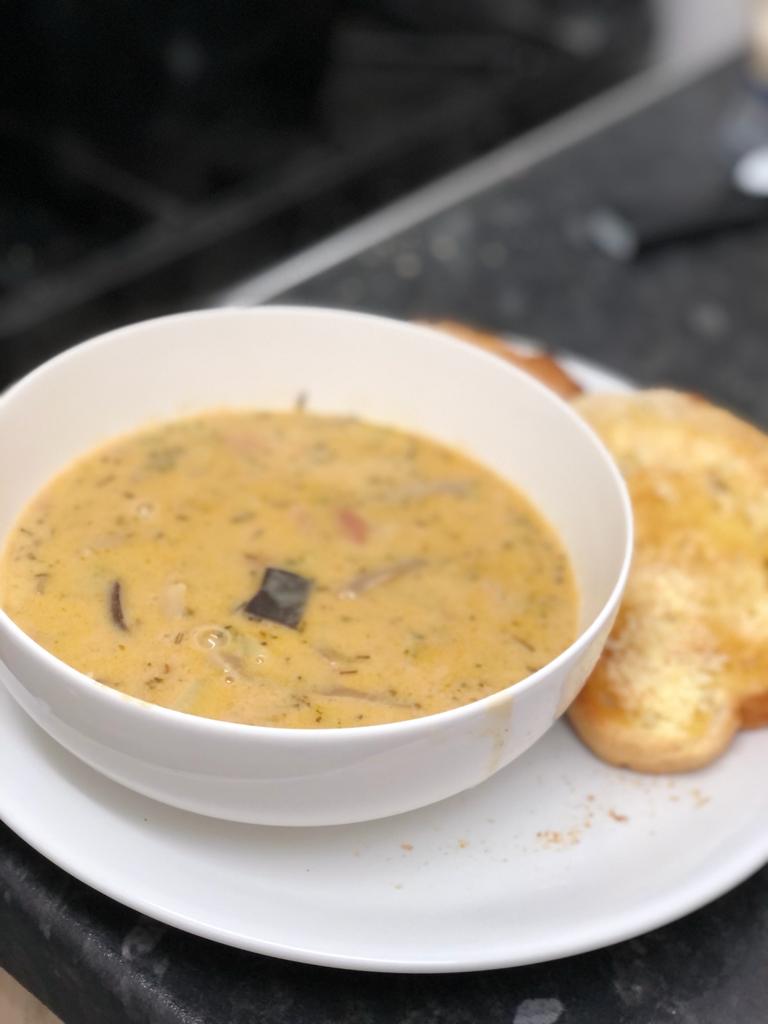 What pairs well with it?
You may want to keep it simple and pair your veganised clam chowder with a side salad, or a light side like our crispy onion bhajis. I personally prefer it on its own or pair it with a vegan grilled cheese or something.
The simpler the better, but a sandwich works well. In general soups pair well with sandwiches, I chose some tiger bread toast this time round, but there's really no limits.
We hope you enjoy this veganised clam chowder recipe, it's easy to make; you may need to go out of your way to source your powdered bladderwrack and oyster mushrooms, but it's well worth it.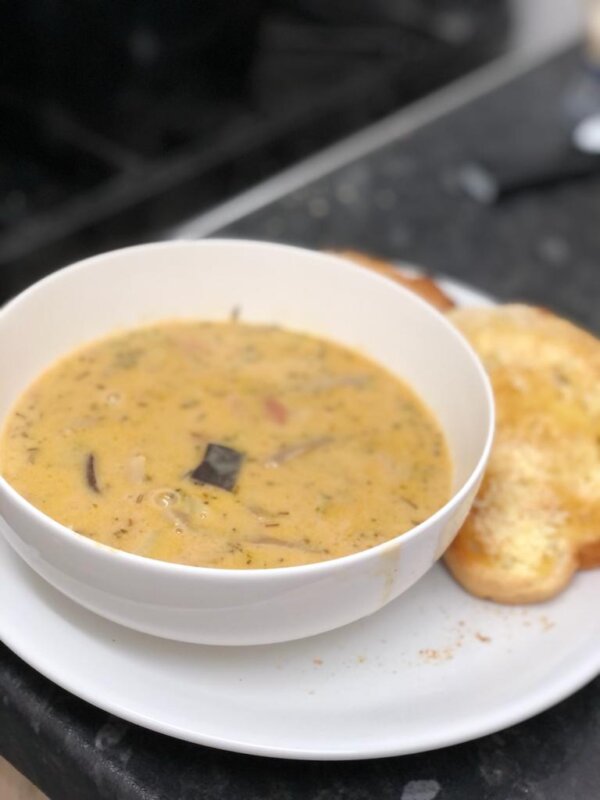 | | |
| --- | --- |
| | |
Start by dicing the onion finely, set aside. Wash the oyster mushrooms well, and cut into circles from the stem to the tip to form circular shapes.

Peel and cut a potato into small cubes, around 1.5 inches thick.

Heat butter in a saucepan until it starts to sizzle. Toss in the onion and cook until fragrant and softened, 3-5 minutes.

Add in the mushrooms and cook for a further 5 mins, carefully stirring to ensure onions don't burn.

Prepare 2 cups, or 400-500ml of stock in boiling water, dissolve and add to the mix, with the half teaspoon of bladderwrack. Bring to a boil, then toss in the potatoes, cover and simmer for 5-10 minutes on a low heat.

Once potatoes are slightly softened, pour in the oat milk and oat cream and stir well. The consistency should be creamy, bring to a boil again and allow to simmer on a low heat for a further 15 minutes.

Once chowder is fragrant and creamy, it is ready to serve. Enjoy with your favourite toast, salad or sandwich.