Greek cuisine is something I never grew up with. The most famous thing I knew about their culture's food was that they were notorious for olives, although I must say I never really liked greek Kalamata olives – Despite its popularity.
Another thing that I see as a greek thing is feta cheese, another thing I never really liked even when I ate meat and dairy exclusively.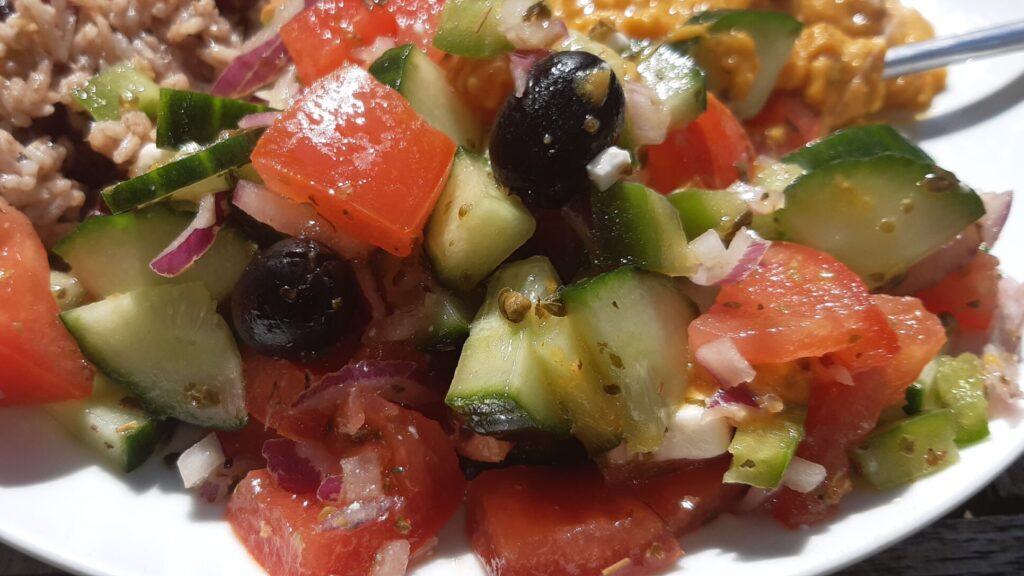 But hey, as you go vegan, recalibrate the taste buds and find some vegan feta, what better way to experiment than with a classic greek salad?
How to veganise a greek salad
Veganising a greek salad is as simple as replacing the cheese with dairy in it, with cheese that doesn't.
Violife was the culprit in this concoction, with their greek style block being on sale in Tesco, even though I've never liked feta, was too good to overlook.
A greek salad requires very few ingredients to turn out awesome, all you need essentially is:
Olives (traditionally kalamata, I used black olives)
Tomatoes
Green bell pepper
Red onion
Cucumber
Vegan Feta
Olive Oil
Vinegar
Oregano
Salt
I find that this type of salad pairs great with curries, rice and rich main courses, such as a vegan lasagne for instance.
Ideally I'd make this on a hot summer's day with some veganised moussaka and keftedes (cypriot-style non meat balls) – But as the tagline goes, one recipe at a time…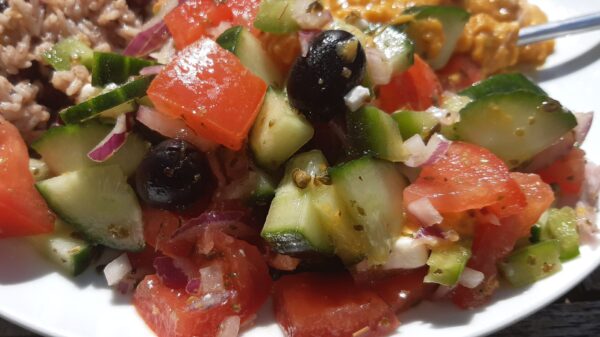 | | |
| --- | --- |
| | |
Wash and thoroughly rinse the tomatoes, peppers and cucumber. Chop cucumbers into thin slices or quarters, cut tomatoes into 16ths and bell pepper into 1/2 inch pieces.

Chop greek-style block into small 1/2 inch cubes, sprinkle on top of veg mixture. Add olives (pit if not already pitted), and oregano, vinegar, olive oil and salt to desired taste.

Leave to marinate for 5 minutes, then mix and serve with your favourite meal as a side salad.
Used Violife Greek Style Vegan Block for the feta cheese substitute.