Growing up I always thought that coleslaw was one of those things that was hard to make, so almost always used to eat it on the side of some junk food like chips, wings, jerk chicken, etc.
But when I went vegan that was one food I could no longer eat, so I decided to improvise and create a veganised version of the popular side dish.
Skip to recipe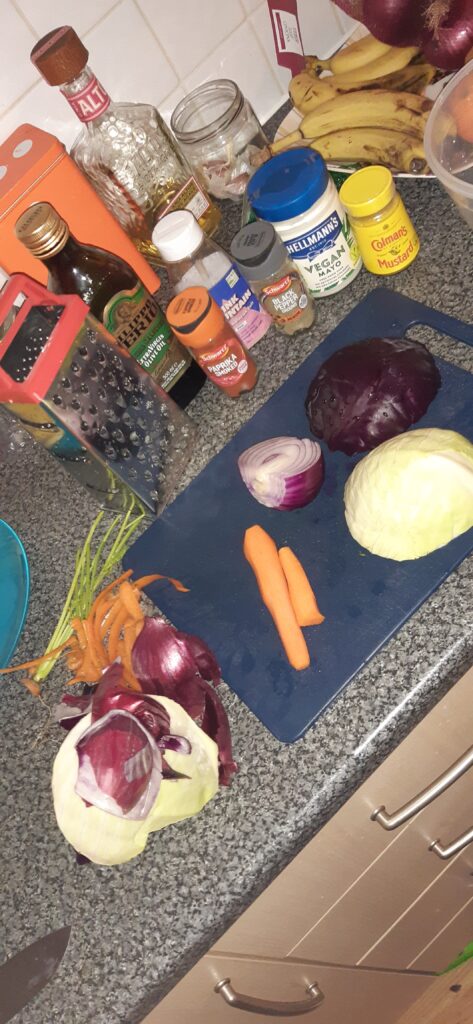 This vegan coleslaw recipe is surprisingly healthy, and the big quantity it provides is great your packed lunches, in which I personally had enough for the whole week.
Not to mention the nutritional benefits, from the cabbage, a great vegan source of vitamin C.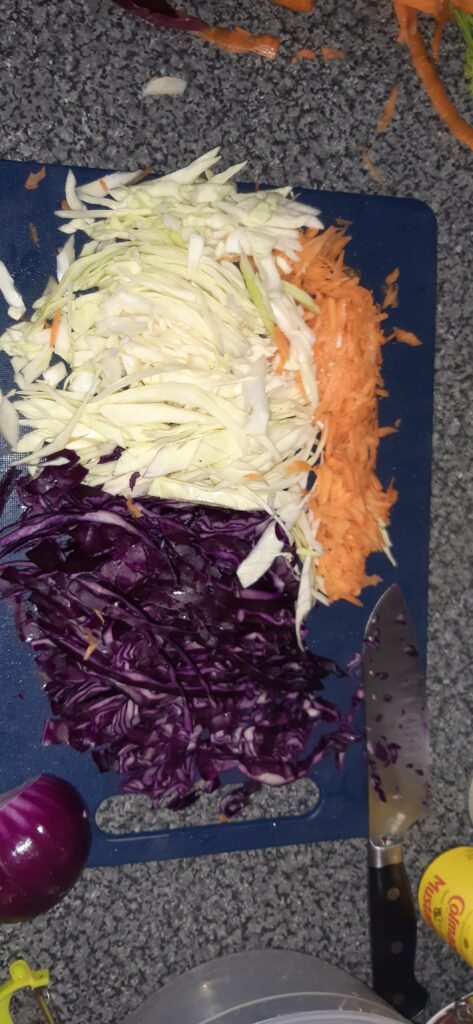 Healthy vegan coleslaw
This healthy vegan coleslaw is made with only a handful of ingredients, the majority of which consisting of raw vegetables.
The right balance of crunch and bitterness as well as creaminess and sweetness is what we were looking for here, and we found the perfect balance.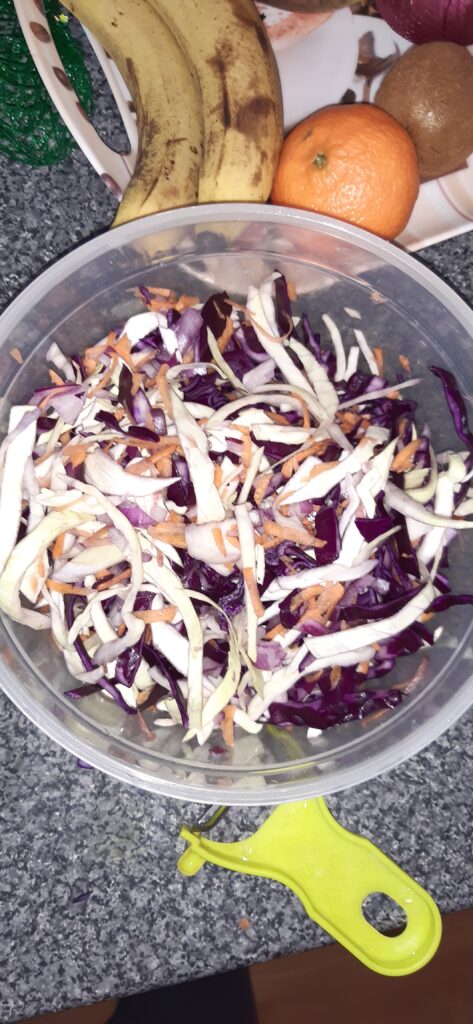 This veganise rainbow coleslaw recipe contains:
Red and white cabbage
Carrot
Red Onion
Lime Juice
Vegan Mayo
A smidge of Mustard
Olive Oil
Salt & Pepper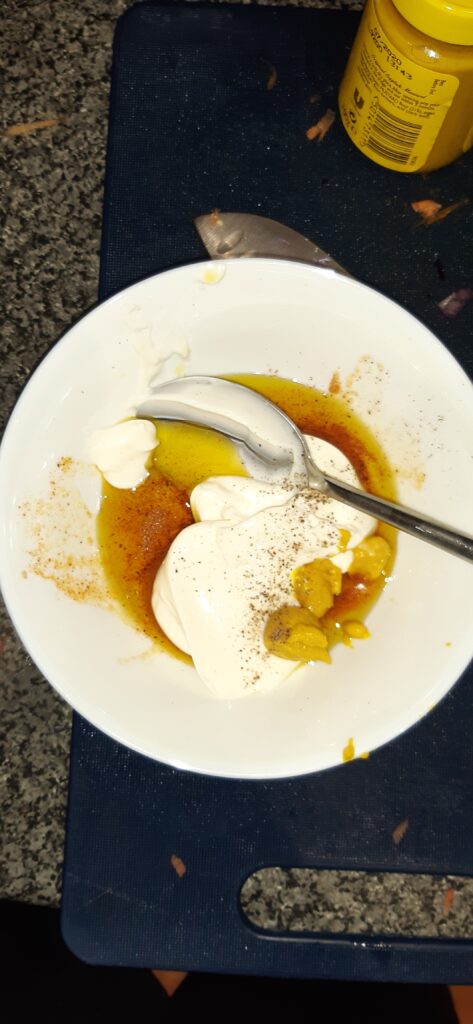 The creamy vegan coleslaw sauce was improvised on the spot and was perfect, a great balance of simple flavours to make a simple, yet memorable vegan coleslaw.
This will definitely impress at a barbeque or family gathering for your vegan contribution, I personally can't get enough and those I've shown prefer it to the original one that contains dairy.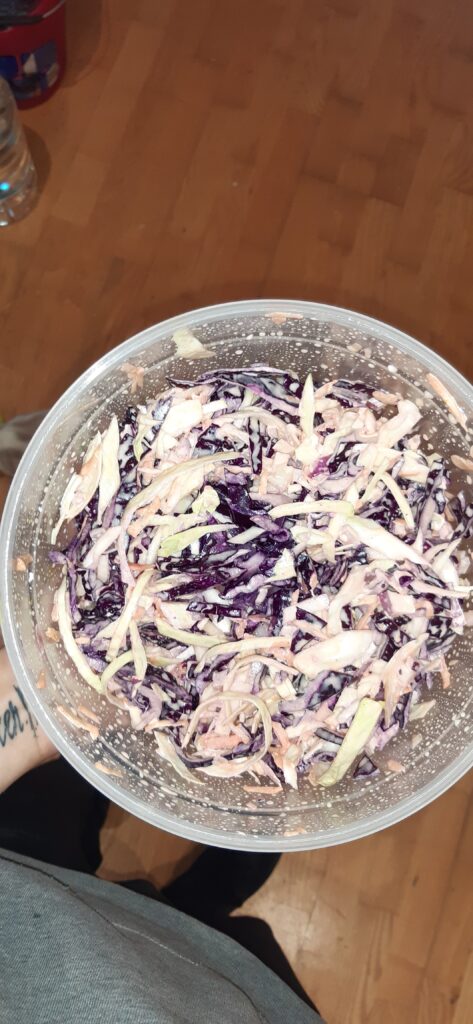 Is coleslaw vegan?
Regular coleslaw isn't, usually containing dairy or egg, so that's usually a no-go for vegans.
Good thing we have a handy 15 minute veganised rainbow slaw recipe here for you, bookmark and share it today 😉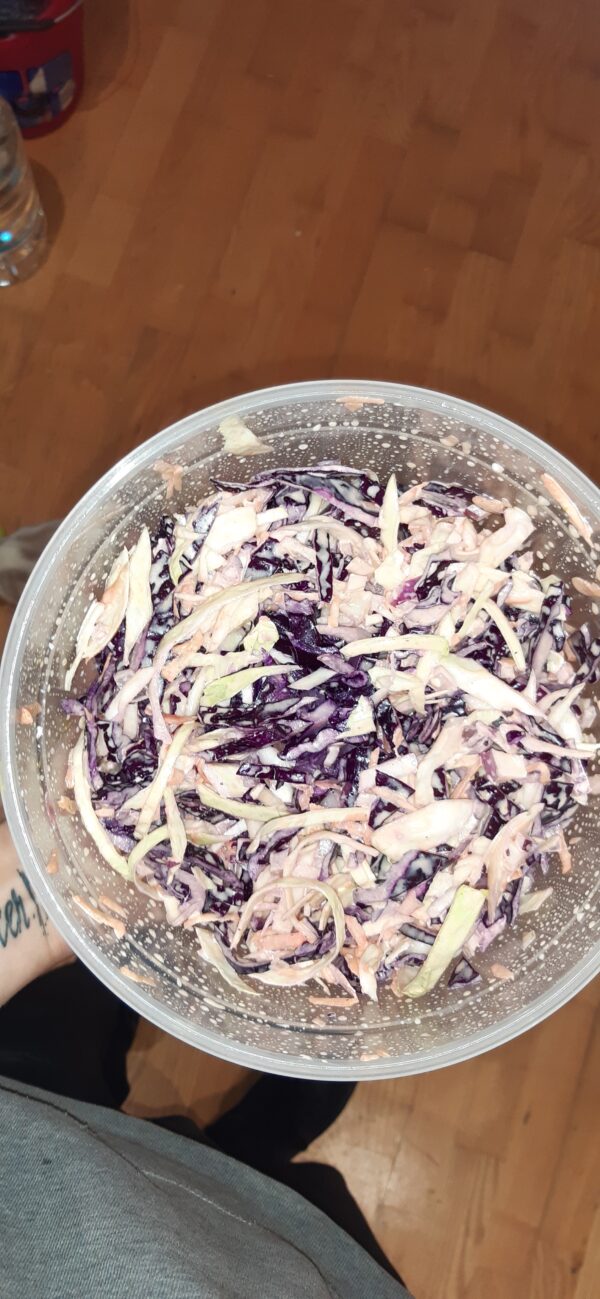 | | |
| --- | --- |
| | |
Finely chop the cabbage, the red onion then peel and grate the carrots. Combine in a separate bowl and set aside.

Combine olive oil, mayo, mustard, lemon juice, and spices in a bowl and mix well, Add the sauce to the raw veggies, transfer to the fridge for at least 30 mintes to set in.

Enjoy your vegan rainbow coleslaw as a salad alternative, in wraps or burgers or to accompany your vegan junk food!
Allow sauce to set in minimum 15 minutes for best results. 
Lasts a good 5 days in the fridge once stored in an airtight container.