A creamy pasta is a staple in my diet, I've got to get at least get one good creamy pasta dish in me per month. This vegan mushroom alfredo really hits different though.
Before I went vegan the only creamy pasta I'd have is carbonara; Which traditionally doesn't actually have any cream in it.
My veganised spaghetti carbonara does though! Anyways, back to business.
This veganised mushroom alfredo is something you can whip up as a mid-week meal, for both vegans and non-vegans alike.
What you need for a vegan mushroom alfredo:
Cashews
Nutritional yeast
Garlic
Oregano
Lemon juice
Oat milk
Brown mushrooms
Salt
Pepper
This veganised take on a mushroom alfredo is so satiating and tasty, for even the fussiest of children and meat eaters to convert to veganism, no joke!
One of my preferred vegan pasta recipes I've made so far, and so worth the effort. The sauce is thick, creamy, garlicky with a hint of tanginess from the lemon. The cashews really work well to make an exceptional sauce – You'd never guess it was vegan ;).
How do you thicken mushroom alfredo sauce?
To thicken the sauce, say if it becomes too runny, you can always add more cashews; as well as reducing the amount of oat milk used to bulk up the sauce.
Vegan mushroom alfredo pasta is a great dish to eat alongside some bruschetta, on its own or topped with some vegan cheeze, like parmesan.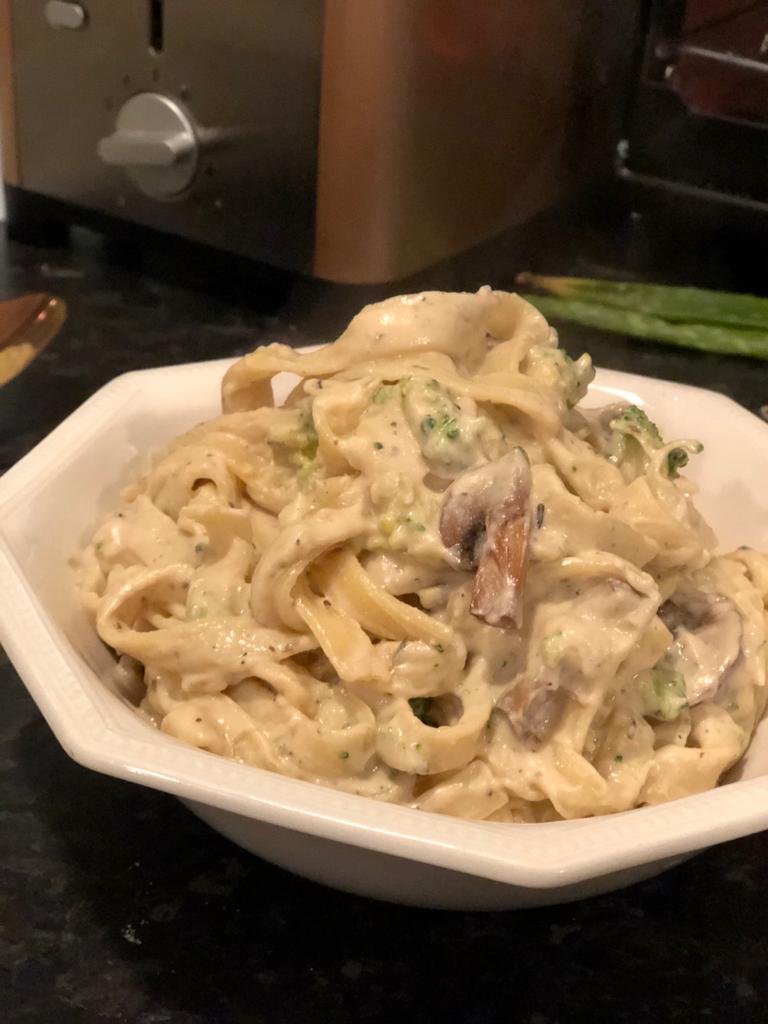 If you like this vegan mushroom alfredo, you'll love our vegan bolognese, spaghetti carbonara and red lentil lasagne recipes.
Give this a try today, if you like it feel free to share with friends and family, it helps us at Veganising It grow!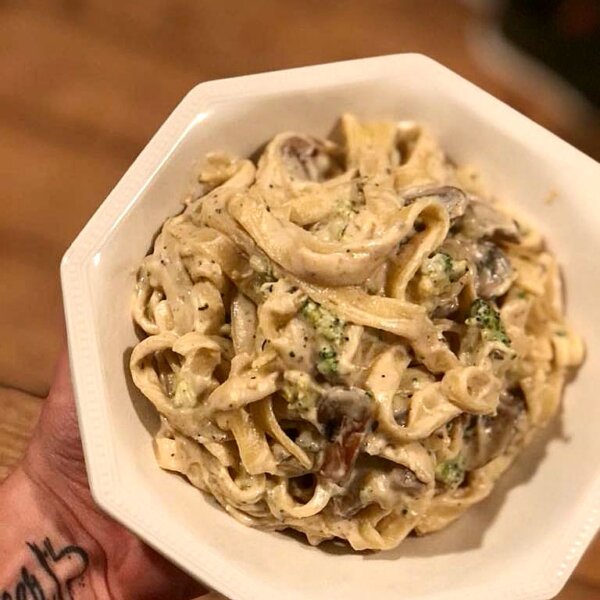 | | |
| --- | --- |
| | |
Bring water to a boil, put cashews in the bowl and soak cashews in boiling water for at least 30 minutes.

Drain cashews once soaked, transfer to a blender. Juice a lemon and add to the blender with garlic, nutritional yeast, oregano, oat milk, salt and pepper.

Blitz until smooth, the sauce should have a thick, creamy consistency.

Wash and slice some mushrooms separately on a cutting board, heat some oil and fry in a pan with some salt and pepper for 5-10 minutes, until softened, set aside.

Cook tagliatelle pasta according to package instructions, or any pasta of your choice, and drain well once cooked through.

Combine cooked mushrooms, pasta and prepared alfredo sauce in the saucepan used to cook the pasta, and ensure the pasta is well-coated in the sauce.

Leave to cool off for 5-10 minutes, then serve!
We used a nutri bullet to blend the sauce, any blender should work just fine though!