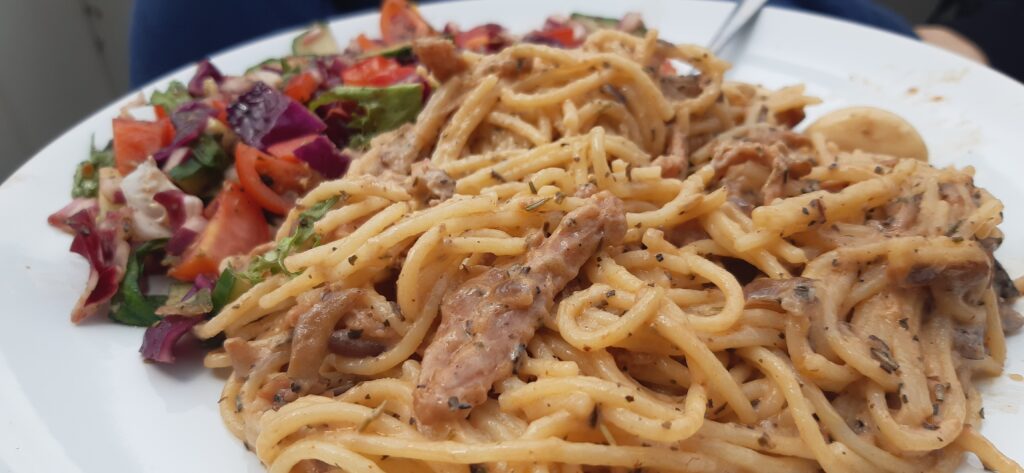 I remember the first time I tried Spaghetti Carbonara, my sister made it, I remember the balance of creaminess, baconey-ness and pasta, all of which I love.
Going vegan of course, I had to find way to improvise and re-capture the taste of the original carbonara I grew to love. I've experimented with tofu, mushrooms and variations of each without a solid result – until now!
Bear in mind the seasoning I add is probably not as authentic as possible, but the cream sauce, and bacon mushroom mix, is definitely the closest thing to home so far.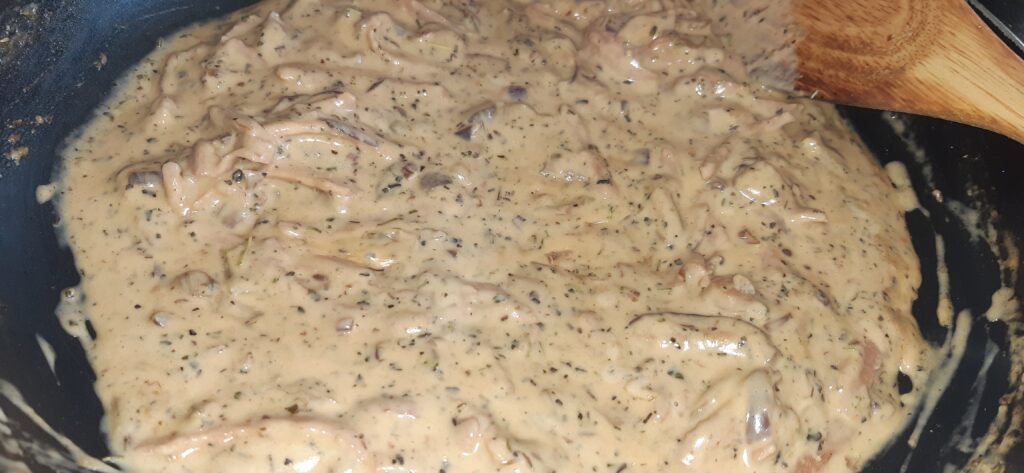 Does authentic carbonara use cream?
Most chefs would advise against the inclusion of cream in any carbonara recipe, although some may disagree.
The way I see it, we're veganising everything here, using what we have, and what we have is vegan bacon and cream!
How to veganise carbonara
Traditional spaghetti carbonara uses egg yolks to add the sauce, bacon (or pancetta), garlic and black pepper. My version has a twist, so if you wish to find one more authentic, feel free; If you've stayed, you're in for a treat!
I mean, you could go all out and hunt for the most realist vegan egg and keep it as authentic as possible. I however, found the perfect balance for a veganised carbonara using the following ingredients:
Single cream
Butter
Garlic powder
Oyster mushrooms
Vegan bacon (Vivera plant based bacon pieces)
The combo of the bacon pieces and mushroom in the sauce add a great taste and texture combo, resembling that of regular bacon, with both a meaty and chewy texture.
That balanced with a great blend of rosemary, basil and oregano, with cracked black pepper, flipping banging.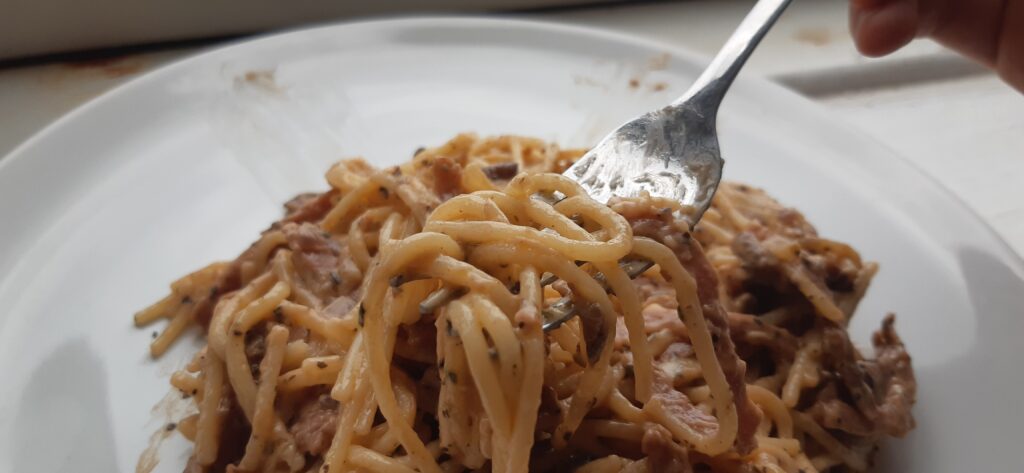 I made this carbonara in only 15-20 minutes, the pasta only taking 9 mins to cook, the sauce only taking 10 mins to do it's thing.
An easy-to-make for a mid week meal, a kid-friendly vegan meal, and one very doable for a student, with little cooking experience.
If you enjoyed this recipe, feel free to share with your friends, or bookmark for future reference.
| | |
| --- | --- |
| | |
Finely chop red onion and oyster mushrooms into small pieces, set aside. Melt 50g butter on a pan with a medium heat, add onions once butter is melted, and after 2 mins mix in the mushrooms. Cook through for 5-8 minutes until onions are fragrant, and mushrooms release their water.

Sprinkle in herbs, black pepper and garlic powder into the onion and mushrooms, the butter should be bubbling, but not too thick a sauce, be sure to keep stirring to prevent sticking. Chuck in the bacon bits (mine said to cook for 3 mins each side) and cook as per instructions in the mix, after bacon and veggies are fragrant, pour in the single cream bit by bit.

Allow to thicken, then add more cream accordingly, sprinkle up to 50g vegan cheese (if using), turn heat down to low and allow to simmer for 2-3 minutes, stir well, and leave aside.

Boil a saucepan with salted water, once bubbling, get 200g of dried spaghetti, break in half and place in saucepan, cook as per instructions.

Once spaghetti is tender or "al dente", depending on preference, stir in the sauce and combine the two. Serve after 3 minutes whilst still hot, add extra black pepper if needed, no salt necessary due to the salt content in the bacon - Enjoy!
The bacon I used is Vivera Veggie Bacon pieces. 
The cheese used was violife grated vegan cheddar style.