Who doesn't like a good spaghetti Bolognese? Even more so when it's plant-based, tasty and even more more-ish than the average Spag Bol.
Reminiscing to the times where I first fell in love with spaghetti Bolognese, I wasn't really a fan before. My sister used to make it with a fresh side salad.
It's meals like this, as well as lasagne, shepherd's pie that truly define comfort food for me. Healthy, warming, tangy tomato-ey comfort food.
Brown Lentils for Bolognese?
For those who aren't vegan, or are aspiring to be, you may be experimenting with different pulses, beans, mock meats etc.
It wasn't until half a year into going vegan that I discovered the power of lentils. How they can cook into plump, moreish pulses that can be used in burgers, stews, veganised lasagne, shepherd's pie and in this case, veganised brown lentil spaghetti Bolognese.
I've noticed when you soak then cook lentils, with mushrooms, herbs and spices, and a rich tomatoey sauce, you won't even notice there isn't minced meat in the mix – You get the bonus of not having to chew on stubborn pieces of fat, and the fact that it's low fat.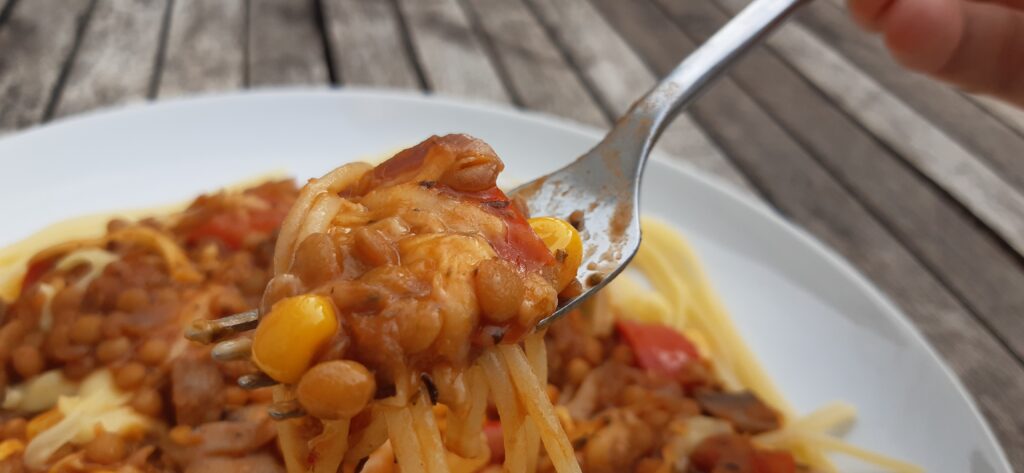 What makes a good Bolognese?
A good Bolognese has a good balance of tangy tomato, a hearty mince (lentils in this case), garlicky and herbal undertones.
This is just what I personally think, I ain't Italian lol.
This brown lentil Bolognese is made up of the following main ingredients:
Brown Lentils (dried and soaked)
Red onion
Fresh garlic
Mushrooms
Red bell pepper
Tomato passata
Spaghetti
Herbs and spices
Easy veganised spaghetti Bolognese
The best part about this veganised lentil Bolognese is the simplicity of it. Brown lentils only require like an hour of soaking (if you're in a rush), but I'd recommend 3, so you may want to prep in advance – Don't worry about soaking them for longer, just keep it under 8 hours to prevent fermentation.
This meal can be whipped up in literally 30 mins if you time it right. This is a kid-friendly vegan meal perfect for a mid-week supper, or a hearty lunch, you may even add it with your weekly meal rotation.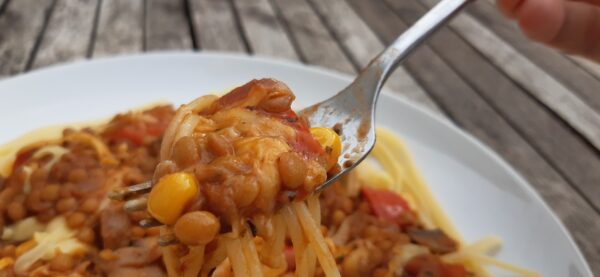 | | |
| --- | --- |
| | |
Chop the red onion and bell pepper finely into cubes, finely slice the mushrooms and heat oil on a saucepan.

Cook the sliced red onion until softened, roughly 2-3 minutes, then stir in the mushrooms and bell pepper, cook until juices release themselves, another 3-5 minutes.

Stir in the chopped garlic, tomato paste, cumin, paprika, oregano & basil, stir into a paste, add a little water if needed.

Drain the soaking lentils and rinse, add into the mix, stir within. Dissolve a veg stock cube into 450ml of hot water, add within, then bring to a boil.

Once the mix is boiling, stir in the tomato passata, bring to a boil, cover, then simmer to allow the sauce to thicken (30-40 mins).

In the meantime, prepare your spaghetti - bring a pan of salted water to a boil, add the dried spaghetti and cook according to package instructions.

Once sauce is thickened, add a teaspoon of sugar to the mix, and cook on a low heat for another 5-10 minutes.

Serve your veganised brown lentil bolognese on top of your spaghetti with some vegan cheeze, and fresh side salad, or some garlic bread – Enjoy!
Soaked lentils are better, canned can still be used and require less cooking, sacrificing the final texture of the legumes.