Who doesn't love a good baked mac and cheese? When transitioning from meat eating or vegetarian to vegan, there are certain changes in your diet that may take a while adapting to.
One of them is the type of mac and cheese you'll eat. Traditional baked mac and cheese (with dairy) typically has a chewy texture with stringy cheese.
With vegan cheese, it's not that we have to try harder, but I think we all know the cheese don't work the same.
This variation of baked mac and cheese has been made to capture the traditional things you'd expect from a mac and cheese; A crispy top, a rich creamy/cheesy middle, with a vegan twist.
How to veganise baked mac and cheese
To veganise mac and cheese, you want to first get a perfect tasting vegan grated cheese replacement, and make a creamy sauce with soaked cashews.
Throw in a few seasonings and nutritional yeast, a bit of lemon juice; With that you've got yourself a solid Mac and cheeze base.
Once you lay out the whole sauce/pasta mix, top with breadcrumbs to crisp the top.
Why use a cashew base?
This recipe varies from our other pot mac and cheese, namely because in this one we use a cashew base.
The cashew base is used in this case due to its thicker, moreish texture that holds the mac together perfectly in the oven.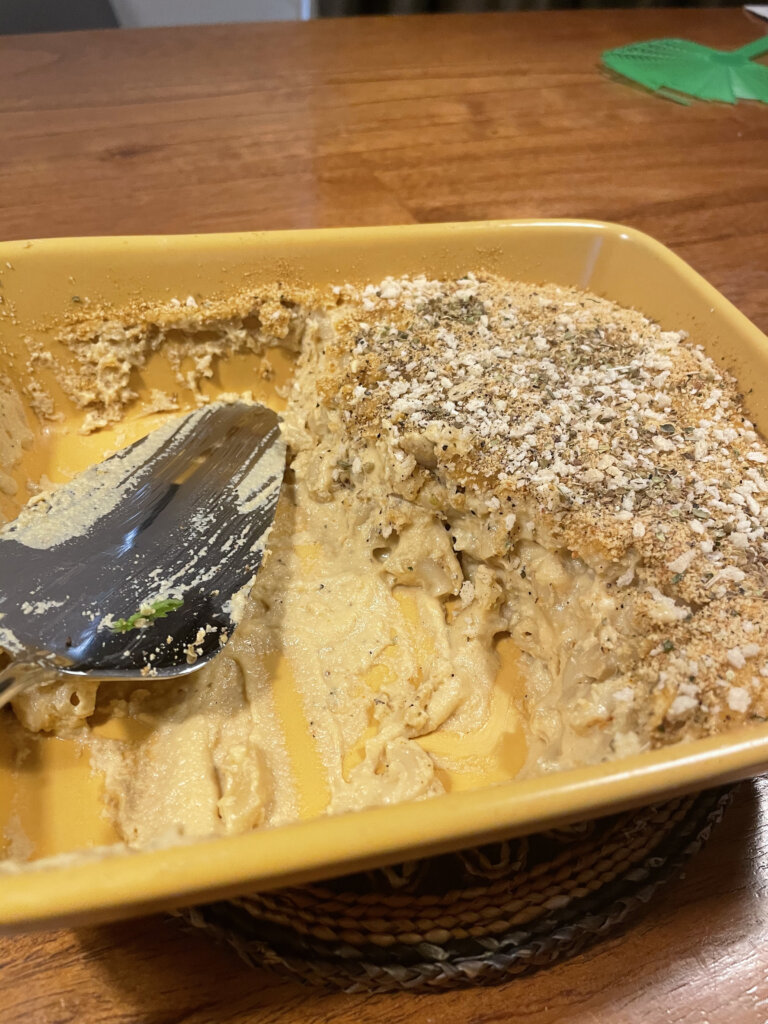 What pairs well with oven baked mac?
Baked mac and cheese pairs perfectly with steamed greens, like our garlic green beans or our steamed broccoli. Other sides such as coleslaw and salad also pair great.
Our jerk portobellos and vegan meatloaf also go beautifully with it, as well as vegan burgers.
This is a perfect meal for those looking to impress a vegan (or non-vegan) at a dinner party or gathering.
Dairy free, kid-friendly, and a pretty simple meal to make, this recipe is one to have in your back pocket.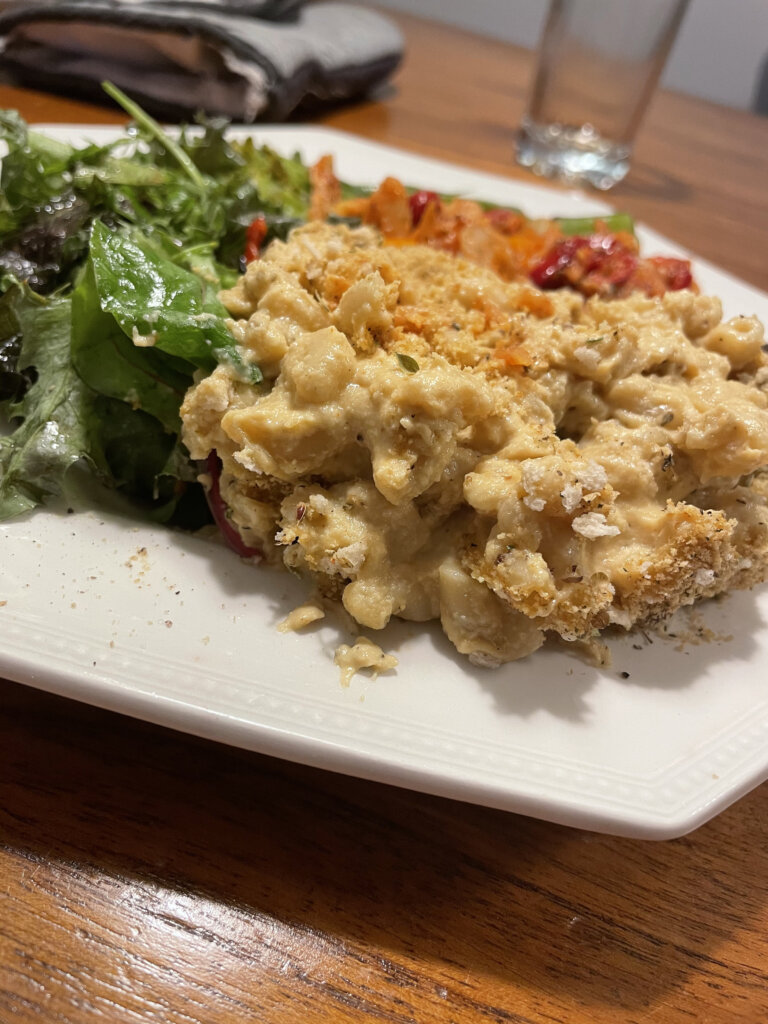 We hope you enjoy this veganised baked mac and cheeze.
If you love this recipe be sure to bookmark it for the future, share with a friend, and drop a comment with what you enjoyed it with!
Thanks for considering Veganising it for your recipe inspiration today, have a great day, and stay blessed.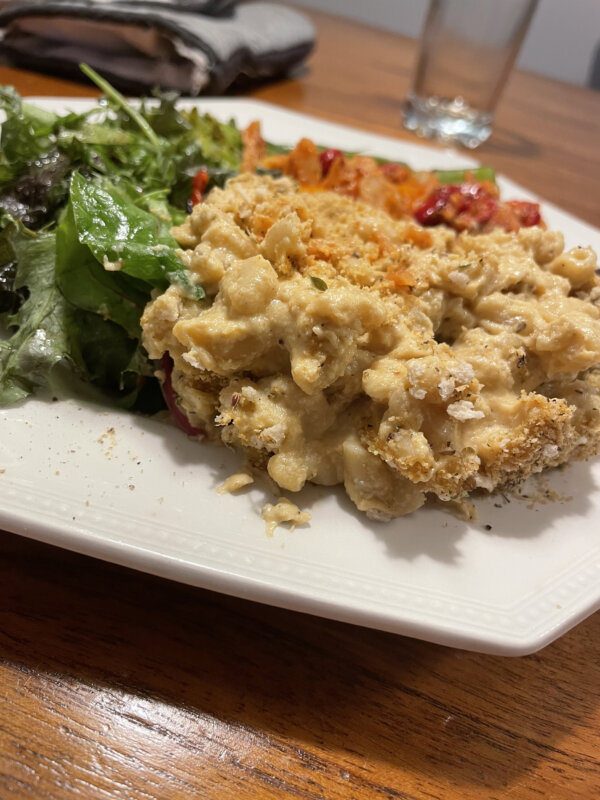 | | |
| --- | --- |
| | |
Drain soaked cashews and transfer to a blender, add in peeled and chopped garlic cloves, vegan milk of choice, nutritional yeast, lemon juice, salt and seasonings.

Pulse in a blender for 30 seconds to 1 minute, or until thick and creamy. If you need to add a bit of water do so. Taste for saltiness, and set aside.

Preheat the oven to 200 degrees, lay out an oven dish.

Bring 1 litre of salted water in a saucepan to a boil, then add in the macaroni. If you have it on-hand, drizzle in some extra virgin olive oil to help stop noodles from sticking together.

Boil the macaroni according to package instructions, I find that 9-11 minutes works best.

In the meantime, bring a smaller saucepan onto another hob; pour in the cheese sauce and add vegan cheese (and a splash of water, no more than a shot glass) then turn the heat to medium, stirring to prevent sticking.

Cook for a further 5-7 minutes to melt the vegan cheese in the sauce, then set aside.

Once pasta is cooked, drain well in a colander and transfer back to the pot it was cooked in. Pour in the cheese sauce and stir until well combined.

Transfer the coated cheesy pasta into the oven dish, smooth down with a spatula, and sprinkle on some breadcrumbs.

Cook in the centre of the oven for 30-40 minutes, or until brown and crispy on the top. Serve with your favourite sides and mains, enjoy!