Vegan hashbrowns are something I've always loved, my favourite junk-ey breakfast food. Even when I used to eat meat, McDonald's McMuffins were in my weekly rotation; my favourite part of McDonald's breakfast was definitely the hashbrowns.
Maybe it's the potatoes, maybe it's the oil or the salt – Maybe it's the feeling of eating chips in the morning without feeling guilt. Needless to say, hashbrowns are banging, and very easy to veganise.
Are hashbrowns vegan?
These vegan hashbrowns require simple ingredients; potatoes, oil and salt. If you were to buy hashbrowns from frozen, you may see some variations with traces of egg, as well as gluten, and other potential additives. This vegan hashbrown recipe is the ideal solution for that.
When you make 'em homemade however, you avoid all types of nastiness. Instead, you can focus on making hashbrowns out of what actually makes it taste nice, potatoes.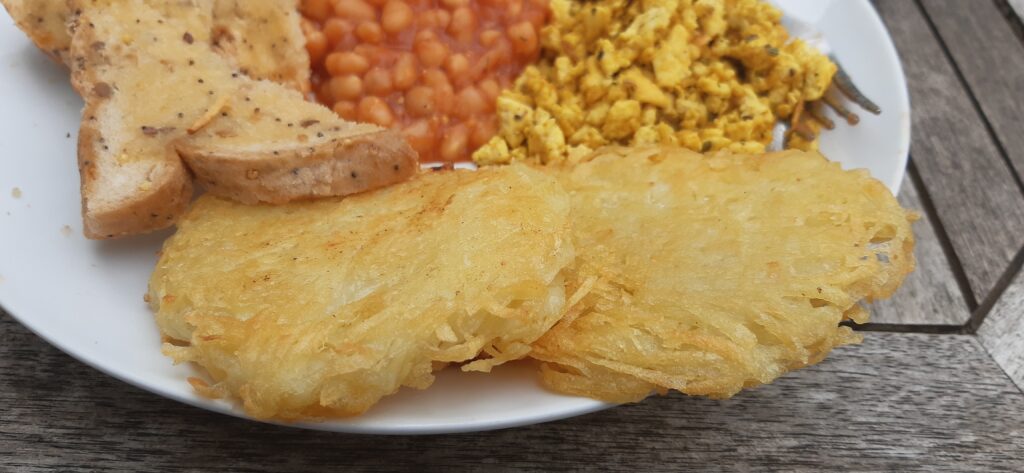 Are hashbrowns easy to make?
This vegan gluten free hash brown recipe is so easy to make; if seasoning didn't count as ingredients, this would be a one ingredient hashbrown recipe.
To easily make the perfect golden homemade hashbrowns, all you need is:
Grated potato
Salt
Black Pepper
Paprika
Garlic powder
I personally enjoy these alongside a big breakfast; which I usually make time for in advance, on a weekend most of the time.
These with some baked beans, avocado toast, fried mushrooms and vegan sausage works well as a big vegan breakfast.
Enjoy these 3 ingredient golden hashbrowns; This recipe is suitable for both frying and baking.
If you like this vegan golden hashbrown recipe feel free to bookmark and share with your friends. A very easy, a go-to for breakfast, or even a quick snack.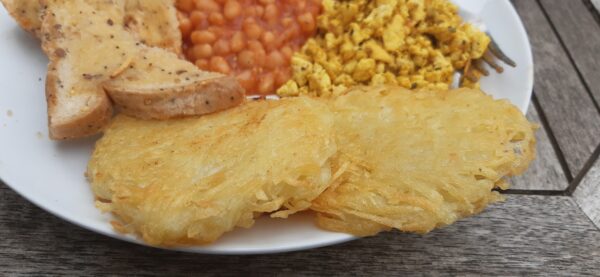 | | |
| --- | --- |
| | |
Wash and peel potatoes. Grate them using a thick grater. Once grated, transfer them into a sieve over a large bowl, and sprinkle salt on top so water is drawn out of the potatoes, leave for 10 minutes to drain.

Toss the mix with pepper and additional spices (if using), and mix well with your hands, squeezing out water as much as possible, form into individual hashbrown shapes (ideally 1/2 an inch thick).

Heat oil in a deep fryer or frying pan, about 1 inch deep, once oil is hot, add the hash browns and cook till golden brown on a medium heat, about 2-3 minutes per side.

Cook in batches of 2-4, depending on the size of your pan/fryer, once cooked, place to drain on a bowl of kitchen towel. Serve while warm with baked beans, or enjoy with your favourite dip!
Draining the potato of water is important, if you don't, the hashbrowns will more than likely fall apart.
Other recipes call for egg to be used as a binder, the removal of the water from the potato makes this obsolete!
To bake instead, set the oven to 200 degrees celsius and bake for 3-5 minutes each side.