Who doesn't love a good homemade salsa? I don't know about you but some just don't cut it when they're store bought.
A lot of the time when I personally get salsa from the shop, they're either not spicy enough, a bit pricey, or just lack luster.
This veganised salsa recipe is simple to make, and requires minimal ingredients, including the following:
Tomato
Red onion
Lemon juice
Coriander
Salt
Paprika
Tobasco
How long does it take to make salsa?
Salsa in itself is very quick to prepare, if you're quick to chop everything up it could technically be prepped in all of ten minutes.
Only thing is you'd want the sauce to marinate a little, so once everything is chopped and mixed together, you'd want to leave it for an hour minimum so all the flavours can combine.
What does vegan salsa pair well with?
I love eating my homemade vegan salsa with some nachos, on top of tacos and on the side of Mexican inspired dishes, such as stewed black beans, or even as a topping in a vegan burger.
The real question is: what doesn't this salsa pair well with?
I also enjoy this salsa recipe paired with homemade vegan guacamole, another simple, homemade, Mexican-inspired dip.
Alternatively, you can get more creative and have it atop a baked potato or infuse it within a plain salad to spice it up!
Can you freeze homemade salsa?
You can freeze salsa but considering how you'd be freezing the tomato and red onion, once thawed again, you won't get the same texture afterwards.
Expect a soggy texture that's not necessarily pleasant if you're feeling to freeze your salsa to help it last.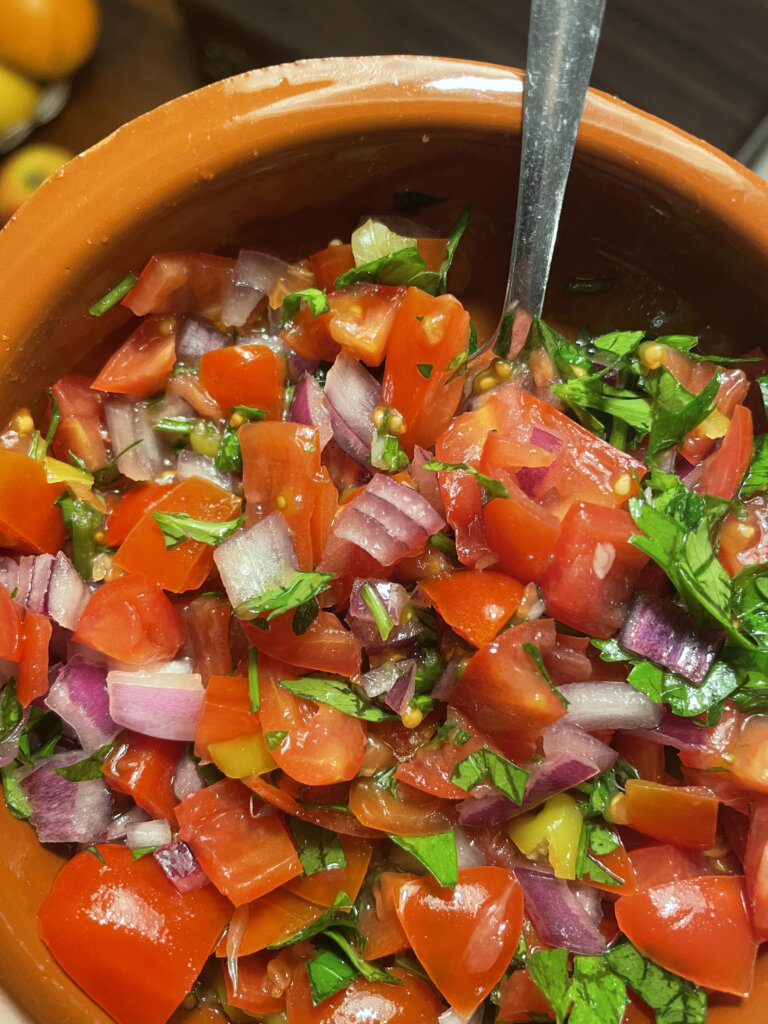 How long does homemade salsa last in the fridge?
Our vegan homemade salsa dip is good to hold up in the fridge for at least 4 days, the lemon juice and salt works as a preservative.
Any time after 4 days, the salsa itself may become soggy, but still edible; We recommend consuming the salsa within the first 3 days for best results.
Try this homemade vegan salsa today with our range of other recipes:
This 20 minute salsa recipe is easy to make for beginners, kid-friendly and a perfect go-to condiment for any upcoming barbeque.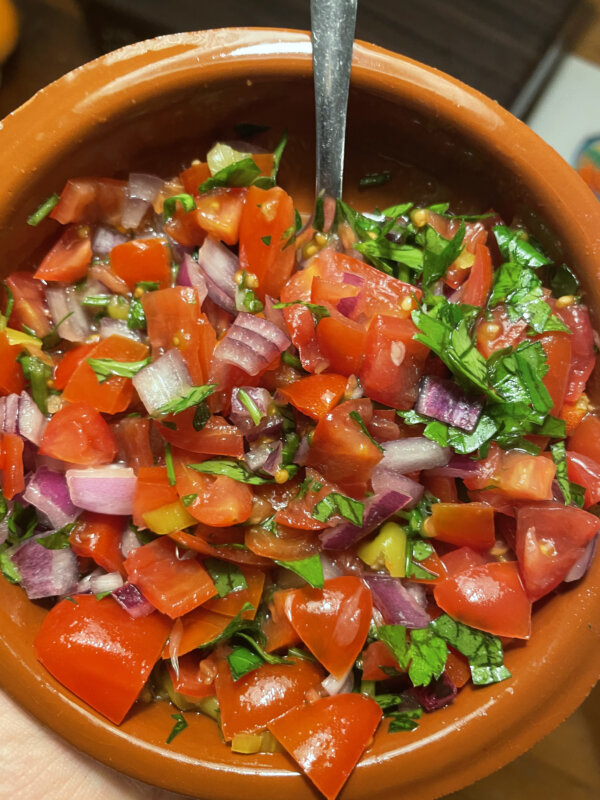 | | |
| --- | --- |
| | |
Finely chop tomatoes and dice red onion into small pieces, set aside.

Juice lemon and combine with chopped veggies in a bowl.

Finely chop coriander and add to the mix, stir in salt, paprika, and tobacco (or similar hot sauce).

Once all mixed well, set aside and allow to marinate for 30 mins minimum.

Once salsa has sat there and absorbed flavours accordingly, serve with nachos, a salad upgrade, or as a topping to our favourite Mexican-style entrée.