When I first became vegan I would say that my variety wasn't exactly something to be proud of – unless you were talking about meat. The only guacamole I ever had was from Sainsbury's with Doritos (which is also an accidentally vegan snack).
Then as I went deeper into the lifestyle I started trying new foods and guacamole soon became something that grew on me. Even better still, as the nature of the ingredients are so simple to source, I put together a quick, homemade, easy vegan guacamole recipe.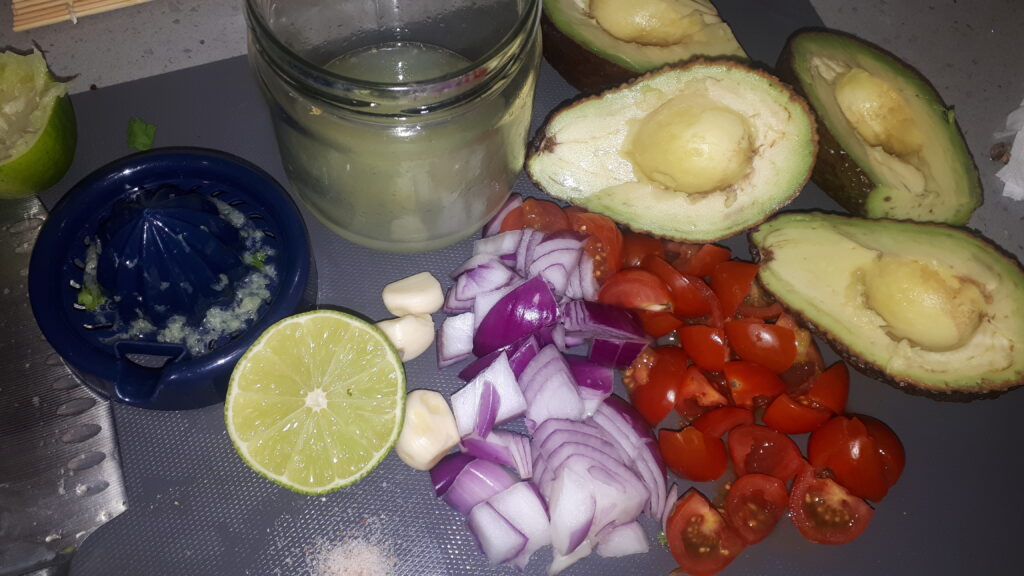 Is guacamole vegan?
Guacamole is a traditional Mexican recipe; traditionally made up of 4 ingredients: Avocado, Tomatoes, Olive Oil and Lemon or Lime Juice, all naturally vegan.
A lot of Mexican recipes are vegan friendly, it's just the world puts so much focus on Chorizo, Chicken and Cheese. they forget the real beauty behind Mexican cuisine; Which is the aromatic spices that make the Mexican reputation of food what it is.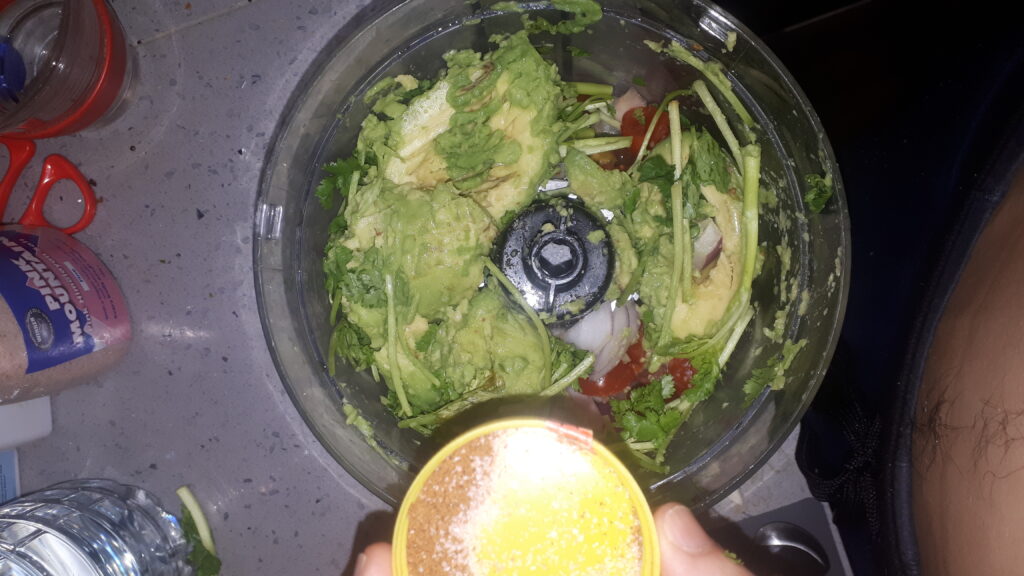 My take is a little less traditional considering the original recipe does not use a food processor and instead combines chopped tomatoes, mashed avocado and finely chopped red onion, but all due respect to the legacy who brought guacamole to the world.
I actually prefer it chunky, that's why I use a food processor and not a blender.
Easy vegan guacamole dip
This simple vegan guacamole only calls for 7 main ingredients for the bulk of the dip, being avocados, cherry tomatoes, red onion, coriander, garlic, olive oil and lime juice. As well as a pinch of salt, pepper and cumin to my own personal taste.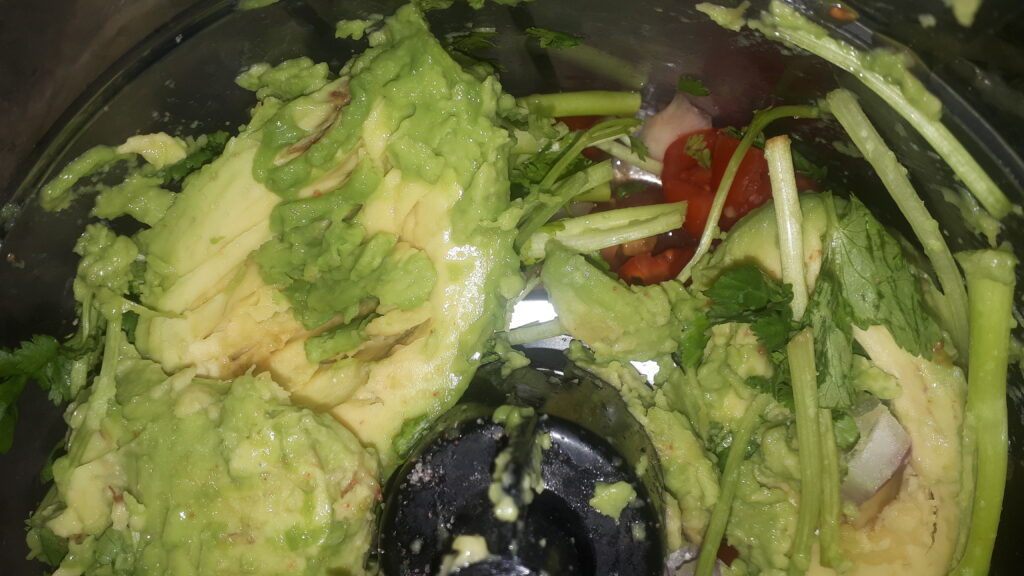 This recipe is part of the basics and student friendly recipe collection, as this can literally be whipped up mid-week in 10 minutes. All you need is a food processor, but you can even make do with a blender if you just pulse it.
What does guacamole go well with?
Guacamole has its infamous reputation as a dip, and does go well with nachos and crisps in general. sliced up veggies like bell peppers or cucumber, It also goes great in sandwiches, as a general dip on the side for an extra nutritional boost, and pairs perfectly with some Mexican black beans and wrap recipes.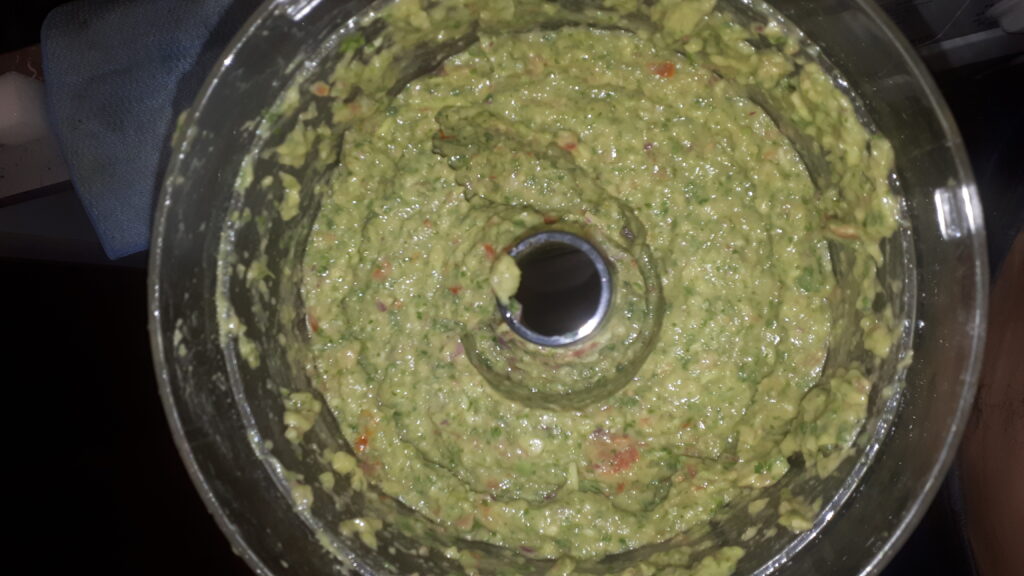 Whenever I make guacamole I make myself a batch for the day and have it on the side of a meal or two, just like how I do with my vegan hummus. It's got a subtle, mild taste, so pairs well with spicier foods, and bold flavours.
How long can guacamole keep for?
Homemade guacamole typically lasts only 2 days max in the fridge. You can tell the guacamole isn't good anymore by the brown liquid pooling up and the green fading to a more brown-ish hue.
This homemade vegan guacamole recipe is easy, quick and healthy. Enjoy this and share with whoever you feel needs to know about this – Have a great day!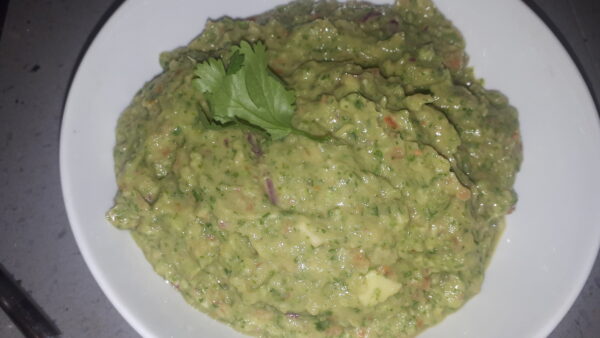 Prep Time

10 mins

Cutting and blending
Cook Time

0 mins

Raw Vegan Recipe
Passive Time

10 mins

Total
Prep Time

10 mins

Cutting and blending

Cook Time

0 mins

Raw Vegan Recipe

Passive Time

10 mins

Total
Peel garlic and put aside. Chop the tomatoes in half, the red onion into cubes and chop the coriander leaf. Combine all chopped ingredients and garlic, and add to food processor.

Chop a lime in half and juice with either a citrus juicer or squeeze the juice manually through a sieve into the food processor with the other fresh ingredients; add the tablespoon of extra virgin olive oil, a pinch of salt to your taste, and optionally, a pinch of cumin.

Pulse in the food processor periodically, to maintain the guacamole texture, and not result in a consistency that's mushy. pulse 10-15 times and scrape into a bowl for storage.

Serve this vegan guacamole as a sandwich filling, nacho dip, salad partner and as a complementary Mexican-inspired side dip.
Best results if you have a food processor
This recipe is quick and easy to make in under 15 minutes.