Potato gratin is one of my favourite side dishes, which I originally used to enjoy alongside any hearty main as a tasty side dish.
The only type I've known well was the dairy-containing version, this veganised potato gratin recipe gives it a run for its money.
How do you veganise potato gratin?
It's rather easy, instead of using cream, butter and cheese that would typically be dairy-based, opt for the vegan alternative.
This way you can tailor for a vegan, someone intolerant to lactose or anyone else avoiding dairy.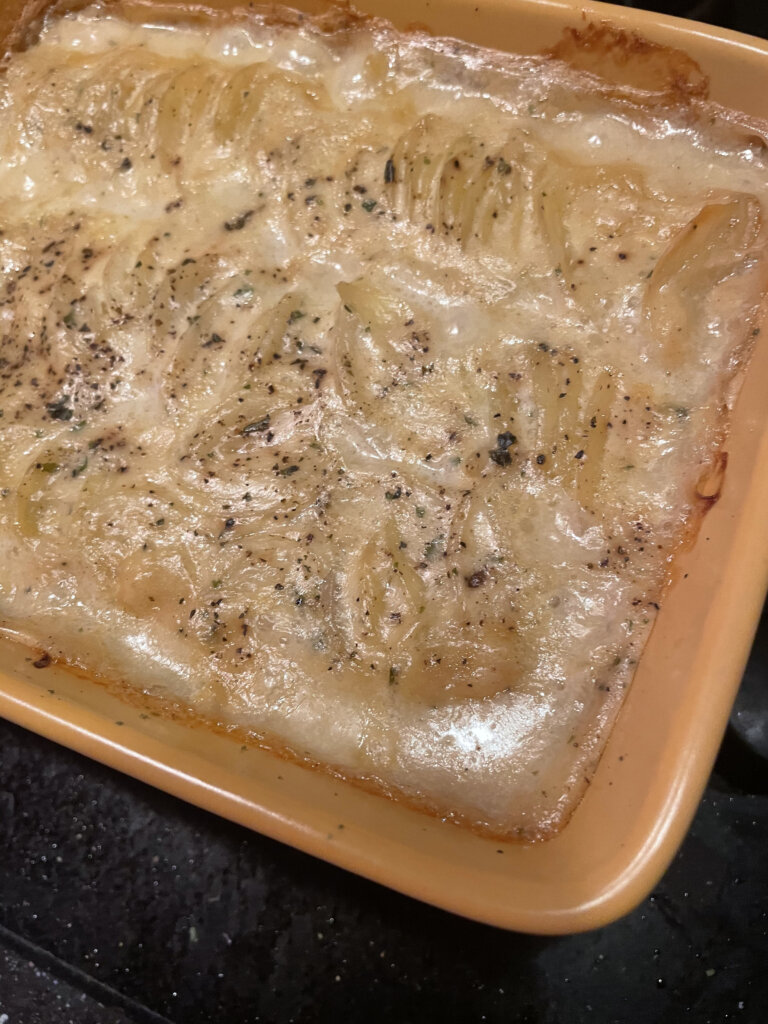 What does potato gratin pair well with?
Potato gratin pairs beautifully with other vegan mains and sides, such as lentil stew and our jerk portobello recipe.
You can also enjoy potato gratin with an array of foods from quinoa to veggies, such as our steamed broccoli and garlic green beans recipe.
Is potato gratin good enough for its own meal?
The way to answer this would be to visualise whether you'd find it acceptable to eat only roast potatoes as a meal.
In my case, I prefer potato gratin as a side dish, as opposed to its own standalone meal.
Is potato gratin French?
Potato gratin is originally French, translating to "with a crust"; for the top creamy/cheesy layer you get when you perfectly roast your potato gratin in the oven.
This recipe is great for bringing to barbecues, pot lucks, makes a great dinner party food; is also a kid-friendly side dish to enjoy in place of regular roast potatoes.
If you love this recipe be sure to bookmark it for future reference, share with a friend, and drop a comment with what you enjoyed it with.
Thanks for considering veganising it for today's recipe inspiration, be sure to come back another time for more veganised favourites. Appreciate your time, stay blessed.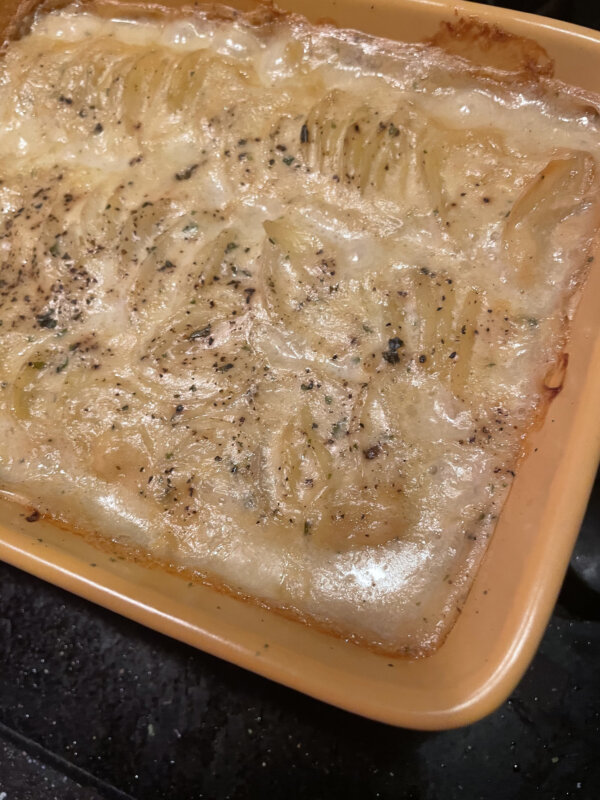 Passive Time

1

Hour and 5 Minutes
Passive Time

1

Hour and 5 Minutes
In a saucepan, melt butter on a medium to high heat, once liquid, combine with vegan cream and garlic powder, stir and combine, then remove from the heat, add in grated vegan cheese and stir to disperse in the creamy mix.

Preheat the oven to 185 degrees. Wash and peel the potatoes, then slicing them into thin 0.5cm slices on a chopping board.

Boil water in a saucepan and par boil these potato slices for 8-10 minutes on a medium heat.

Transfer partially cooked potatoes to an oven dish, then sprinkle on rosemary, salt and pepper, ensuring potatoes are well coated.

Smother the potatoes in the creamy mixture, ensuring potatoes are all coated in cheesy cream, using a serving spoon to spread cream and cheese where needed, being gentle to keep potatoes in tact.

Cover the oven dish with foil and bake for 40 minutes, check to see if the top layer is thick and bubbly, cook for a further 5-10 minutes if needed.

Once cooked, poke a fork in the middle and if soft, they're ready. Serve and enjoy with your favourite mains.