We all like a bit of indulgence, what better comfort food than some oven baked skin-on fries? Made a tad healthier by baking instead of frying.
Fries have always been a staple in any student or teenager's diet; sometimes we just need something to do with the extra potatoes we've got lying around. These veganised oven roasted skin-on fries are easy, tasty, and made of minimal ingredients.
Should you parboil fries before cooking them?
You don't have to, but it saves a lot of time for the overall process. This recipe calls for a mere 10 minutes of parboiling these potatoes, followed up with 40 minutes in the oven to crisp.
As opposed to putting them straight into the oven for an hour 20 – Either way could still work, but if you want crispiness like our veganised potato wedges, parboiling is the way to go!
Are oven baked skin-on fries healthier than fries without skin?
We've covered a post on vegan sources of vitamin C, in which we've mentioned potatoes as a source of vitamin C, as well as other trace minerals.
As is the case for various fruits and vegetables; leaving the skin on your potatoes conserves nutrients that otherwise would be lost if you were to peel them completely.
So essentially, yes, skin-on-fries are healthier; don't mistake that with healthy considering these are still cooked in oil – Also for those avoiding it, this recipe is unfortunately not oil free.
Baked vs fried chips
Fried chips are tasty and all; To enjoy them often, you may want to change the method of how you cook it.
Baked chips offer you the opportunity to control how much oil you apply. You can essentially control how crispy you want them, by cook time; not necessarily compromising the nutrition of the potato.
With frying however, oil is constantly being absorbed by the potatoes and nutrients is compromised with the higher cooking temperatures.
You wouldn't even know the difference. If what you're looking for is solely some crispy skin on chips, you can always fry 'em afterwards.
This vegan recipe for oven baked skin on fries is ideal for a mid-week side; These pair well with our vegan falafels and guacamole; something for your back pocket to keep handy for a special occasion.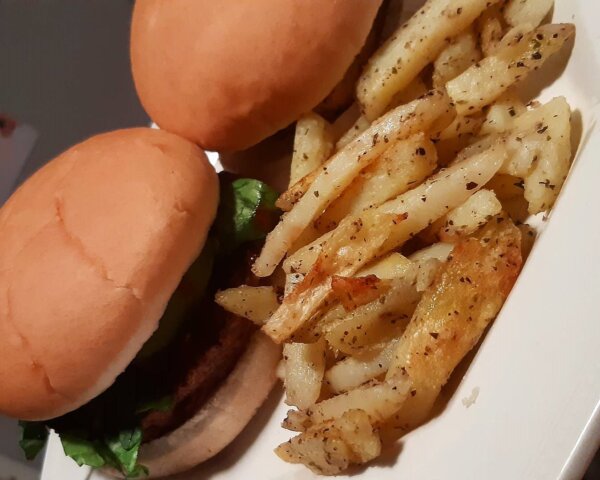 | | |
| --- | --- |
| | |
Wash and partially peel potatoes to leave streaks of skin, cut into thin chip shapes, bring a saucepan of water to a boil.

Add cut potatoes into boiling water and par-boil for 10 minutes, or until slightly soft.

Drain potatoes and arrange onto a baking sheet, set oven to 200 degrees Celsius.

Drizzle potatoes in olive oil, and add salt, pepper, and oregano to the fries, coat evenly and toss potatoes into the seasoning mix.

Roast chips in the oven for 30-40 minutes, or until golden. If not crispy enough, set the oven to grill for 5 minutes towards the end to crisp it up.

Serve and enjoy with your favourite vegan junk food recipe!
Parboiling helps to soften the potato, be sure to drain well before roasting. 
Best served fresh.