Who doesn't love a plate of sweet potato fries to substitute regular-schmegular chips with your burger?
A great vegan source of vitamin A, as well as providing an array of nutrition that you can't get in normal fries.
Sweet potato fries ingredients
Sweet potato
Salt
Smoked paprika
Oil
That's quite literally it, a simple recipe for a rainy day. I love them personally, switching it up with regular fries every so often.
Are they healthier than regular fries?
Regular fries and sweet potato fries are, both deep fried. Which adds an unhealthy factor to either type you choose.
In terms of nutrition, the sweet potato fry is superior. Being a source of vitamin A as well as being a more complex carb for the body – great for the gymnists.
If you were to oven bake these instead, the sweet potato is considered the healthier option.
Are sweet potatoes good for weight loss?
In this case with fried sweet potato fries, no. The fats used in cooking oils promote weight gain.
If you were, however, to oven bake these; they will promote weight loss. Sweet potato fries are very satiating, so they also help keep you full.
What do they pair well with?
Sweet potato fries go well with other fried goodies, including:
Burgers
Cauliflower bites
Crispy chick'n
Dips such as guacamole or hummus
Falafels and Falafel wraps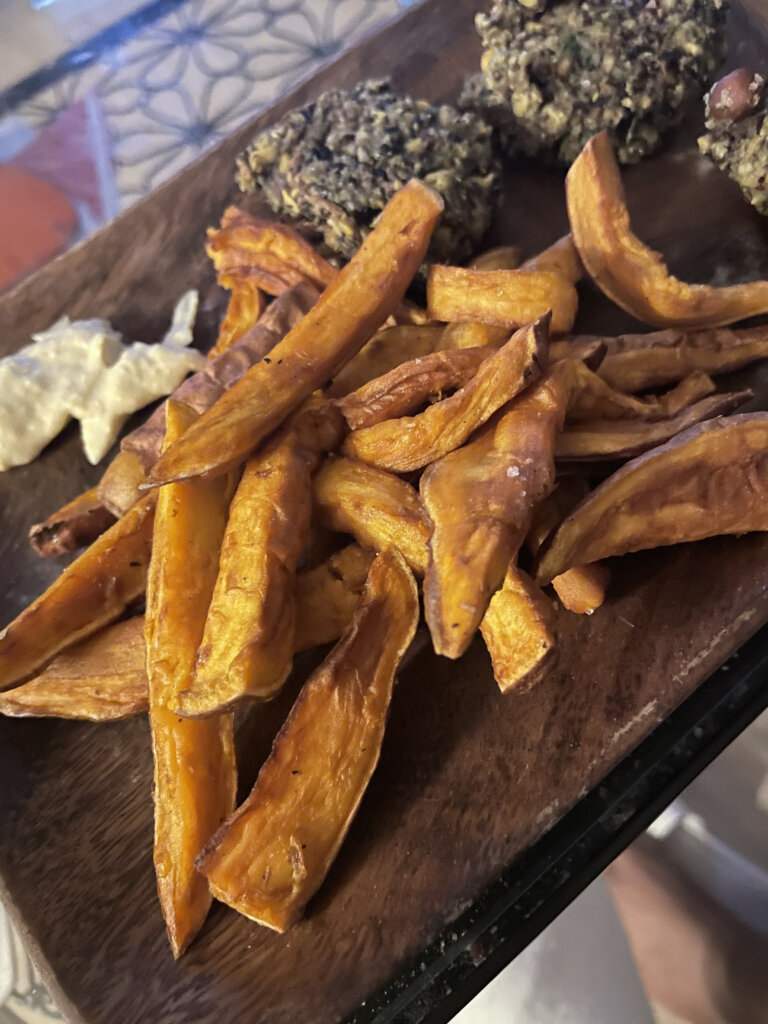 I like them as a side to bigger dishes as you would with chips, be creative with it, once you master the recipe you'd want it with everything!
We hope you enjoy this veganised sweet potato fry recipe, a naturally vegan staple.
If you learnt something new today, or love this recipe, feel free to share with a friend or family member, and bookmark us for the future.
Thanks for stopping by. Stay well, and stay blessed.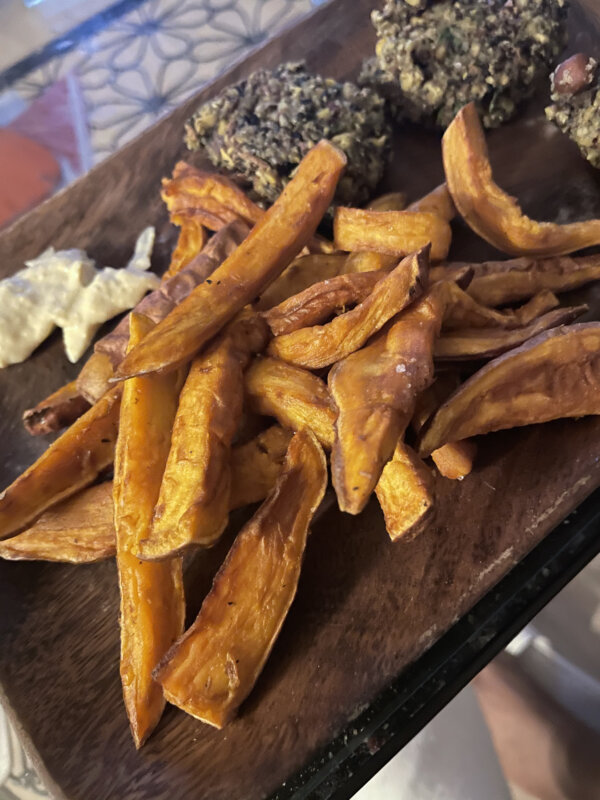 | | |
| --- | --- |
| | |
Gather ingredients, wash and peel the sweet potato.

Cut sweet potato into thin chip sizes, ideally thin strips slightly thinner than wedges (around 1cm thick), heat oil during this stage.

Once oil is hot, add cut sweet potatoes and deep fry for 5-8 minutes, or until visibly cooked around the edges.

Once cooked, drain off in a bowl lined with kitchen paper.

Serve and enjoy while de-oiled and still hot!