Cauliflower bites, the notoriously hated vegan option simply because recipes typically use the word "wing" in its name.
A creative way to use cauliflower, and way more tasty than you'd expect. If you haven't tried crispy cauliflower bites, you need to give it a go.
Why are they called cauliflower wings?
Crispy cauliflower "wings" are called that because the purpose is to emulate non-vegan, chicken wings.
Of course, they're not actually wings, but the closest comparison to the crispiness of these cauliflower bites can only be compared to them, for vegans.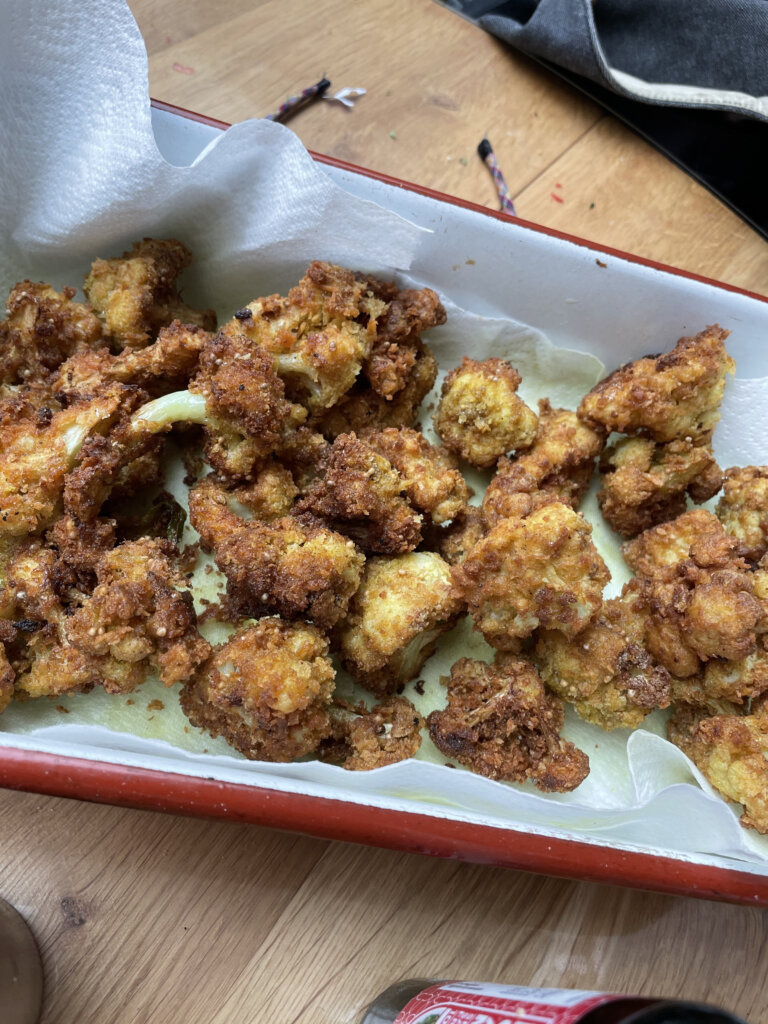 Are cauliflower wings better for you?
Compared to chicken, which is of course animal meat, high in sodium and not as healthy as cauliflower; You can consider cauliflower wings as the healthier option.
Cauliflower also comes with the benefits of being cholesterol free and rich in fibre and other nutrients.
Are cauliflower wings vegan?
Cauliflower wings are indeed vegan, they tend to be made of cauliflower spices and batter.
Be careful as some veggie recipes out there may contain egg for the dip, which of course isn't vegan-friendly.
What pairs well with vegan cauliflower wings?
Cauliflower wings pair well with a rich bbq dip, veganised ranch dip, mayo and even ketchup. Side dishes that pair really well with cauliflower wings include chips, fried rice, sweet potato and sweet potato.
This recipe is perfect for those who want a quick junk food fix. A tasty, beautiful combination of veggie and comfort food for those looking to expand their horizons.
This recipe is fairly quick to make, kid-friendly and cheap and cheerful to source ingredients for.
If you love this recipe bookmark it for future use, be sure to share with a friend and drop a comment on what you ate it with!
Thanks for stopping by, and stay blessed.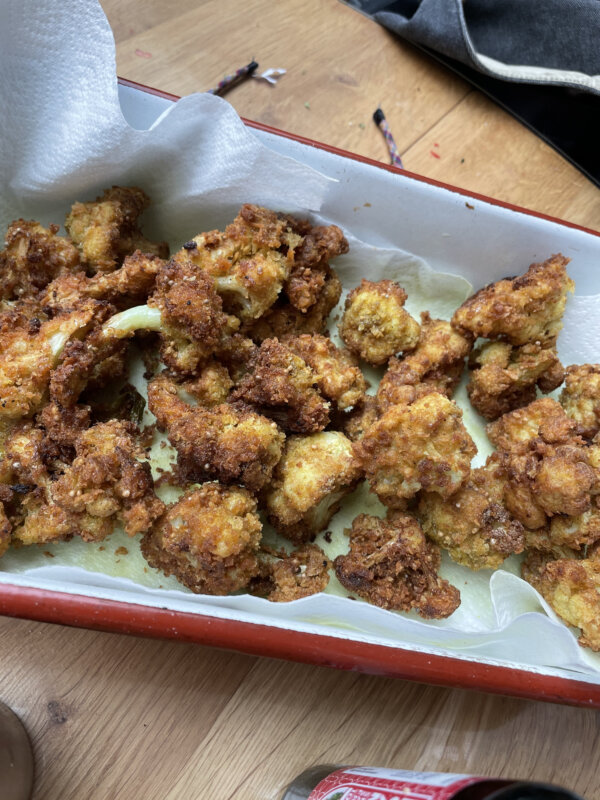 Passive Time

1

Hour 5 Minutes
Passive Time

1

Hour 5 Minutes
Wash the cauliflower well, carefully to avoid breaking off any pieces. Chop into just above bite sized florets on a chopping board and set aside. Pre-heat the oven to 200 degrees.

Combine all spices with milk and flour and whisk to make a thick batter. In a separate plate, pour out the breadcrumbs, adding a pinch of salt and pepper to the dry mix.

Dip cauliflower into the batter mix holding it by the stem until well coated, then smother with breadcrumbs, place into a greased baking plate, repeating the process for the remaining florets.

Cook cauliflower in the oven for 20-25 minutes, then flip them, cooking again for another 20 minutes, or until crisp and golden.

Once cooked, remove from the oven and serve with your favourite side dishes, or enjoy it as part of a tapas spread.