Vegan falafel wraps can go one of two ways, absolutely amazing, or painfully average.
In this case, with my experience being a seasoned vegan and Middle Easterner by blood – I got a respectable recipe for the people.
I find that with wraps in general, less is more is a concept that can go a really long way.
Not necessarily to add less, but for a wrap like this, adding small quantities of different elements does most of the work for you!
What are falafel wraps made of?
Typical falafel wraps contain falafels (obviously), hummus, greens and typically some tahini sauce. A healthy lunch option and a great way to make use of your falafel mix in the pantry.
With our tahini sauce, we make a simple blend of tahini, lemon and sweetness from agave syrup; adding a whole other element to your regular-schmegular falafel wrap.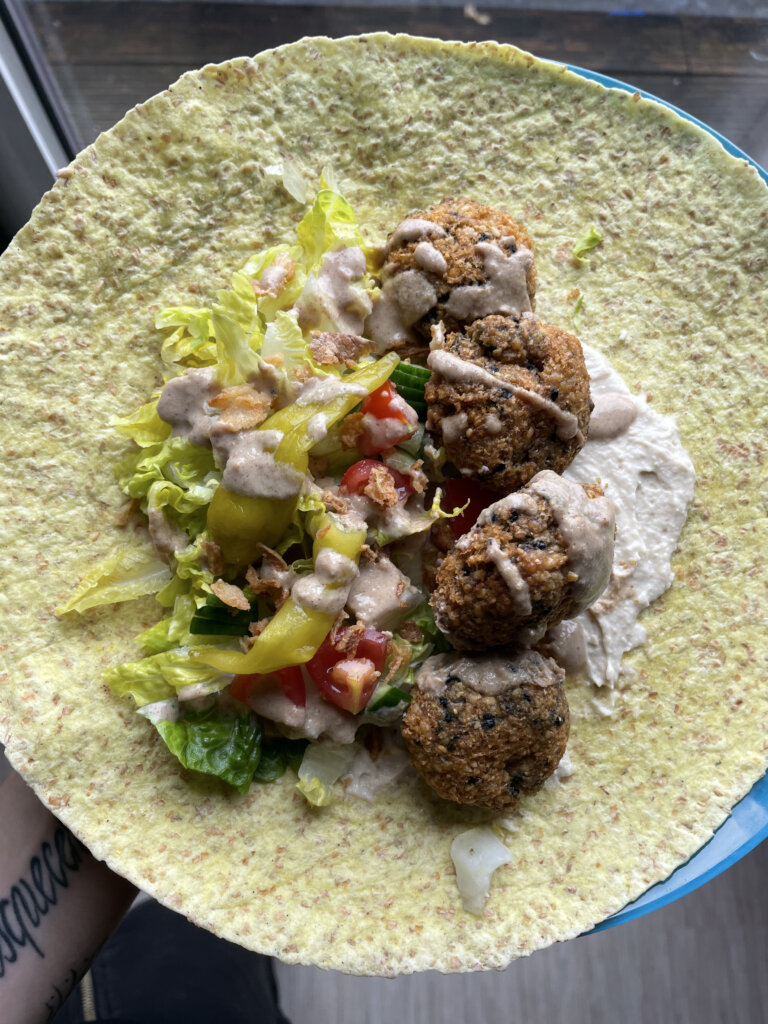 Are falafel wraps healthy?
As falafel wraps tend to be a great balance of fibre, veggies and healthy fats and nutrients from the tahini and hummus, they make for a very healthy choice.
Falafel wraps are one of those things that I didn't know I needed in my life.
Coming from the veggie option in a fish and chip or kebab shop, or watered down falafel, to genuinely tasty falafel wraps from specialist places.
You really don't know what you're missing till you have your first great falafel wrap.
This veganised falafel recipe is for the vegans (and non-vegans) who want to make sure your wrap has every element, sans the sneaky dairy.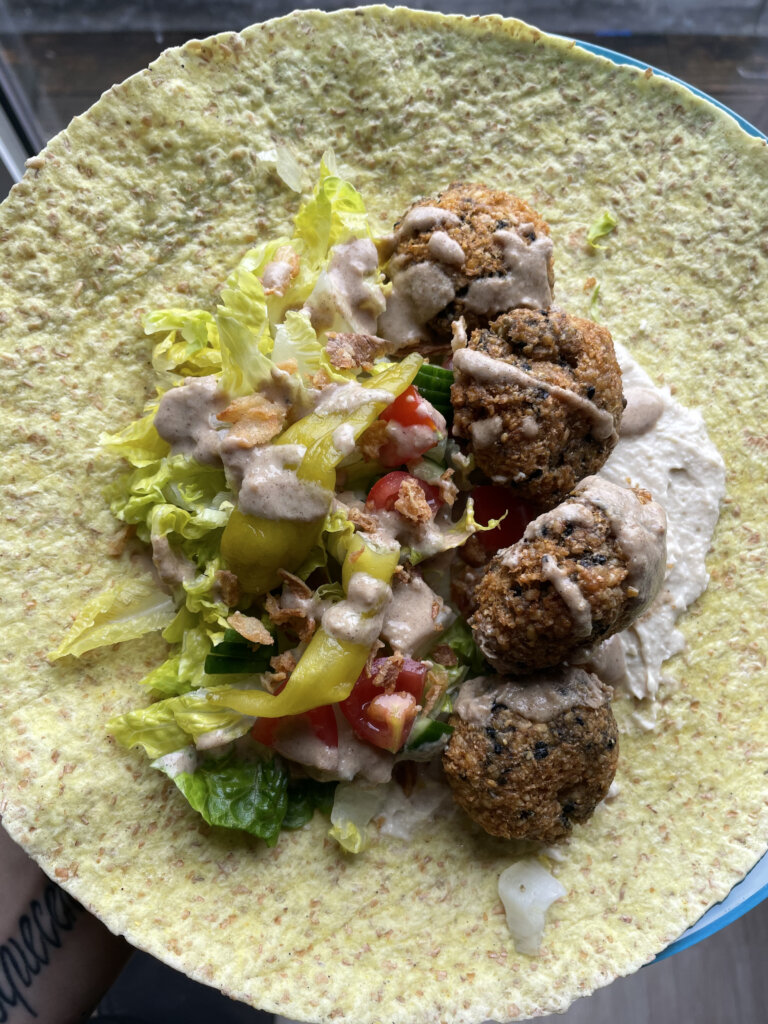 What makes a great falafel wrap?
I believe a great falafel wrap incorporates all these necessary elements, including:
Hearty falafel, hummus and tahini sauce goodness
Bitterness from pickled veg, spice from chilli
Freshness from salad leaves, cucumber and tomato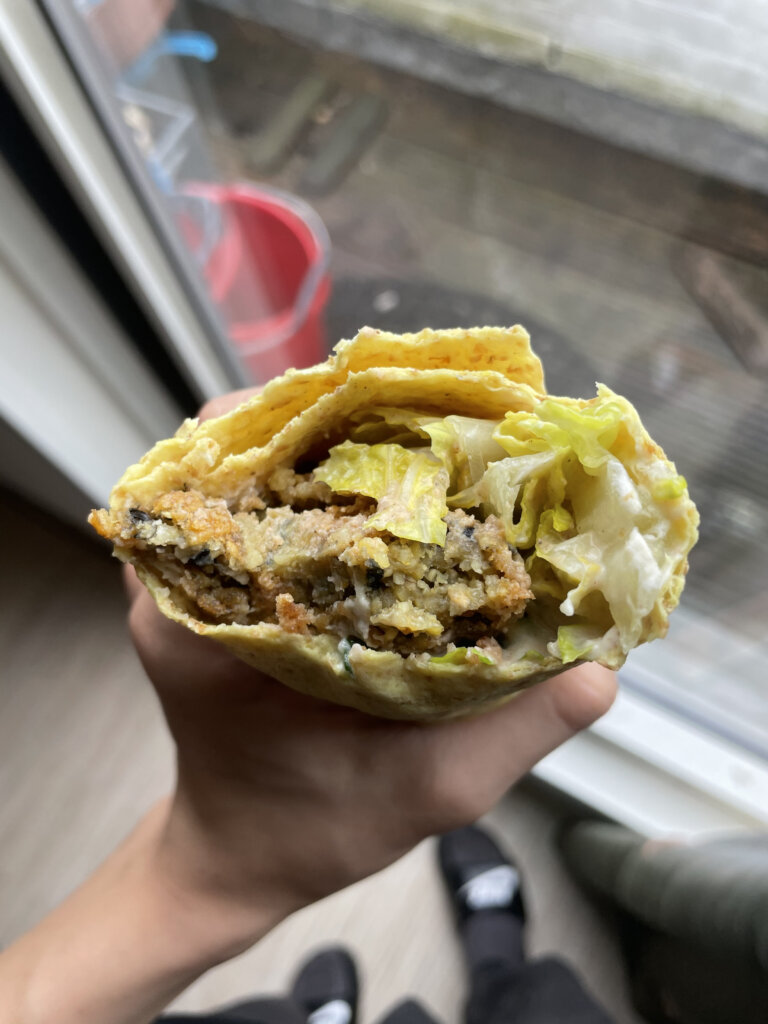 Try this recipe today and I guarantee you'll come back to make it again and again.
Feel free to bookmark this recipe if you loved it, share with a friend and drop a comment if you made any changes!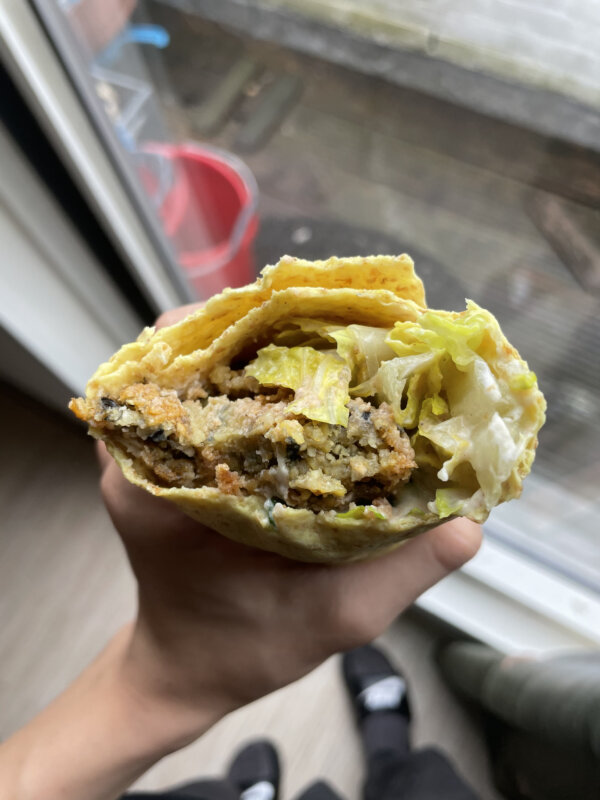 | | |
| --- | --- |
| | |
Start out by washing and tearing lettuce, drain well and set aside. De-seed pickled jalapeños, snip off tips and set aside.

Wash and cut tomatoes and cucumber finely, place on a mesh sieve, sprinkle on salt and leave over a bowl, to draw out water, leave for 10 minutes.

Combine tahini sauce ingredients in a bowl, except ice water, which you add in slowly after, mix with a whisk to combine well. Consistency should be drizzly, yet thick, and slightly sweet, adjust accordingly.

Once 10 minutes have passed and tomatoes and cucumber are ready, lay out a wrap on a plate, add hummus, falafel, lettuce and jalapeños, cucumber and tomato - then drizzle on tahini sauce with a spoon.

Tuck in the wrap from the bottom, and tuck tightly one side at a time, leaving the top open. You should now have a tightly closed wrap.

Repeat again for the second, serve and enjoy. This wrap can also be enjoyed cold.