Before going vegan I don't think I've even heard of bamia, a traditional okra stew, commonly made with meat like lamb or beef.
Skip to recipe
This veganised bamia recipe is a simple one, combining the quality flavours of simple ingredients, to make an okra stew that is a good go-to for a mid-week side dish, or as a light lunch on a bed of rice.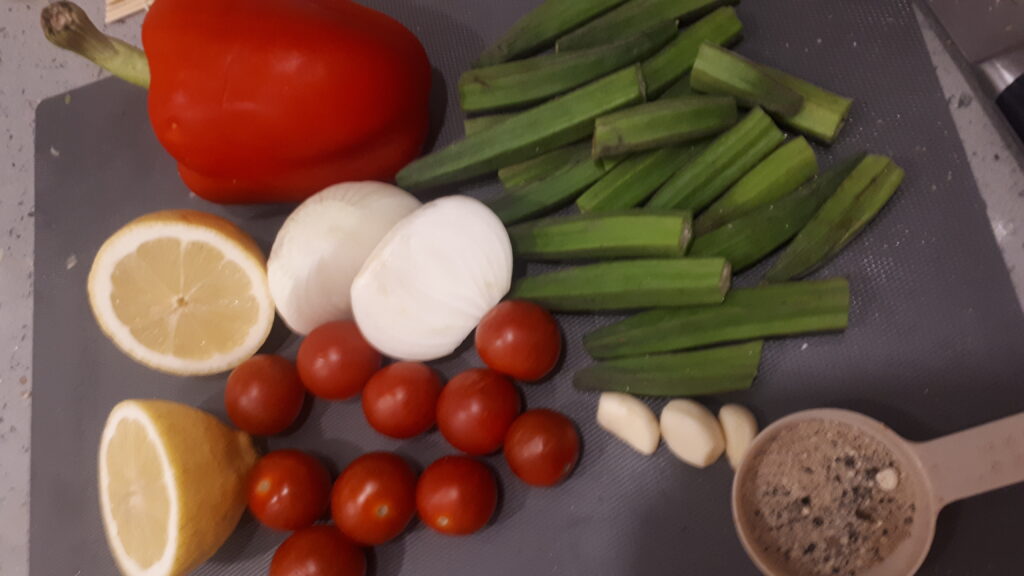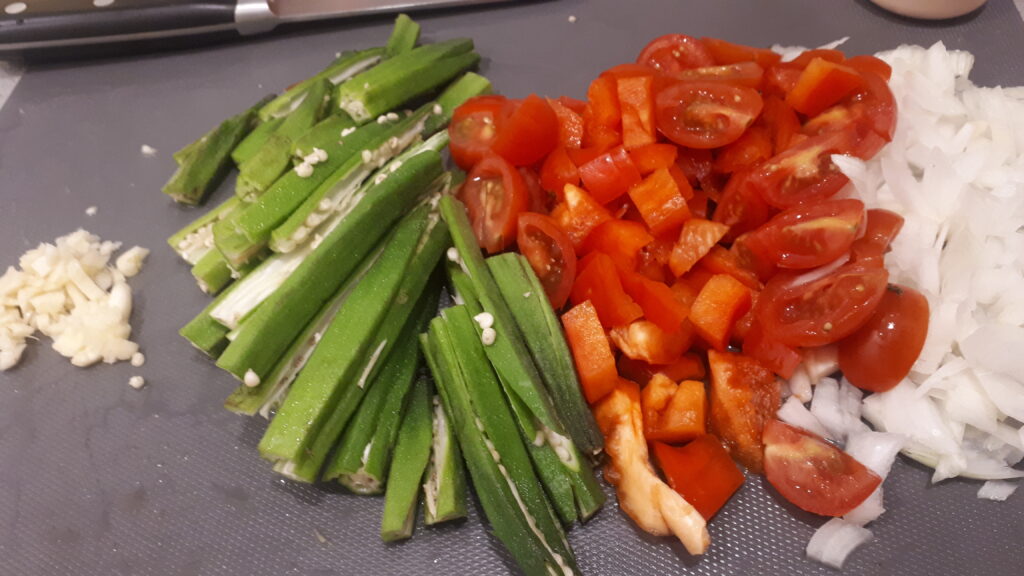 How long does it make to cook your vegan bamia?
It doesn't take long at all, you only need a good 30 minutes in your day to whip this up, the perfect timing if you were to boil rice and prepare a salad in the meantime.
This veggie okra stew is the perfect choice for someone who wants to satisfy their hunger, knowing that what they're eating is a great healthy option.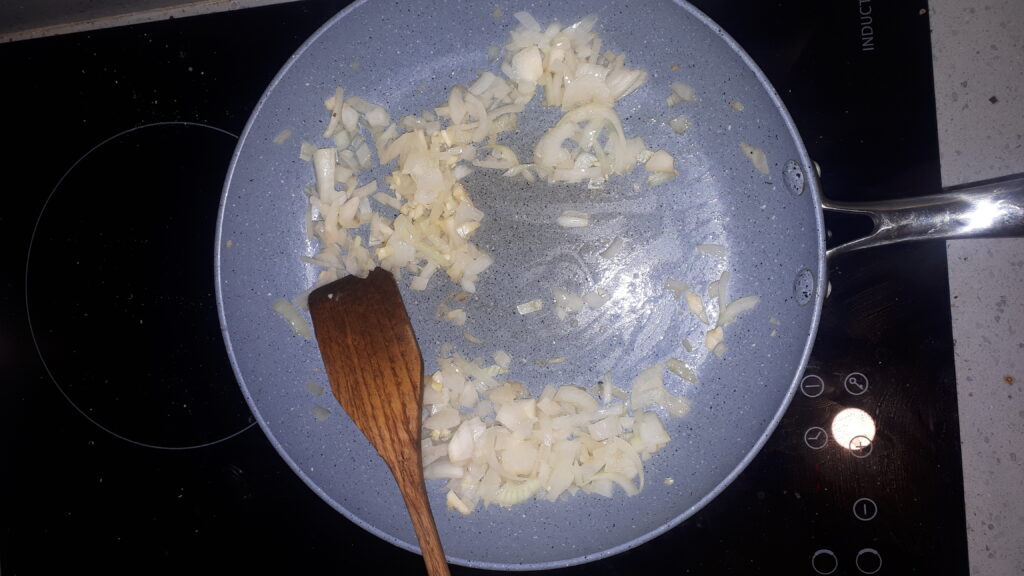 All it takes is sweating down some onions, adding the okra, bell pepper and spices, splash of water and stew until it thickens.
Okra is a great choice for a natural thickener for any stew, considering the texture of okra is so unique, almost slimey, for lack of a better word. What's more okra is actually rather popular when it comes to foods that assist with digestive health.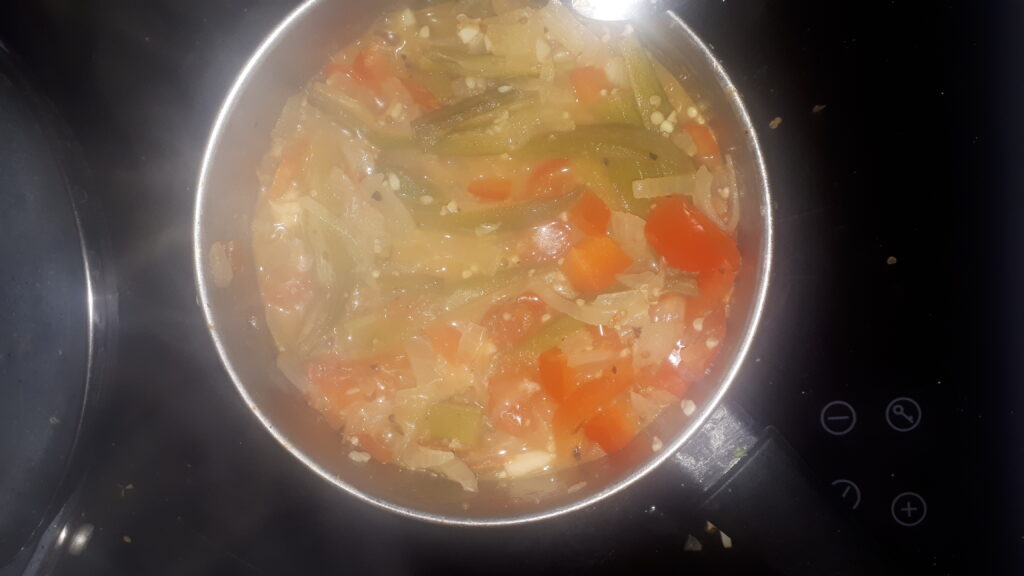 Once you've stewed the okra to the point where the sauce becomes creamy and the pot becomes steamy, it's now ready to serve.
You can pair this veganised okra stew (bamia) with:
Rice
Quinoa
Millet
Roasted potatoes
As well as anything else you wish, there's no rules here.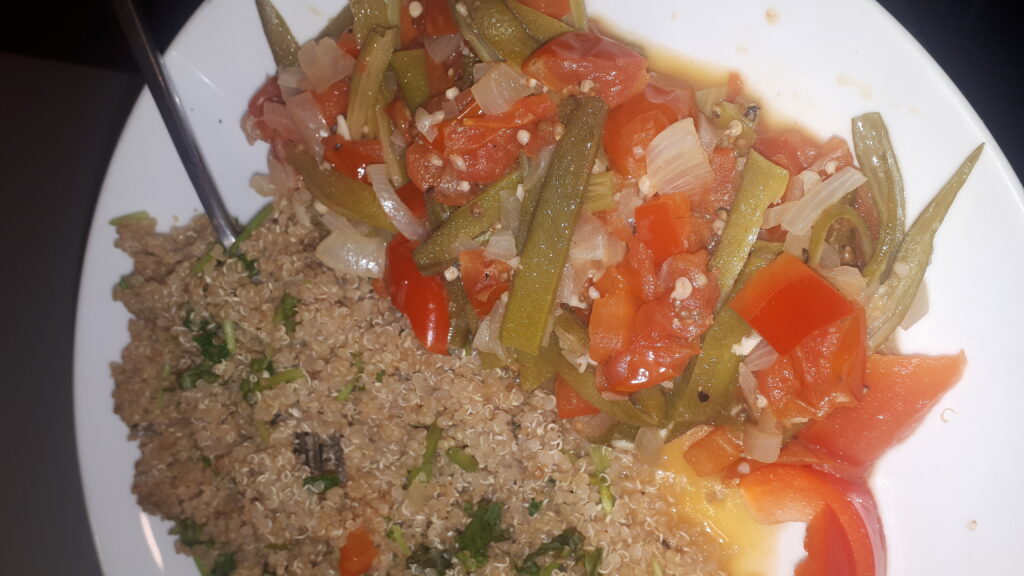 An easy, healthy, okra stew recipe you can whip up mid-week – I served mine with a side of cilantro lime quinoa, which you can also whip up for yourself.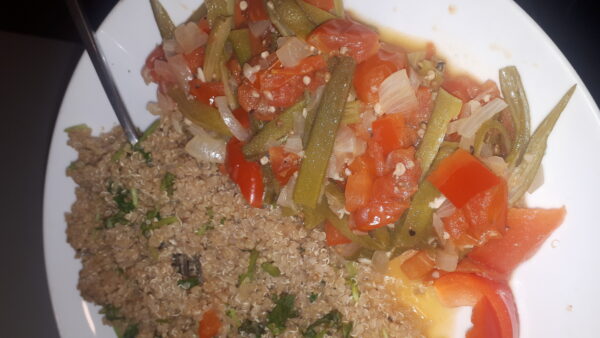 | | |
| --- | --- |
| | |
Chop onions finely and heat oil in a pan, cook onions for around 2-4 minutes until they start to become translucent.

Add okra, chopped in halves length ways along with very finely chopped garlic, cook for one more minute.

Add tomato, lemon juice and water into saucepan, bring to a boil, then lower, cover and simmer for a further 10 minutes.

Add the remaining salt and pepper, garlic powder, and diced bell peppers into the mix, and cook for 5 minutes, until okra is cooked and sauce is thickened.

Serve on a bed of rice, quinoa, or other vegan grain you know or love - As a side, or light lunch/appetiser.