Okay, so this was one of the greatest accidents ever to come from my kitchen. We're talking red lentil curry, potatoes, crispy onion bhajis, salad and sauces, all in one beautiful wrap.
These vegan curry wraps are unlike anything you've seen anywhere on the web, and you'd be surprised how quickly they can be made for a mid-week meal, to impress your friends, fam and filhos (kids).
What's in our vegan curry wraps?
Basic red lentil curry
Mixed salad
Fried potatoes
Onion bhajis
Seeded wraps
Vegan Mayo
Sriracha
These vegan curry wraps are moreish, high in protein, tasty and unique.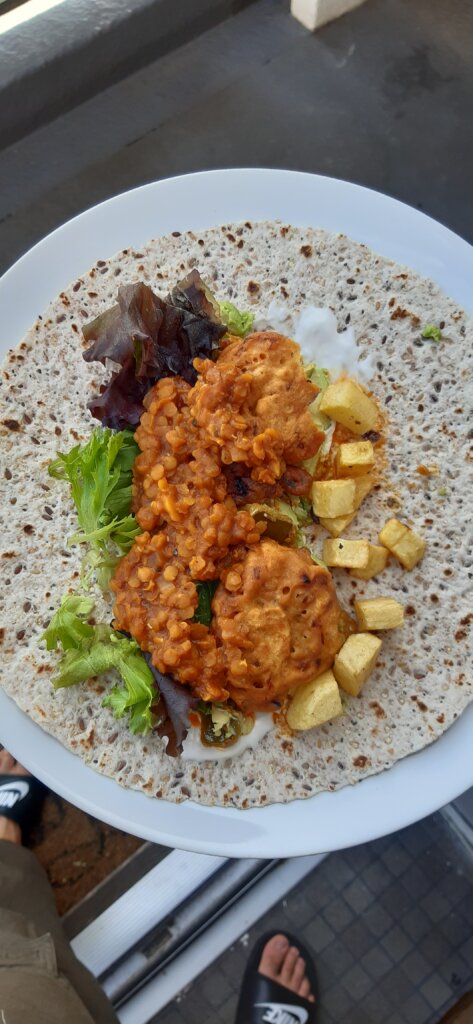 I promise you've never heard anything like it, and it'll soon become one of your favourite wraps to date, whether you're a vegan enthusiast or a meat lover.
How to add curry to a wrap and not make it soggy
I know what you're thinking, how do we make proper curry wraps without it soaking and breaking through the bread?
The thing is with the vegan red lentil curry, is that it cooks in 20 minutes, and doesn't get too runny – The red lentils tend to bulk up.
If your curry ends up too runny try you can cook it more to reduce it; or just make sure you layer the wrap with dry salad leaves to absorb some of it when adding the curry goodness.
Can you add onion bhajis in a wrap?
So, the reason I made this wrap is because I didn't want to make rice and had some leftover wraps in my kitchen.
With curries I love my onion bhajis and a side of naan. What better way to approach this concept than to combine all the above?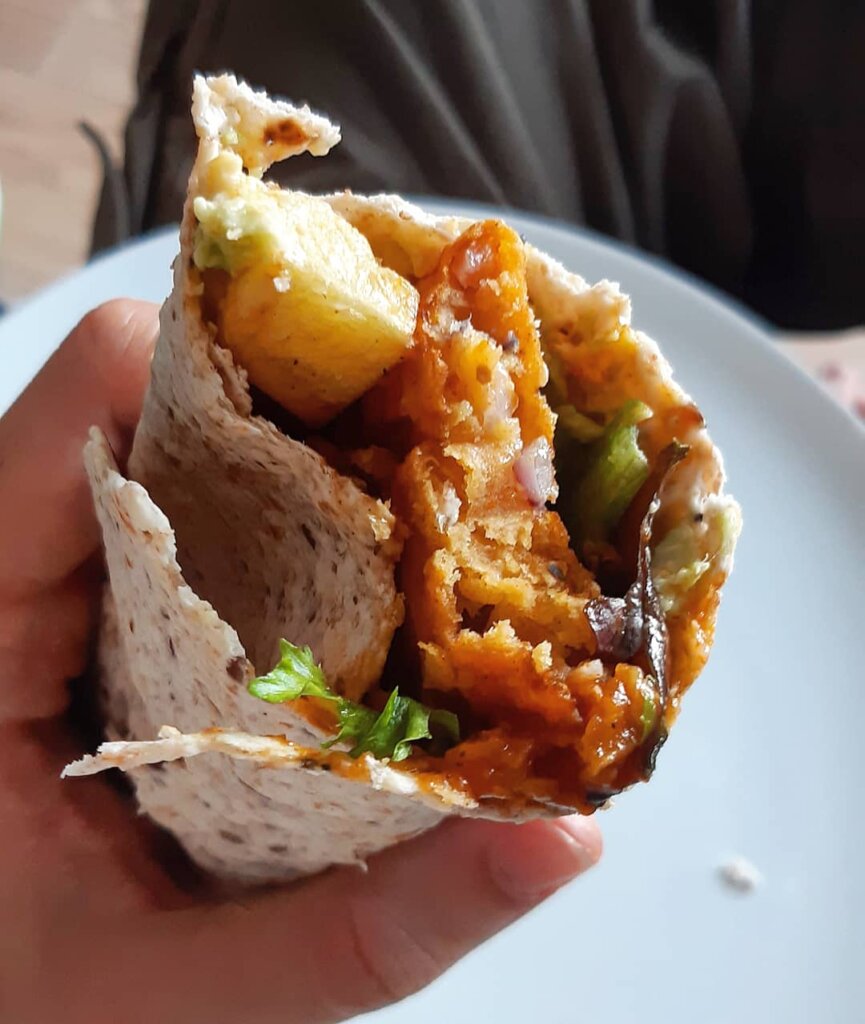 Onion bhajis work well in a wrap, this and the mixed leaves add a much-needed crunch which complements the curry and crispy potatoes beautifully.
The cooling mayo and tangy sriracha make the wrap, THE wrap.
We know you'll enjoy this vegan curry wrap, it's easy to make, enjoyable hot and cold, and just requires a little preparation. Be sure to hashtag #veganisingit if you try this for yourself, comment and share!
| | |
| --- | --- |
| | |
Dice a small onion, heat oil on a skillet and add onions to the pan, cook for 3-5 minutes or until fragrant.

Add tomato paste, curry powder, garlic powder, black pepper and a tbsp of water in the pan to make a paste, stir and bring to a light boil on a medium heat.

Heat water in a kettle and pour 1 and a half cups into a jug, dissolve vegetable stock of your choice. Rinse red lentils thoroughly to remove starch and add to the saucepan, followed by the stock.

Bring to a boil, and cook for 15-20 minutes or until lentils have cooked and sauce has thickened, set aside and leave uncovered to reduce.

Peel the potato and cut into cubes. Heat some more oil in a frying pan, once the oil is hot and crackling add the small potato cubes and cook until crispy on the outside and soft on the inside.

Drain on a paper towel, and salt to your taste.

Lay out your seeded wraps and spread vegan mayo. Add a handful of salad leaves, a spoonful of curry, 2 onion bhajis and crispy potatoes. Drizzle sriracha to your heart's desire.

Fold wrap from the bottom up to the middle, grab the sides and tuck the wrap tight.

Serve while warm and be amazed at this new concoction!