Potato wedges are a great accompaniment to pizza, hummus, heck, whatever you deem they pair well with, they're potatoes!
The main problem when it comes to the typical potato wedge recipe, is that a lot of them call for butter; or they sneak milk or lactose in some way or another, through whey powder or something similar.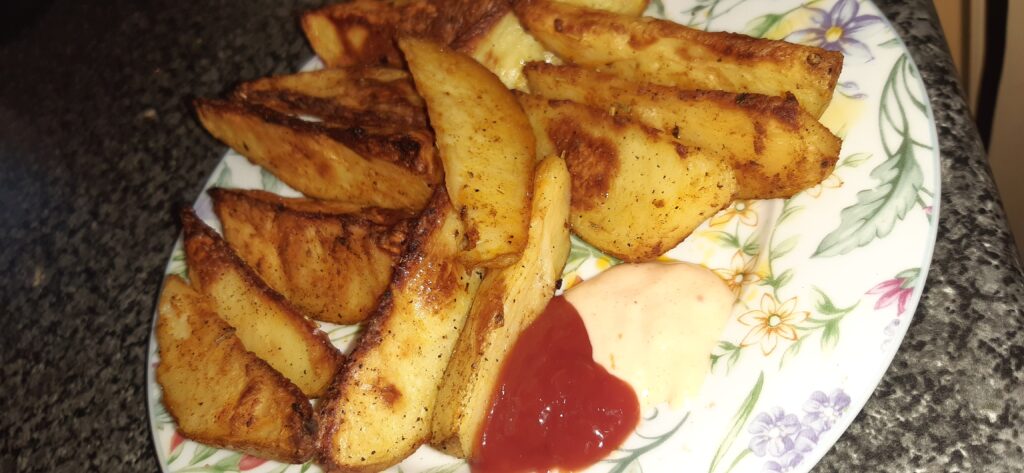 How to veganise potato wedges
It's easy, you add your desired seasonings, a drizzle of oil oil, and cook until golden. This vegan potato wedge recipe is ideal for the student or working individual that needs a quick fix of carbs throughout their busy weeks.
What you need for perfect vegan potato wedges:
Potatoes
Rosemary
Smoked Paprika
Salt
Black Pepper
Olive Oil
What pairs well with vegan potato wedges?
These wedges can go well with virtually anything, as mentioned before, but I personally enjoy them alongside pizza, to accompany some type of greasy food like a vegan burger, or to dip in a homemade vegan hummus.
The possibilities are endless, sometimes I even end up merely enjoying them with a side of ketchup and vegan perinaise, hits the spot too!
This is an easy recipe for anyone that can be whipped up in one hour, is kid friendly, and is dirt cheap to make.
| | |
| --- | --- |
| | |
Wash the potatoes well and drain, chop into consistent wedge shapes and put into a saucepan of boiling, salted water, parboil for 10 mins. Preheat oven to 200 degrees celsius.

Remove and drain the potatoes, add to oven tray and drizzle oil on top, as well as seasonings, mix well with your hands and set aside to marinate for 10 minutes.

Place tray of wedges into the heated oven, cook for 30 minutes, or until fork can poke through with ease. Turn heat up to grill, and toast the potatoes for 5 minutes to brow and crisp the edges.

Once potatoes are golden brown and crispy on the outside, fluffy on the inside, remove from oven and serve, they are now ready. Eat within an hour for best results, like fries, they're not amazing once reheated.