Vegan tzatziki is one of those dips that seem a lot more complicated than it is to make; it's essentially only made of few ingredients, and incredibly easy to veganise.
This recipe calls for only 5 ingredients, can be made in under an hour, with the longest part being allowing the dip to absorb the flavours.
For those interested in making a simple 5-ingredient veganised tzatziki, all you need is the following:
Vegan yoghurt
Lemon juice
Mint
Cucumber
Garlic
This recipe doesn't require any additional oil, is healthy, and perfect to eat alongside your favourite Middle-Eastern favourites.
What does tzatziki pair well with?
We recommend enjoying your homemade tzatziki with some falafels, veggie cous cous, veganised meatballs, alongside a vegan kebab or as a simple dip for your chips and wedges.
The batch you'd get from one recipe is rather large, so you'd likely end up mixing up what you'd be eating it with; I personally ended up eating it as a dip for most meals and salads I had throughout the week.
How long does vegan tzatziki last?
This homemade vegan tzatziki recipe can hold up in the fridge for up to 5 days. As it's not made of dairy, and instead from plant-based yoghurt, and lemon juice; the tzatziki dip is good to last you the whole week in an airtight glass jar.
Be sure to double check to see the cucumber is still good before serving; Say, if you have left it in the fridge a while, and generally when too much liquid has separated, you probably want to give it a pass.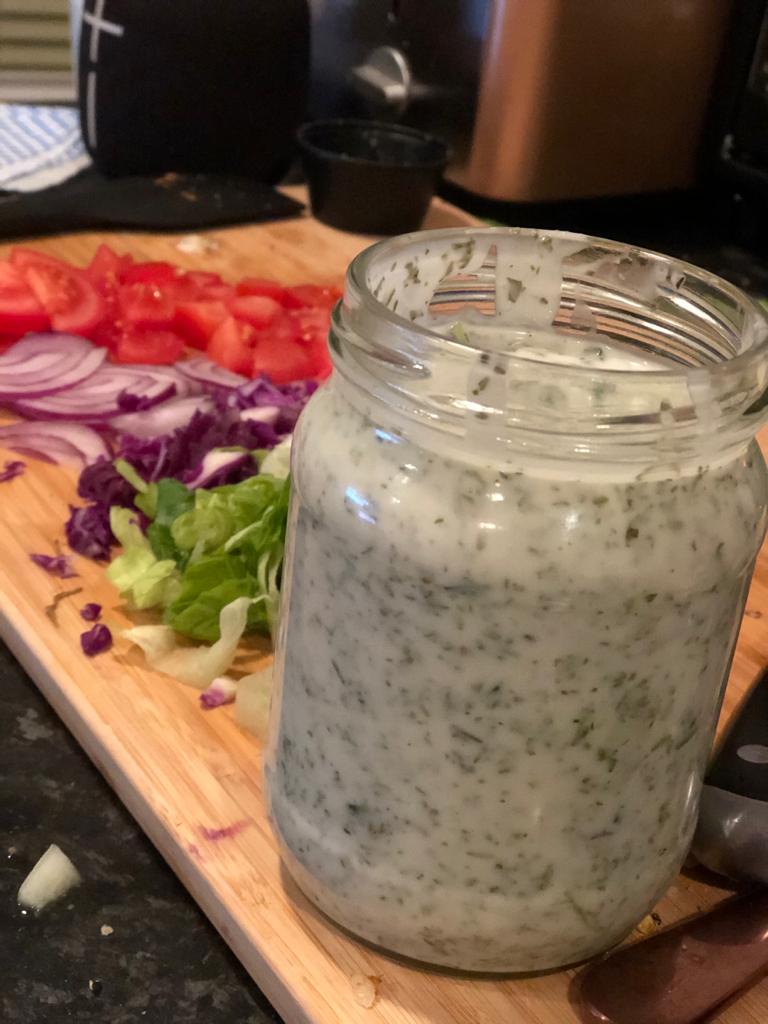 Alternatively, if you don't mind if the recipe is oil-free or not, you could add one tbsp of olive oil to the recipe which helps to aid preservation.
This veganised tzatziki recipe is quick, easy to make and bound to impress your friends and family at any function – be sure to try it today and share it with your loved ones!
| | |
| --- | --- |
| | |
Wash and finely chop cucumber into quarters, set aside.

Scoop yoghurt into a mixing bowl, combine lemon juice, mint and finely crushed or minced garlic, stir well.

Combine cucumber with liquid mix and add to mixing bowl with a pinch of salt, stir and evenly coat.

Leave for 30 minutes minimum so flavours can combine – I like to leave it 1 day in the fridge for the ideal taste.

Serve with your favourite Mediterranean entrée, falafels, or veganised kebabs!
Lasts for 4 days in the fridge, may clump naturally like yoghurt, make sure you stir before use if stored. 
Olive oil helps it last longer, if you require oil free, leave this out!