Looking for a veggie mushroom cous cous recipe that can be put together in less than 30 minutes? Look no further. Being one of my favourite grains, cous cous is definitely a go-to in my household.
Cous cous is a grain that I became familiar with in general when I first started cooking. It was so different to rice, great paired with smoke flavours, and held the flavours of veggies so well.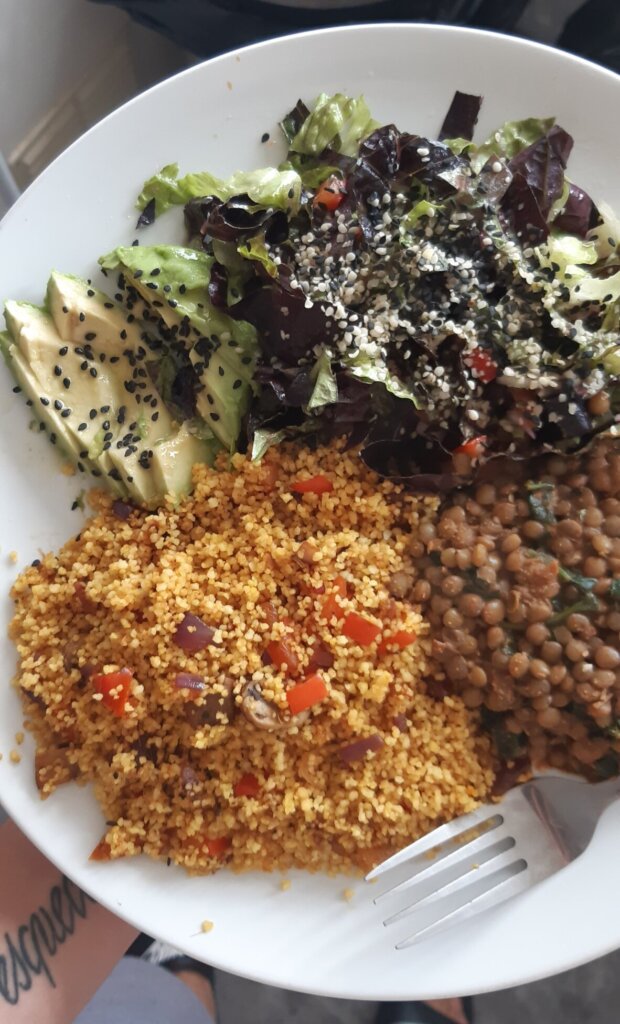 I personally like my cous cous when I've got a bean or pulse cooking. …And don't have time to make a rice or pasta side dish and feel like a little change of pace. Cous cous is also a great way to use up spare veggies; slap them into a mix of cous cous in a pan and go ham (or vegan ham)!
Is it hard to cook?
Couscous is actually one of the few grains that I know of that literally is prepped in 5 minutes. I literally pour some cous cous into a bowl with some salt & turmeric; submerge in boiling water; cover the bowl and allow to sit for five mins. Then fluff with a fork and it's ready, in literally no time!
What is the ratio of water to use?
As a rule of thumb, to avoid dry couscous grains, or overly mushy couscous; we want to keep the ratio of water to grain at a solid 2:1.
Couscous is genuinely hard to get wrong though, so don't fret if you don't stick with the ratio to the tee, you'd be able to see if your couscous is behaving. The most important part is to make sure you give the couscous time to absorb the water, so it's important to make sure you give it time while covered to do just that.
Is couscous healthier than rice?
If we're comparing regular refined white rice to wholewheat couscous. Then yes, essentially couscous is more nutritious than the everyday rice you'd find in the supermarket.
With this veggie mushroom couscous recipe we get the benefits of hearty veggies and tasty textures couscous has to offer. You can enjoy this veggie couscous recipe for an easy mid-week fix, to bulk up a salad; or as a side dish for some homemade vegan falafels.
If you like this veggie mushroom cous cous recipe be sure to bookmark and share with your loved ones.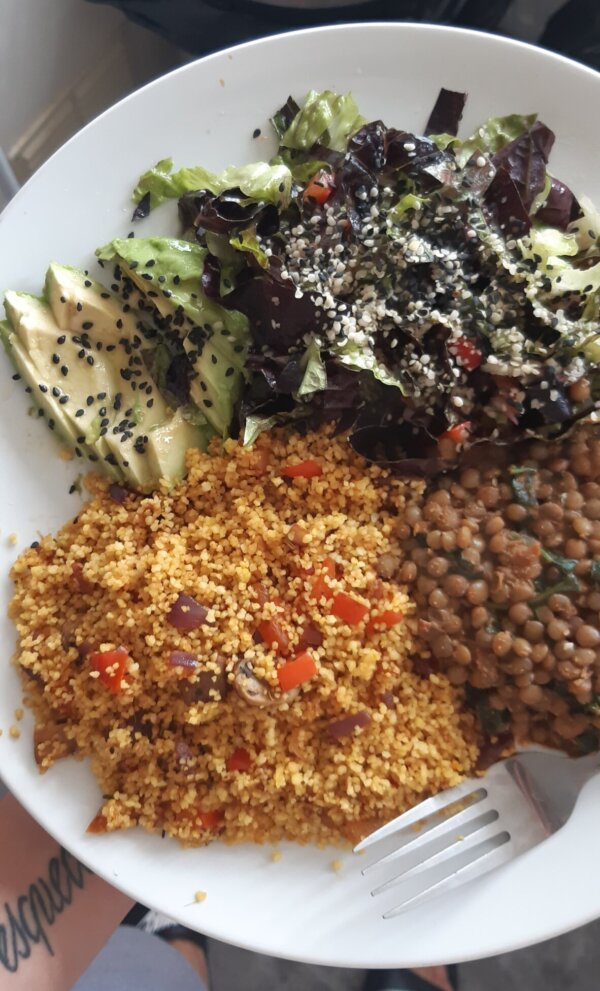 | | |
| --- | --- |
| | |
Bring water to a boil, dissolve veggie stock cube into large cup, pour over 1 cup of dried couscous with 1 tsp of turmeric; in a large bowl, cover with a plate for 5 minutes.

Thinly slice red onion, pepper, mushrooms, and carrot into small pieces. Heat oil in a pan and fry red onions until softened, add mushrooms and cook a further 5 minutes until water is released.

Add bell pepper and cubed carrot, add 50 ml of water too, bring to a light boil, and add garlic powder, smoked paprika and cumin, form a paste and cook on a low heat for 2 minutes until aromatic.

Fluff prepped cous cous in the bowl and transfer to the pan of veggies, combine and stir well, cook for a further 5-10 minutes on a medium-low heat, until all excess water is evaporated.

Leave to sit for 5 minutes before serving. Enjoy with lentils, hummus or homemade falafels!
No need to cook couscous, just submerge with boiling water and cover a bowl with a plate for 5 mins.