Tacos were one thing I wasn't raised with, but I loved the idea of, originally, my favourite filler was chicken and chorizo.
However, I can't say it was ever amazing eating tacos. I have to say my main memory of it is being very mediocre at best, sitting in chiquitos chewing on dry meat, in a crispy case – After a twenty minute wait to get in in the first place.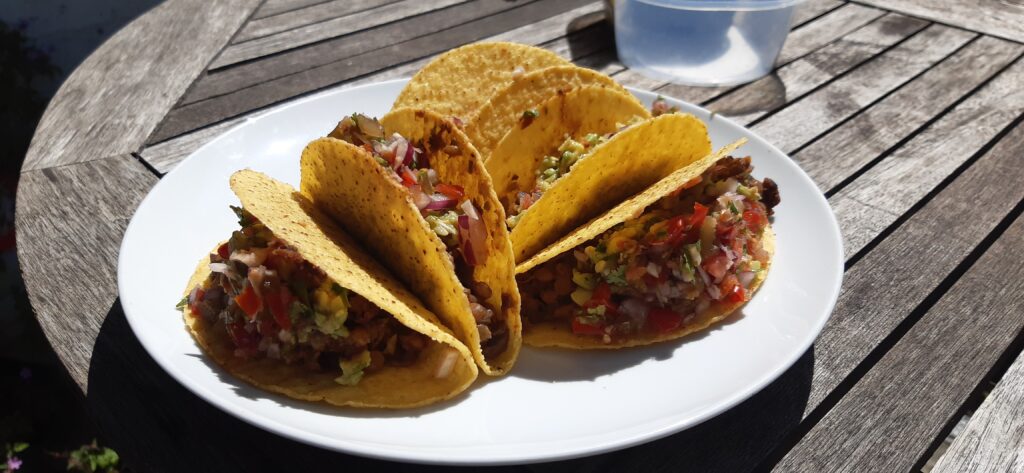 Not today, since going vegan I've had to rely on my own cooking to satisfy my needs, in this case being my grease tooth.
Having experimented with blackbeans, mushrooms and spice variations, I've developed a banging vegan brown lentil and taco recipe to make anybody's mouth water.
Perfect party food, for barbecues or for your skeptical meat-eating friend.
Lentils? In Tacos?
Yes. you may hav heard of black bean tacos, which are rather popular in general with vegans and meat eaters alike, but lentils are indeed one underrated legume.
Brown lentils in particular soak up flavour well, tend to keep their shape, and maintain a consistent bite to it, unlike other lentil varieties, i.e. split red lentils which tend to cook into a paste.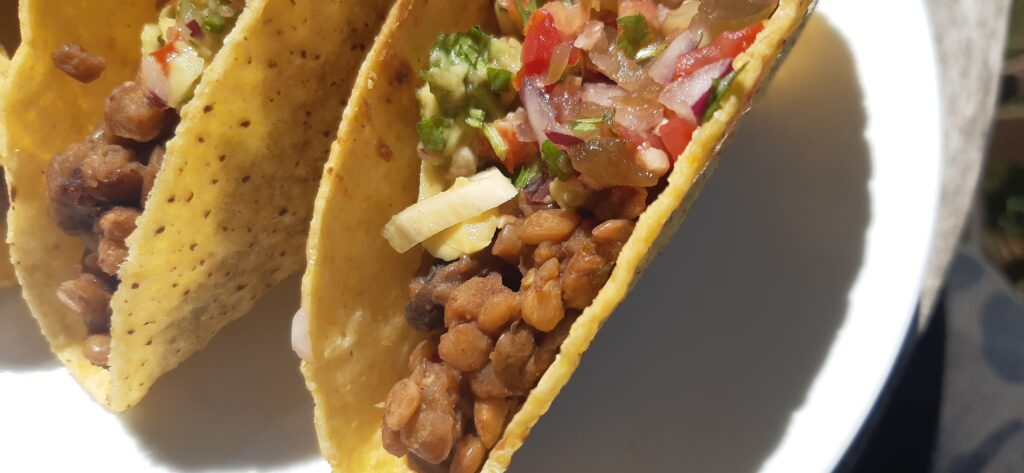 These brown lentil & mushroom tacos encapsulate the ground-beef alike texture of the lentils and the chewiness of the mushrooms, as well as aromatic spices such as cumin and smoked paprika – to create a taste experience that would get even the biggest lover of meat going for seconds.
These brown lentil & mushroom tacos are made of rather simple ingredients:
Brown lentils
Mushrooms
Garlic Powder
Cumin
Smoked Paprika
Stock
Black Pepper
Taco Shells
Guacamole
Salsa
Cheese (optional)
These tacos are meat-eater approved, and high in protein, as well as being low in fat, the perfect meal for the no meat athlete that wishes to bulk up.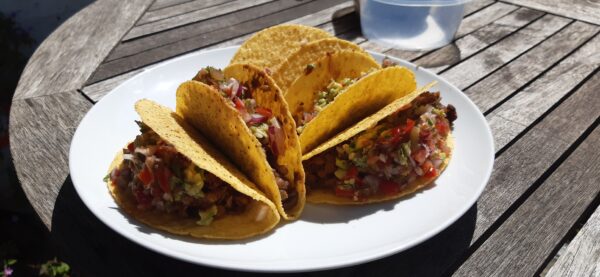 | | |
| --- | --- |
| | |
Fry onions in a little oil, combine with tomato paste, 1 tbsp water, and spices, mix well until fragrant and onions sweat out water, approx 5-10 minutes.

Add in chopped brown mushrooms, and cook until liquid releases also, another 5-10 minutes or so. then add in the soaked lentils, along with the prepared vegetable stock.

Bring to a boil, cover and simmer for 30-40 minutes, or until water is absorbed by the lentils, in the meantime prepare your salsa and guacamole for garnishing. Once taco mix is ready, remove from heat and leave to thicken for 10-15 minutes.

Heat taco shells as per instructions, and add a good amount of filling, salsa and guacamole. Enjoy with friends and family, sharing is caring!
Use dried brown lentils and soak overnight for the best results - Tinned lentils tend to be very mushy when cooked.