Going vegan I never thought I'd be able to enjoy a decent lasagne again. The other day I was at Tesco's and found some gluten free lasagne sheets, thought to myself:
You know what? I've improvised a veganised shepherd's pie that turned out banging, let me make a vegan lentil lasagne recipe, and that's exactly what I've done.
Skip to recipe
How to veganise lasagne?
My experience with lasagne growing up was somewhat consistent, minced meat and veggie mix with layers of pasta, white sauce and topped with lots of cheese.
So the meaty part was the hardest. Personally I prefer green lentils for minced meat dishes but wanted to experiment.
So I went for a combination of: Red lentils, mushrooms, courgette, bell pepper and garden peas, which made a lovely, more-ish satisfying texture – not to mention the taste and texture was significantly better than the minced meat mix I remember.
Veganising White Sauce
Traditional white sauce, or if you want to be fancy " Béchamel" is made up of butter flour and milk. Simply swap the milk for almond milk, flour for gram flour, and use dairy free butter. You can also add grated vegan cheese to the mix, to thicken the sauce even more.
I did this to also add an extra depth of cheesiness, and the fact that my sister's lasagne recipe, which is what I think of when I think "lasagne", also included cheese in her white sauce.
I was actually pleasantly surprised with the outcome. Not that I wasn't expecting it to taste good, but because usually when I cook with red lentils they turn a mushy texture. So I prefer using them in curries instead.
But they seemed to hold their shape and bite well, and combined with mushrooms and other veggies, made a great substitute for minced meat that I even surprised myself with.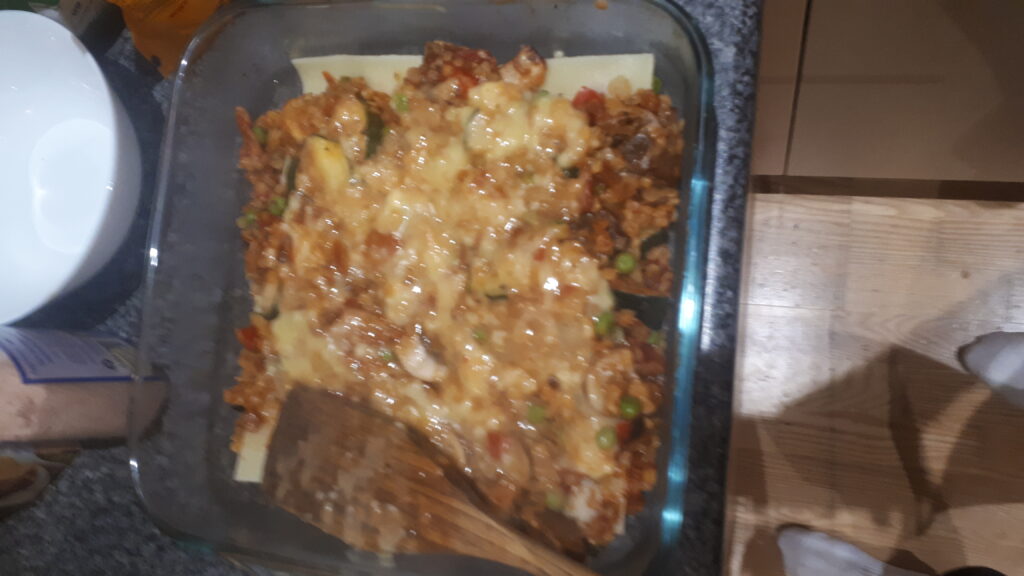 I am to follow this recipe up with other vegan lasagne recipes, from soy protein, to veganised moussaka (greek eggplant lasagne), spinach and more, stay posted!
I am yet to find a vegan cheese brand that can be stringy and let me revisit the texture of mozzarella I used to have in lasagne – But for the time being, Violife will do!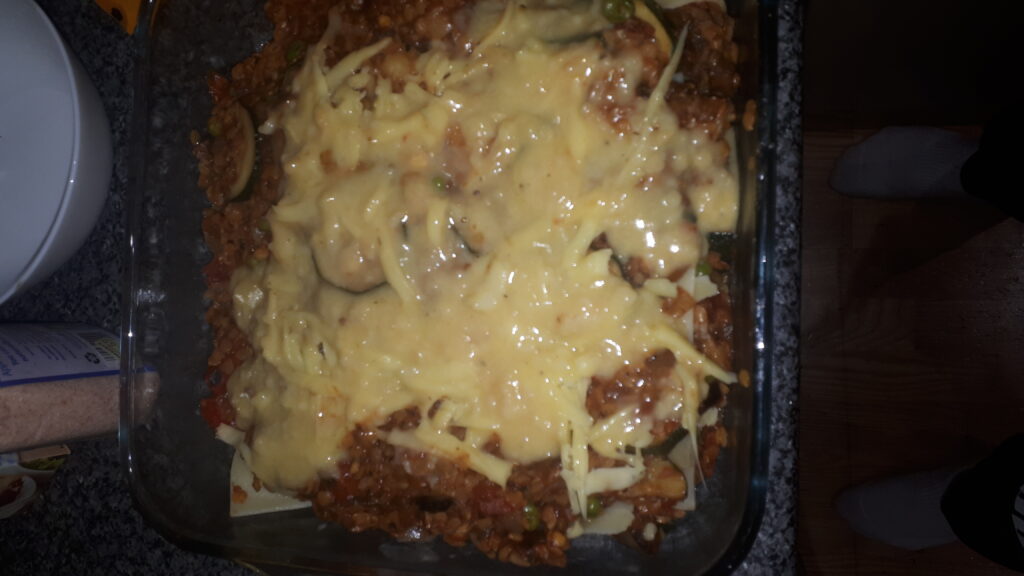 Vegan cheese in itself also has a reputation of being disappointing, but the way this lasagne turned out has changed my whole view on vegan cheese, and its use in everyday recipes.
I am to continue experimenting with vegan cheese as I feel it has a lot of potential to be more mainstream, especially since around 65% of the world has an intolerance to lactose.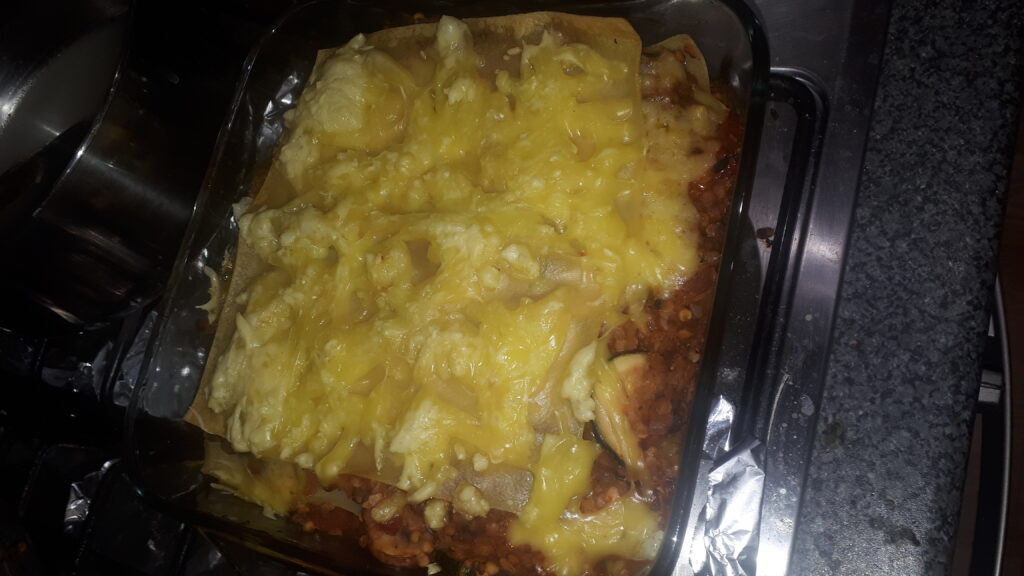 This vegan red lentil lasagne recipe is high in protein, gluten free, easy to make and a perfect kid friendly vegan recipe.
You can use this recipe as part of your arsenal to impress your skeptical friends, for the family meat free Monday, or just to say to someone "I know how to veganise lasagne"!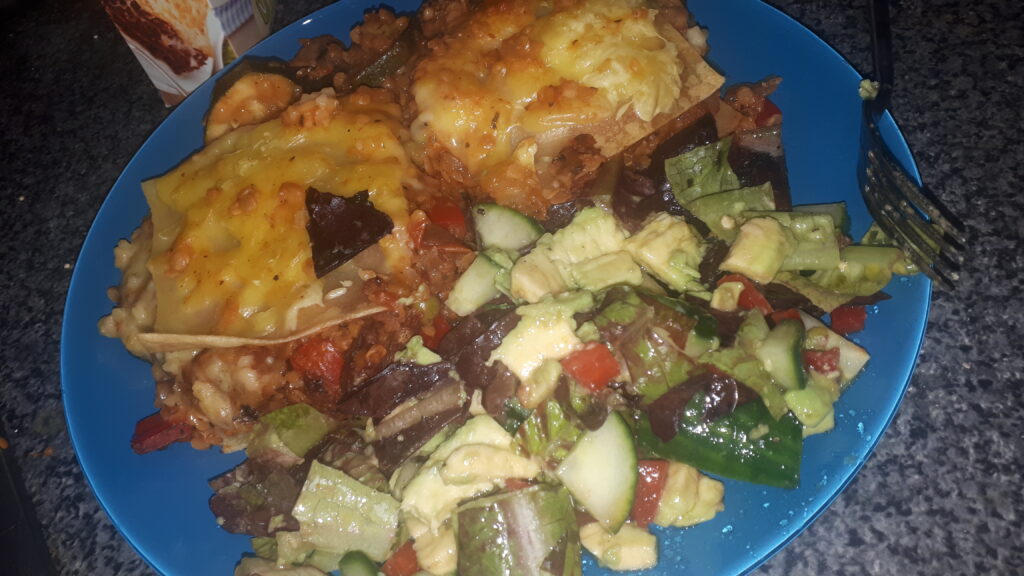 I hope you enjoy this lasagne, it is the perfect introduction to a vegan lifestyle, if you're to try any recipe on this site, this is one my first recommendations.
| | |
| --- | --- |
| | |
Melt knob of butter on medium heat, once melted and bubbling, slowly add almond milk to the mix, stirring for 3 minutes.

Add 50g of the vegan cheese, grated, into the mix, stir in gram flour and leave to simmer for a further 4-5 minutes, or until thick.

Best to time this halfway through the preparation of the filling, to get the best results.
Finely chop onions, dice bell pepper, chopped mushrooms and courgettes, leave aside.

Drizzle olive oil on pan and turn up to medium heat, add onions, mushrooms and courgettes, along with tomato paste, herbs and spices. Cook until onions become slightly translucent and mushrooms release their liquid (3-5 minutes).

Pour in cup of lentils, 2 cups of water, and chopped tomatoes into the mix, along with peas and bell pepper, bring to a boil and let cook for a further 10 minutes, until lentils are cooked. Preheat oven in the meantime to 220 degrees Celsius.

Once filling is all cooked, take off heat and put aside.
Remove lasagne sheets from packaging, boil water with a pinch of salt and add sheets to saucepan.

Cook until ready (approx 5-8 minutes) and remove from heat (best to do this right before filing is ready as sheets can stick together once cooked).
Now lay out one layer of filling into a glass or ceramic oven dish, a drizzle of white sauce, with 2 lasagne sheets on top of that.

You should be able to repeat this 3 times, ending up with a top layer of 2 lasagne sheets, with 2 other layers of filling and sauce below that.

Use remaining 100g of vegan cheese, grate and sprinkle on top. Place lasagne into preheated oven.

Leave for around 25-35 minutes. The cheese should be a thick layer, browned and bubbly.

Serve with a side of salad.
Lasagne sheets and sauce to be cooked halfway through preparation of filling, to ensure the sauce stays saucey, and sheets don't stick in pan. 
The more cheese the better!