Sometimes just a normal salad doesn't cut it. This vegan roast chickpea and avocado salad recipe is moreish, a great balance of healthy fats and protein, and satisfying for both vegans and meat eaters alike.
The longest part of this simple chickpea salad is roasting the chickpeas, but even that isn't that long, prepare every raw ingredient first, then add roasted chickpeas at the end after you've finished watching Eastenders.
Skip to recipe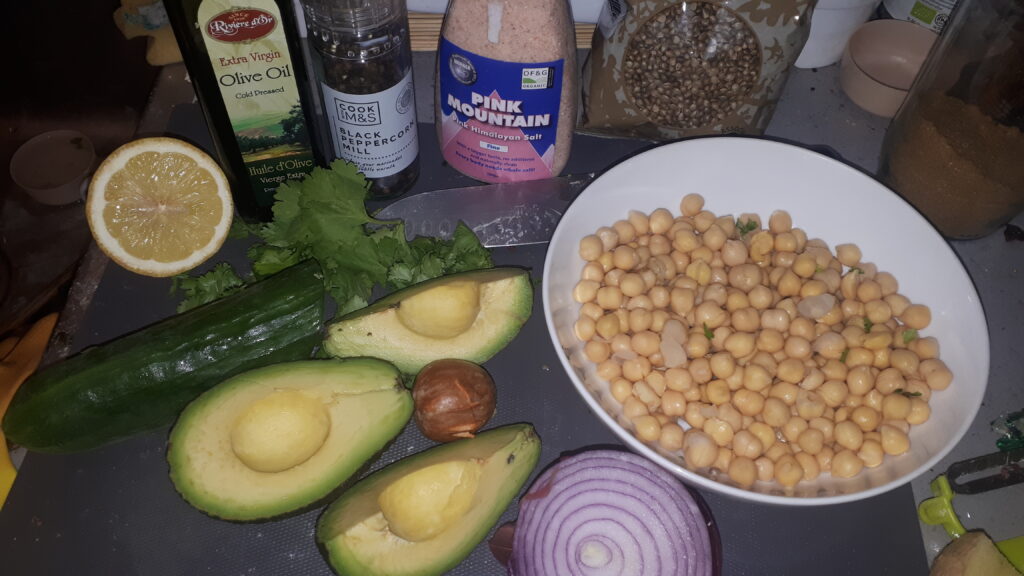 I don;t usually add onion to salads, unless it's spring onion or red onion – In this case I have added red onion to the mix, it gives a nice contrast to the roasted chickpea and mild avocado taste and textures, topped with crunchy whole hemp seeds (which is also a plant-based complete protein source).
This salad is perfect for a quick, light mid-week dinner, your go-to choice for a protein-rich post workout salad, or even on the side of a light meal.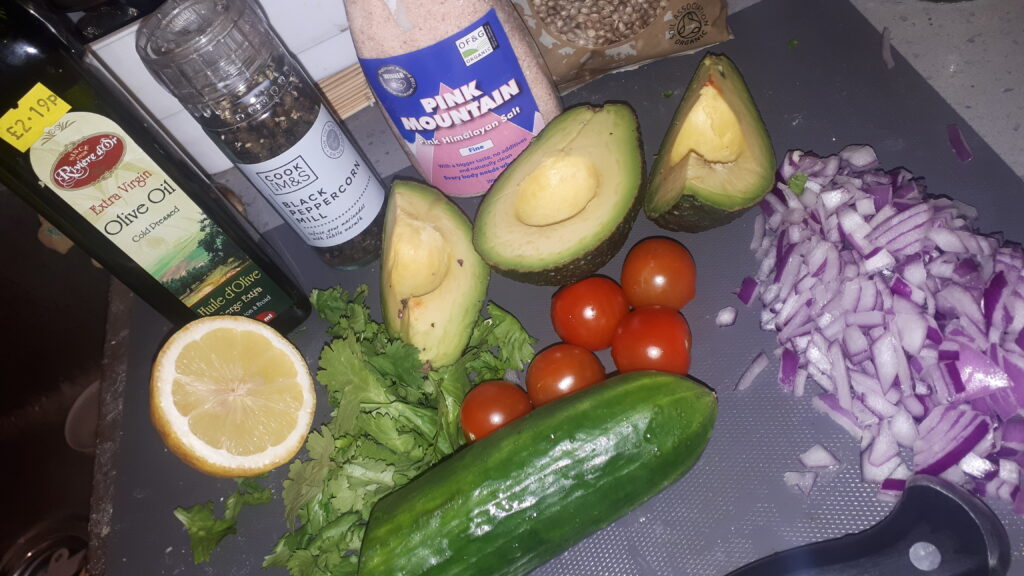 Growing up as a meat eater whenever I ate salad, it's almost as if it was a unspoken rule to include the following: tomato, cucumber, lettuce, olive oil, vinegar, salt and pepper. Not saying there's anything wrong with that, but I never really though back then to add chickpeas to a salad, let alone legumes.
I can still remember eating left over kebab with some lettuce and justifying that as healthy, considering how most people I know think of salad as just lettuce and cucumber, not even any dressing – it's no wander why people think vegan food is boring.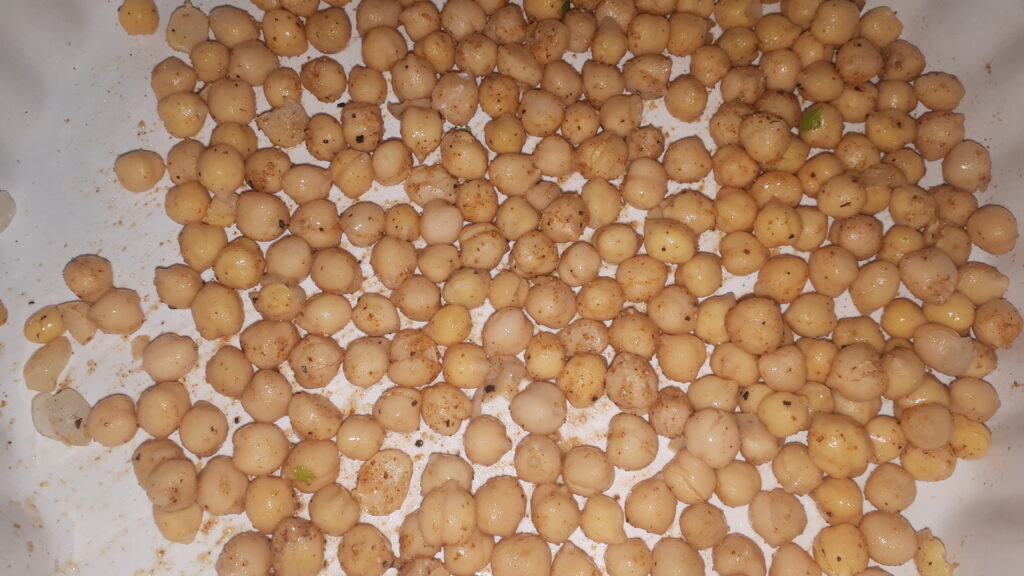 When your perspective is limited to a plain salad, and adding pieces of meat to it to make it "nice", you'll forever be eating boring salads and associating healthy eating with being boring.
Becoming vegan has opened my eyes to enhancing plant-based flavours and adapting veggie food for the omnivorous palette. I genuinely never thought you could roast chickpeas until changing my diet, you learn something new every day eh?
Can you roast chickpeas?
Yes, just to confirm, you can roast chickpeas. They actually taste so much better roasted, it really brings out a nutty taste which pairs very well with paprika especially. Canned chickpeas need not be limited to curry fillers, roasted chickpeas are the future!
Chickpeas are actually incredibly versatile, browse through my recipes and you'll find chickpeas in many forms: From gram flour, roasted canned chickpeas (like here), raw soaked chickpeas for falafel, the list goes on. With its versatility and the fact that it is a Dr Sebi approved, alkaline bean, it's a great choice for anyone gym or health conscious.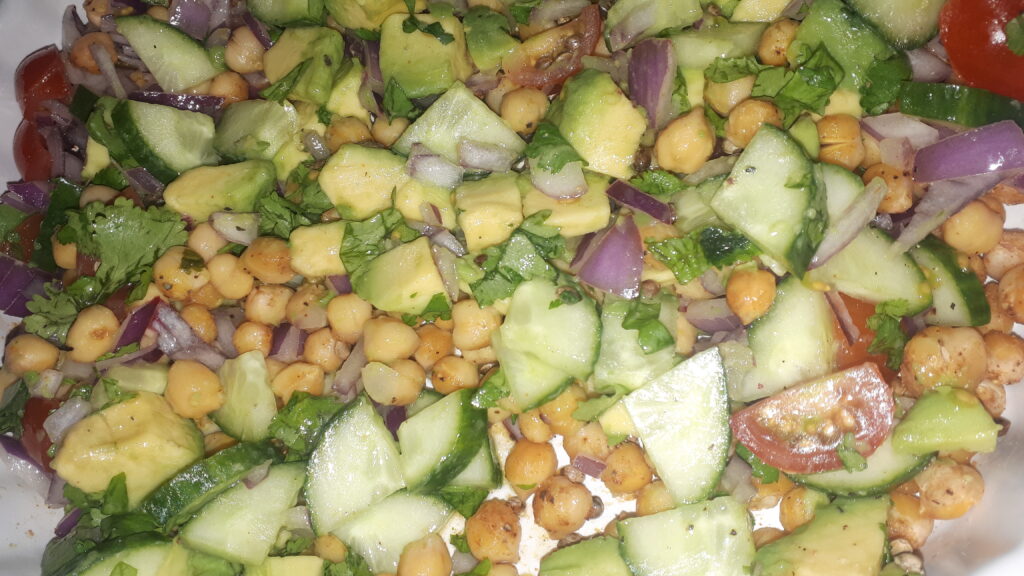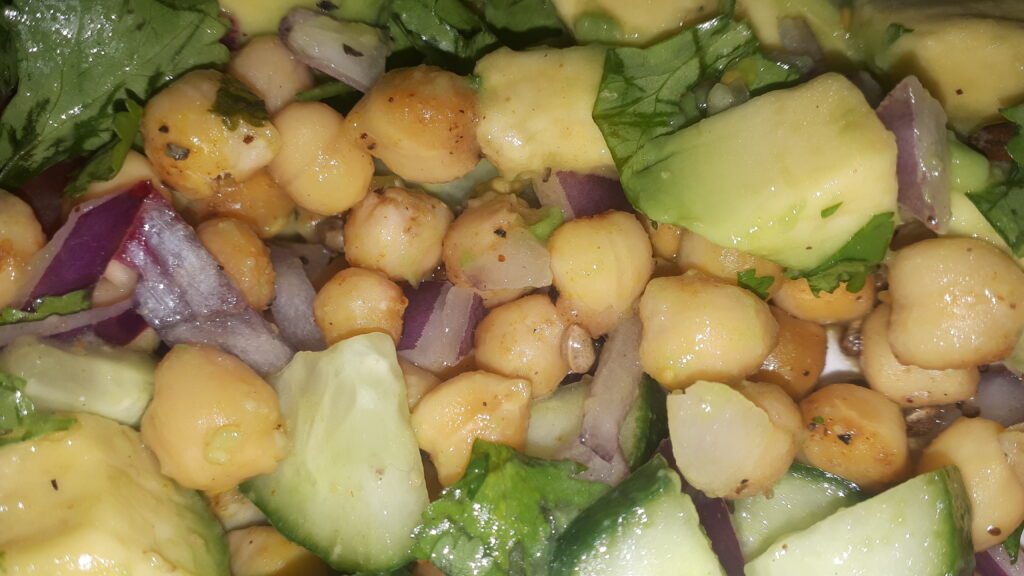 This vegan roast chickpea and avocado salad was so good, I made a portion for dinner and the next day's lunch and ended up eating it all in one sitting.
Quick and easy to make, I hope you enjoy my take on this chickpea avocado salad recipe.
Passive Time

35-40

Minutes
Passive Time

35-40

Minutes
Preheat oven to 220 degrees celsius, drain can of chickpeas and rinse in sieve. Lay out onto oven tray and sprinkle paprika, salt and garlic powder on the chickpeas. Drizzle a small amount of olive oil and ensure seasoning spreads nicely.

Chop all raw ingredients finely and combine in a salad bowl. once oven is warm place chickpeas within.

Leave chickpeas to roast for 20 minutes, or until golden brown, ensure to check through mid-way. Take chickpeas out when crispy and golden.

Combine chickpeas with the chopped cucumber, coriander, red onion and avocado in salad bowl. Juice 1 lemon and add to mix, then add extra virgin olive oil, sprinkle hemp seeds on top, a pinch of salt and a crack of black pepper.

Enjoy your roasted chickpea avocado salad, try not to eat too much as it's addictive!