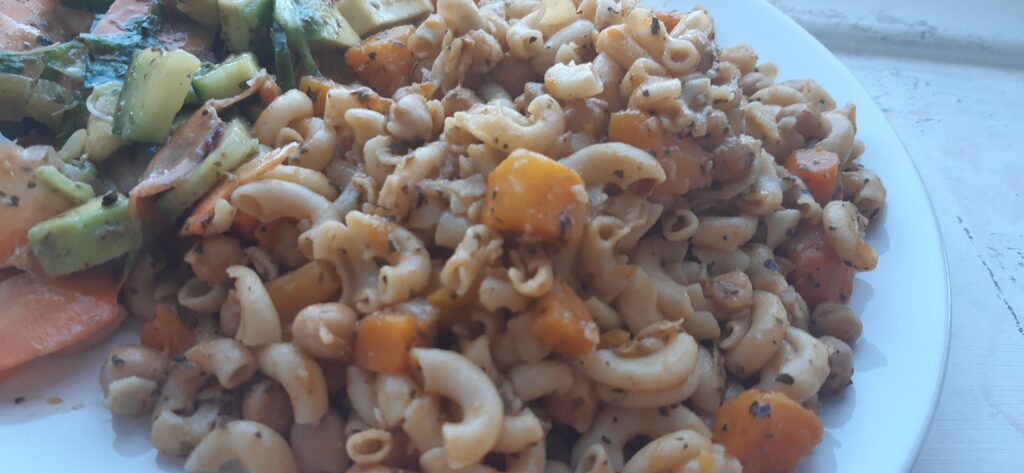 Everyone loves a good pasta dish. Even better still, a one pot carrot & chickpea macaroni dish.
I first got inspiration for this recipe when a there wasn't much food in the house, and I was limited for ingredients.
To make the best 30 minute vegan chickpea & carrot macaroni, essentially, you only need the following:
Macaroni
Chickpeas
Carrots
Onion
Stock
That's literally it, with the sprinkle of herbs on top of course.
This is a homely meal, doesn't require much maintenance, fry up some onions, add some chickpeas and macaroni to a pot, boil for 30 minutes.
Literally, lol.
Easy vegan carrot & chickpea pasta
An easy way to get your kid to eat their veggies, I mean, who doesn't like carrots?
Chickpeas is a funny one, which many prefer to eat 'em falafel form, or even as a hummus, but it complements this meal so well it's almost criminal to try disguise them.
Canned or dried chickpeas?
You can used either dried chickpeas, soaked first of course, or canned chickpeas, to add at the end.
I personally prefer the dried varieties, I stock them up for whenever I need falafels, a salad topper or fresh hummus.
I find dried, soaked, then cooked chickpeas have a lot more life than that of the canned varieties, but all to their own!
Enjoy this one pot vegan chickpea carrot macaroni as a kid-friendly, basic vegan meal to make anytime of the month.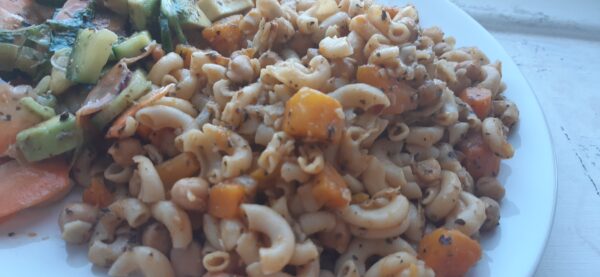 | | |
| --- | --- |
| | |
Chop the red onion finely, wash and peel the carrots, chop into 1 cm pieces.

Heat oil in a saucepan on a medium heat, cook the onions for 3-4 minutes, or until softened.

Boil water in a kettle and prepare the vegetable stock separately. Throw in the carrots with the onions, as well as the seasoning, pepper, herbs, etc, cook on low for 1-2 minutes.

Throw in the soaked chickpeas (if using) and add the dissolved vegetable stock, bring to a boil and cover the saucepan. Allow to simmer while covered for 15 minutes.

Uncover the boiling saucepan, add in the macaroni, cook until the macaroni absorbs the rest of the water, approximately 10 minutes.

Once ready, leave to sit uncovered for 5-10 minutes, then serve with salad, a drizzle of olive oil, and your favourite vegan cheese sprinkled on top. Enjoy!
If using canned chickpeas, the cooking time is reduced to 15 minutes in total, as the canned chickpeas don't need cooking, they can be added once the macaroni is.