Roast potatoes have always been a staple in my home, from whether I'm making a fancy roast to whether I want something to pair with my rice and stew.
The best thing about potatoes is that they're usually naturally vegan, apart from the few exceptions in recipes that demand goose fat or butter. These roasted potatoes are more-ish, crispy, and tasty, the ideal side, and takes less than an hour to make.
For vegan roast potatoes, you only need:
Potato
Rosemary
Thyme
Salt
Pepper
Oil
A very easy recipe to make, to easily impress your unsuspecting friends and family.
How do you make roast potatoes?
It's a very simple process, wash and peel the potatoes, then parboil them for a little bit, to then drain, season and crisp up in the oven.
These potatoes are quick and easy to make for even the most inexperienced of cooks, students and workaholics looking for a quick carb fix for a mid-week meal.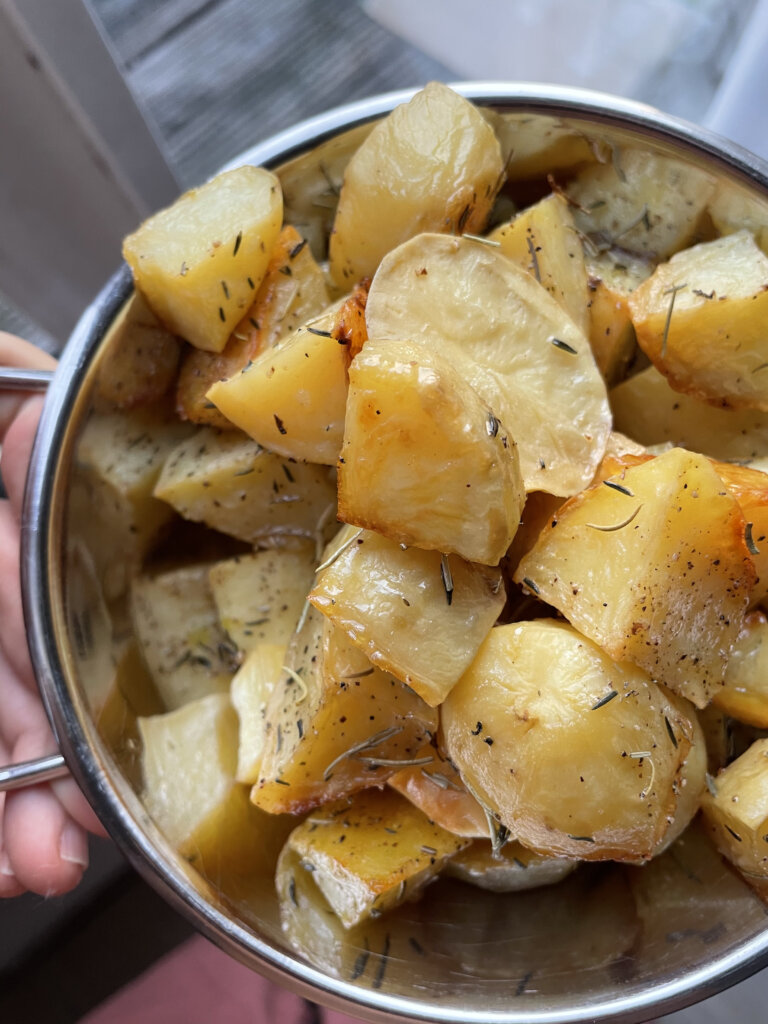 What pairs well with them?
I personally prefer roast potatoes with stewed lentils, a vegan meat substitute of some sort, as well as rice.
My go-to is usually a brown lentil stew, I also like me some roasted vegan sausages or other meat-like product, peas and veggies.
How long do they take to cook?
Roast potatoes typically take 30-40 minutes to roast, after parboiling; you can always give or take 5-10 minutes if you want to crisp it up – just make sure you watch it to ensure they don't overcook.
Essentially one of the easiest side dishes to make, quick to cook and an easy recipe to remember.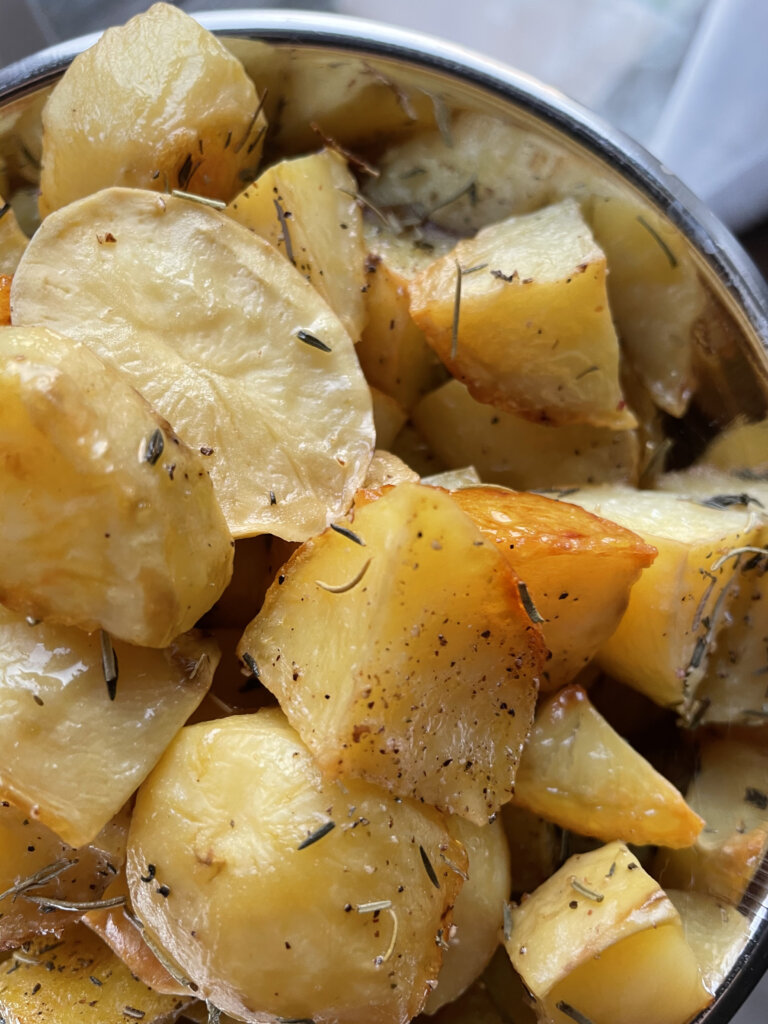 How long do roast potatoes keep for?
Once prepped and roasted they can hold up for 3-5 days. Granted they're kept in the fridge, they can be reheated for other meals.
You can also freeze these for heating up later. They can last up to a year in the freezer.
Try these veganised roast potatoes on for size, save and bookmark this recipe for future use, and tell your friends!
Passive Time

1

hour 10 minutes
Passive Time

1

hour 10 minutes
Wash and peel the potatoes and cut them into 1-inch pieces. Boil some salted water and cook for 10 minutes.

Drain in a colander and drizzle in olive oil, season with rosemary, thyme, black pepper and salt. Heat oven to 220 degrees.

In a preheated oven, place the potatoes on a tray, and roast for 30-40 minutes.

Check potatoes and make sure they're golden brown, if not, set oven to the grill setting and cook for a further 5-10 minutes.

Leave to cool off for 5 minutes and serve with your favourite condiments.