Sometimes we all feel a little lazy and don't feel like pulling together a meal that takes ages to prep. Sometimes all we have is pantry stuff and frozen foods; yes, even vegans… Either way, you'll love this vegan chorizo broad bean pasta recipe!
This recipe came together as a complete accident, in another one of my random kitchen experiments. I needed some way to make use of my frozen broad beans (which I'm still finding recipe ideas for), gf fusilli and store-bought pesto.
So, I thought it a good idea to combine all three with this vegan chorizo I found in Sainsbury's, and it's now found its way into my regular recipe rotation.
Choosing a good vegan chorizo
I found this vegan chorizo, the Linda Mccartney one; to be particularly good because it did remind me of what I once used to eat regularly.
Other than the bell pepper in it, a good vegan chorizo has a good balance of paprika, garlic and a hint of tomato, and of course, a sausage-ey texture. Another thing I prefer to see in vegan meat options is that it's gluten free, which this sausage also has.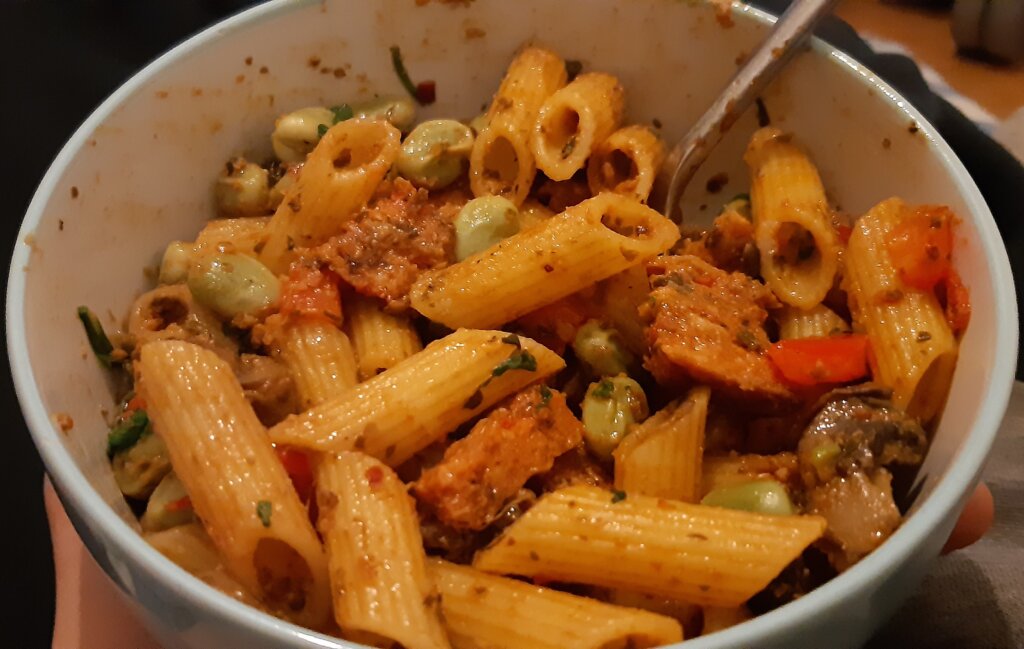 A good balance of meatiness and beans for a great pasta
Broad beans naturally have its own more-ish texture, and a distinct taste to it; a nutty taste that complements the meaty, smoky taste and texture of the vegan chorizo.
When vegan basil pesto is added to the mix, you've got yourself a tasty pasta that's sure to impress any skeptic; it takes no more than 20 minutes to whip up. Perfect for a mid-week dinner, a quick and easy lunch, or a vegan meal for the busy student or workaholic.
Enjoy this vegan chorizo & broad bean pasta recipe, if you like it, ensure you drop a comment, bookmark it, and share it with your friends!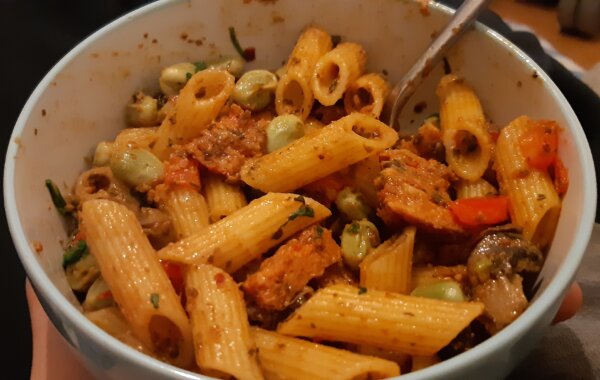 | | |
| --- | --- |
| | |
Heat 1 litre of water in a saucepan, add half the stock cube and dissolve within, stir and allow the water to bubble

In the meantime, if already prepped, chop the vegan chorizo into slices, then sliced into quarters, set aside.

Once water is boiling, pour in the pasta & broad beans, add basil, oregano, garlic powder and smoked paprika, stir within, bring to a boil and allow to cook for 11-15 minutes.

Once pasta and beans are tender, drain in a colander, transfer back to the saucepan. Sprinkle some more basil, a pinch of salt and pepper to your taste, and stir in the chorizo pieces.

Allow to sit for 5 minutes before serving, this would be a good time to add vegan cheeze – Enjoy!
Use linda mccartney vegan chorizo for best results