Who doesn't love a good mid-week pasta bake? I know I do, so I came up with a perfect veganised pasta bake recipe, that's cheesy, creamy and tasty.
Being one of my childhood favourites, bowtie pasta bake was typically made with meaty ingredients, as well as tomato and cheese.
How to veganise bowtie pasta bake
In this veganised rendition, we got ourselves a bowtie pasta bake with all of the same elements; and some substitutes in place for select ingredients, i.e. cheese and meat.
What you'll need for this recipe:
Bowtie pasta (ideally for texture)
Bell pepper
Cherry tomatoes
Cheese (plant-based, obviously)
Cream (vegan)
Green beans
Tomato paste
Vegan chick'n
Vegan butter
Spices
This is one of those recipes that look far more complicated than they actually are. The end result being a satisfying, hearty meal for yourself or even some guests.
What does pasta bake go well with?
Pasta bake pairs well with steamed greens such as broccoli as well as side salads such as our avocado salad. Typically you could always have pasta bake on its own as a standalone dish.
All you need for this meal is a saucepan to boil your pasta; a frying pan or wok for the filling; an oven and a large dish to hold it all together.
A perfect mid-week meal, a quick and easy one for beginners, and kid-friendly for children and vegan skeptics alike.
If you like this recipe feel free to bookmark it or leave a comment if you've tried it for yourself. Share with a friend if they ever question vegan food again!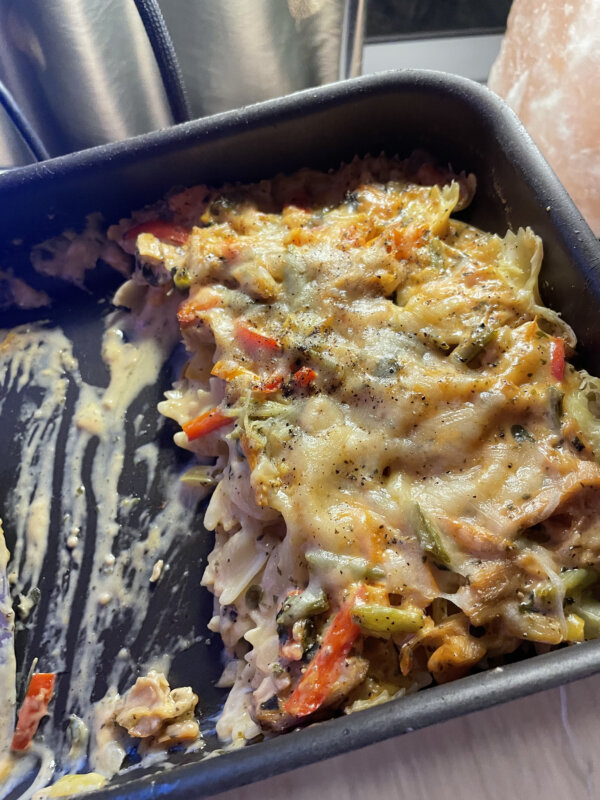 | | |
| --- | --- |
| | |
Heat water in a saucepan, dissolve in some salt and bring to a boil, add in the bowtie pasta. Once again, bring to a boil then cook on a medium heat for 8-12 minutes. Preheat the oven to 200 degrees Celsius.

Meanwhile, gather all veggie ingredients and start with dicing up onion and garlic, set aside. Wash and slice bell peppers and cherry tomatoes into thin strips, and quarters, respectively.

Chop off the ends of the rinsed green beans and cut them up into 1cm long pieces; chop vegan chick'n pieces into thin 2cm wide strips.

Heat oil on a skillet, once hot, add in the garlic; Cook for 1 minute by itself on a medium heat, then add in onions, stir, then cook for 3-5 minutes or until translucent.

Add in the cherry tomatoes, bell pepper, green beans and vegan chick'n, followed by the spices, one at a time; add a splash of water, and then mix in the tomato paste. Add a pinch of salt and a crack of pepper, along with some all purpose seasoning.

Cook for a further 3 minutes, then add the vegan butter. Once melted, add vegan cream, a bit at a time, stir to combine.

Turn the heat to high and stir in the rest of the vegan cream, along with a quarter of the cheese. Once it starts bubbling turn the heat back down and add some more salt and pepper. Taste for seasonings, cook on a low heat for a further 3-5 minutes, turn off the heat once the sauce is a fair consistency.

Once pasta is cooked, drain well with a colander and transfer to an oven dish, sprinkle on a quarter of the grated cheese, stir in. Transfer the sauce mix into the oven dish with the pasta and stir to combine.

After all pasta is mixed with sauce and filling, add the remainder of the cheese (should be half) spread on top of the pasta mix. Add more if needed, there's really no limit if you got that good vegan cheese.

Place the dish in the preheated oven and cook for 15-20 minutes, or until the top is crispy. Serve and enjoy with salad or on its own!