Easter is for everyone, and let's face it, as a vegan you may feel a bit left out knowing that the whole family's probably going to stock up and pig out on milk chocolate till they puke up a lung.
Your auntie probably bought you the same Cadbury mini egg as she did last year, only for you to have to explain nicely what being vegan is and the new demands to your diet and lifetsyle.
She and your whole family jump to conclusions about you no longer being involved in family tradition, then you quickly reassure them – calming their mind and showing them the wide array of vegan easter eggs available!
Are there many vegan easter egg options available?
A few vegan Easter egg brands include Moo Free and Nomo, available in many major UK supermarkets.
As of yet, in the UK, there aren't a wide variety of options, but it's good to know there are some.
Read on for a short list of vegan-friendly easter eggs available in the UK.
Nomo Easter Eggs
A vegan-friendly brand, a great addition to the world of easter eggs, Nomo comes with 3 variations of egg to choose from.
These somewhat premium vegan easter eggs are a great choice and go-to for your next easter!
Available in 3 flavours:
Creamy chocolate
Fruit & crunch
Sea salt & caramel
You'd probably rest better knowing this is from a specifically vegan brand.
Tesco & Sainsbury's Free From Options
For those who aren't fussy on brand and more looking for a cheap and cheerful easter egg for the occasion, these options are both findable in your local supermarket, and certainly cheaper than the average branded vegan easter egg.
They're available in both white and milk chocolate style, for both tastes.
I've taste tested it, there's no difference honestly.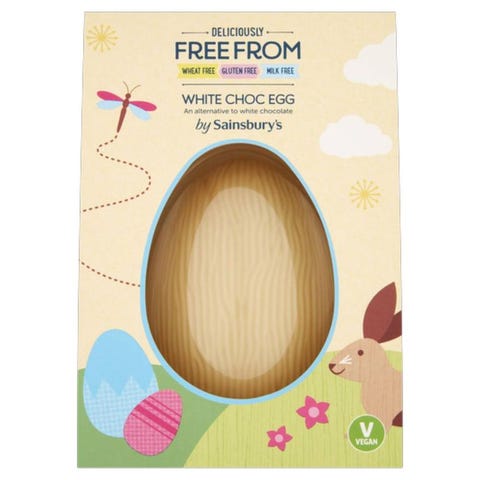 Cheap and cheerful, for the choco head who needs a quick vegan fix! The best part about this option is that it's very easy to find in both Sainsbury's and Tesco.
Holland & Barrett Milk Chocolate Style Egg & Bunny
Holland and Barrett has always been one of my favourite shops, and they have yet again, outperformed, and came out with their organic milk chocolate style egg and bunny pack.
This vegan easter egg is great and organic, and the only one of the list no less.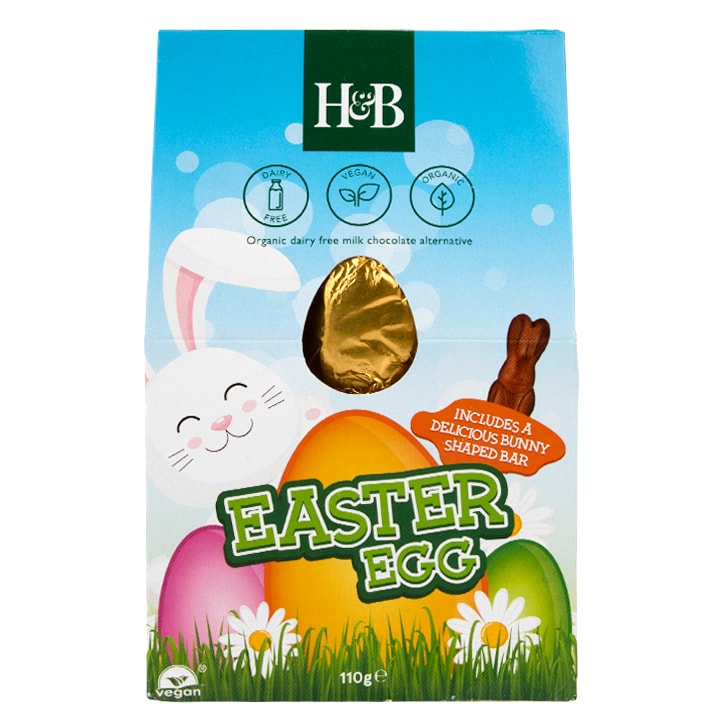 This vegan, lacto free and gluten free easter egg is ideal for those avoiding those ingredients.
Divine 70% Dark Chocolate Egg
A more premium one of the list, with luxurious choco filled vegan truffle-style eggs.
For a vegan easter egg in the more premium calibur, this one's for you.
The only one of the Divine range that's vegan, a great, convenient choice for your Easter Sunday.
Chococo Vegan Egg Range
Chococo is another brand that's primarily non-vegan, and also have a few vegan options of their own.
The two vegan options they have include the following:
85% Madagascar Mega Dark Easter Egg
100% Madagascar Totally Dark Easter Egg
With high quality Madagascan chocolate and mini eggs on the inside, made with cashews. Another one for those with more of a premium tooth.
Moo Free Vegan Easter Egg
The moo free vegan chocolate egg is a great cheap and cheerful option, available in many supermarkets including Morisson's, Waitrose and Ocado.
Vegan Easter Egg Options in the UK:
Nomo (creamy chocolate, fruit & crunch & salted caramel)
Tesco and Sainsbury's free from easter eggs
Holland & Barrett Vegan milc chocolate style egg & bunny
Divine luxury dark egg
Chococo (85% mega dark easter egg, 100% totally dark)
Moo Free