If you haven't tried it before, you're really missing out. This crumbly vegan coffee cake recipe is tasty, crispy yet soft, and (goes without saying) great with coffee!
This recipe is surprisingly easy to make. With a combination of some simple ingredients, and only an hour for both prep and cooking.
I remember the first time I tried this it didn't last long at all, maybe 2 or 3 hours? A true staple when it comes to impressing your non-vegan friends, try it to see why.
Does it contain coffee?
Contrary to what it looks like, coffee cake actually doesn't contain any coffee. It's more so a cake that pairs perfectly with coffee, as opposed to actually containing or tasting like it.
Why is it called coffee cake?
Coffee cake earned it's name because it pairs perfectly with coffee. It also goes great with teas, or even breakfast. It's simply a sweet cake that can be eaten alongside a warm beverage, hence why it's got the name.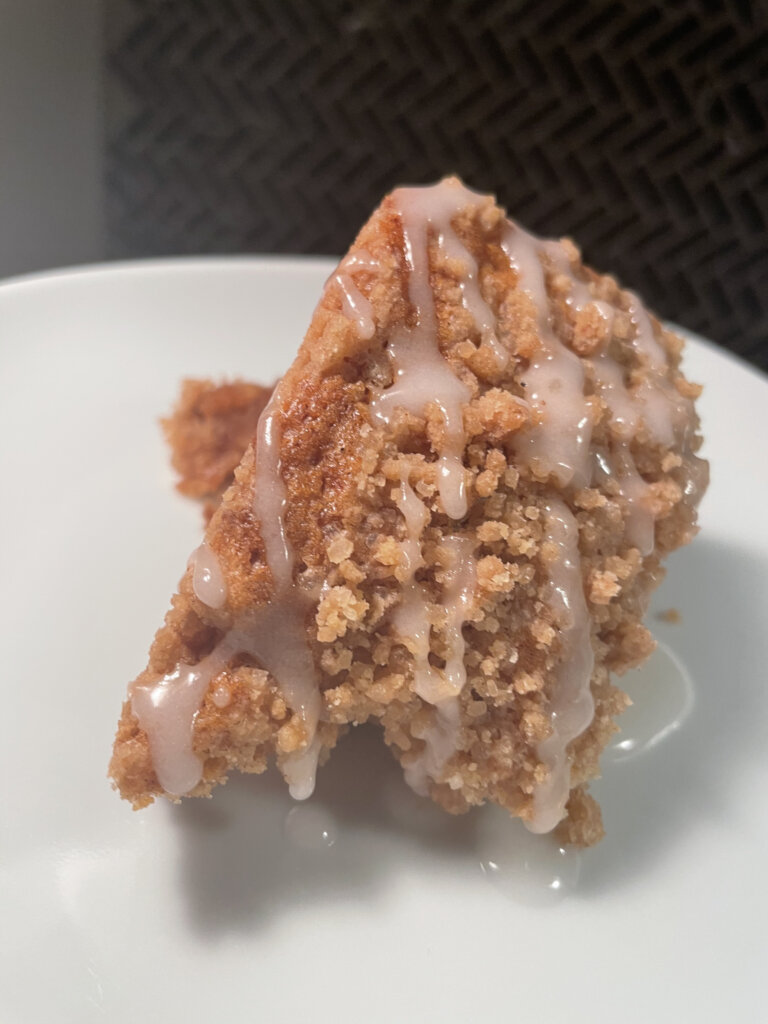 Where did it come from?
Having originated in Germany, where they were more so sweet breads as opposed to cakes. It was actually 1879 when "coffee cake" was known as what it is.
We hope you love this veganised recipe; It's tasty, sweet, yet rich in flavour, and goes perfectly with any type of coffee.
Feel free to bookmark this recipe for future reference, it helps us a lot! Leave a comment and share with a friend if you really loved it.
Thanks for stopping by, and stay blessed.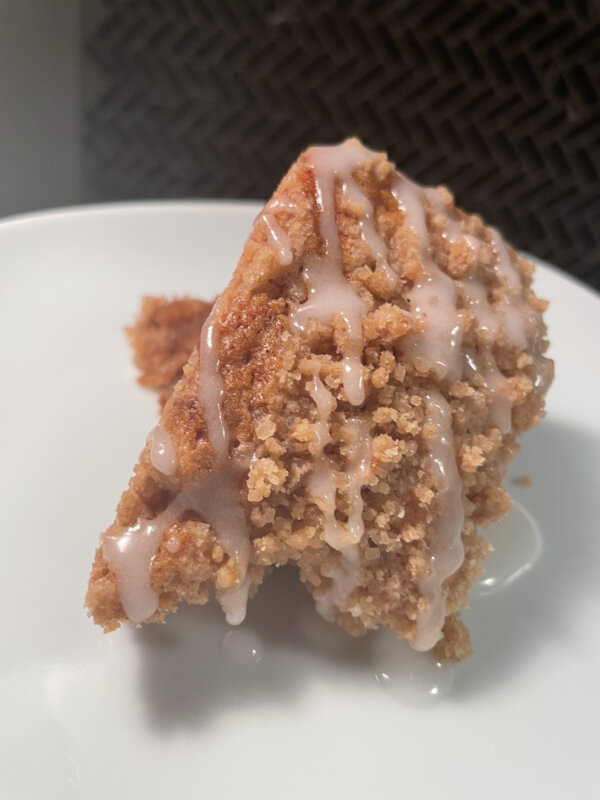 | | |
| --- | --- |
| | |
Preheat the oven to 180 degrees celsius. In a cup, mix milk and apple cider vinegar together, leave to set in for 5-10 minutes.

Meanwhile, in a bowl, combine all dry cake ingredients (sugar, flour, baking powder, soda and cinnamon) and mix well.

Add in the wet ingredients (yoghurt, oil, vanilla extract & the milk mix), then mix until combined, set aside.

In another bowl, add the crumble ingredients. Combine using your hands until you get a rough, just above sandy texture. Ensure all thick parts are broken down to avoid melted butter as your topping, set aside.

In a cup, pour in vegan milk and icing sugar, and stir until combined, you should have a drizzly, creamy texture.

Pour half the mix into an oven dish, then half of the crumble, to cover the batter.

Add the rest of the batter to cover the topping evenly, then the other half of the crumble.

Bake in the oven for 30-40 minutes, testing with a fork to ensure it's cooked through.

Let the cake cool, slice and drizzle the icing mix atop the cake.

Serve and enjoy with your favourite type of coffee!