Who doesn't like a good plate of mashed potatoes? When I was younger and still ate meat, I remember I used to enjoy mash potatoes with many things; from minced beef in a shepherd's pie, to accompanying roasts and pairing well with steak.
The traditional creamy mash I used to love was very easy to veganise, just boil some potatoes, add some butter, salt, pepper, garlic powder, and vegan mayo. That's it, literally.
What makes a good vegan mash?
A good vegan mashed potato is creamy, not lumpy, savoury, and subtle all the same time. If I were to compare with any other references; I'd say it's like Nando's creamy mash; which in fact is not vegan. Closest reference I had in terms of memory and something comparable, though.
This vegan mashed potato recipe was something I came up with by accident, by random experimentation. The great thing, like most mashed potato recipes, is that this is a simple vegan recipe; takes 20 mins to make, and can accompany a good many meals.
What pairs well with vegan mash?
My vegan mash pairs well with stewed lentils, roasted vegan sausages; the topping to a vegan shepherd's pie or as a side to any dish you'd like, like a vegan pot pie.
This veganised mashed potato recipe is ideal for those looking for an easy side dish that takes little to no effort, for the most novice of vegan chefs.
What can I substitute for milk in mashed potatoes?
As long as the milk you use isn't too sweet; there are quite a few plant-based milks you may choose to use in your mashed potato recipe. We recommend an unsweetened oat milk or rice milk for best results, but almond milk should also work fine.
I reckon with coconut, hazelnut or sweetened almond milk you'd be compromising the flavour; so bear that in mind and keep it as neutral as possible.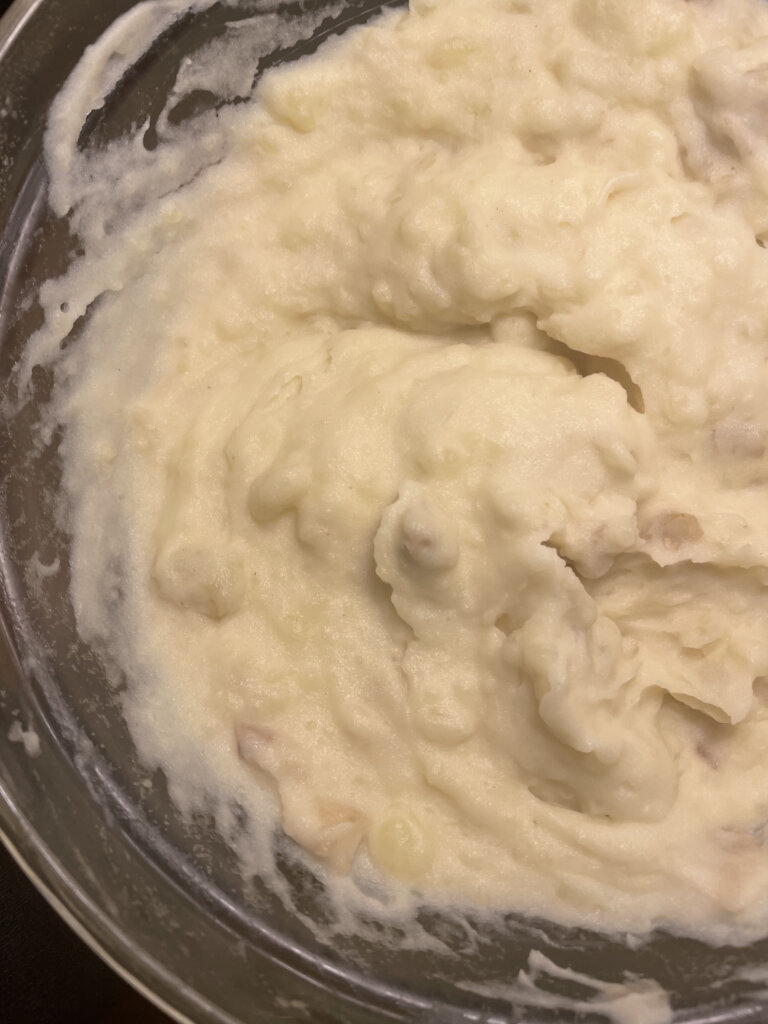 What can I use to mash potatoes?
Ideally you'd have a potato masher on-hand, but it's not the end of the world if you don't. The photographed vegan mashed potatoes were mashed and mixed with a fork, in a large bowl.
This vegan mashed potato recipe is quick, and easy for any cook to master, however experienced you may be.
| | |
| --- | --- |
| | |
Wash and potatoes, cut into 1 inch cubes.

Bring salted water to a boil, add potatoes and cover, let cook for 10-15 minutes.

Drain cooked potatoes in the sink, set aside.

Add butter, milk, salt, pepper, and garlic powder, mash potatoes with the mix and stir as you go.

Combine well until all butter and milk has been absorbed, add vegan mayo to the mix and swirl.

Set aside for 5 minutes, to allow flavours to combine, and serve creamy mash with your favourite main!