I know what you're thinking: vegan calamari?
Surely this is a mistake. I'll have you know it isn't and this is very much a reality.
Typically with vegan calamari recipes you tend to see people only cut these into rings. Personally I feel they taste banging so there's no need to be specific with the shaping of 'em, each to their own though.
My personal recipe is a bit messy looking, but tastes like heaven.
Can vegans eat squid?
In short, no, squid is a living thing that we as vegans choose to cut out from our diet.
In the past many would argue that fish was appropriate to eat for a vegetarian diet; which is now more appropriately known as pescatarian.
Typically known as the Spanish snack you'd pick when getting a spread of tapas, calamari is typically made with squid.
Of course we don't eat fish round here; so in place of the squid we're going to be using oyster mushrooms.
How do you veganise calamari?
Veganising calamari is easier than you think! All you need to make vegan calamari is some oyster mushrooms, breadcrumbs.
As well as some decent spice mix to add a balance of savoury and a "Sea" taste.
Our recipe specifically uses bladderwrack for the fishy taste, with a squeeze of lemon once cooked.
What does vegan calamari pair well with?
Vegan calamari goes really well with other traditional Spanish tapas options.
These can include patatas bravas, tortilla, Spanish croquettes, patron peppers, to name a few – All veganised of course.
These vegan calamaris are a great recipe to have in your back pocket for a kid and omnivore-friendly snack.
Great for parties, and for those who want a taste of some real vegan junk food.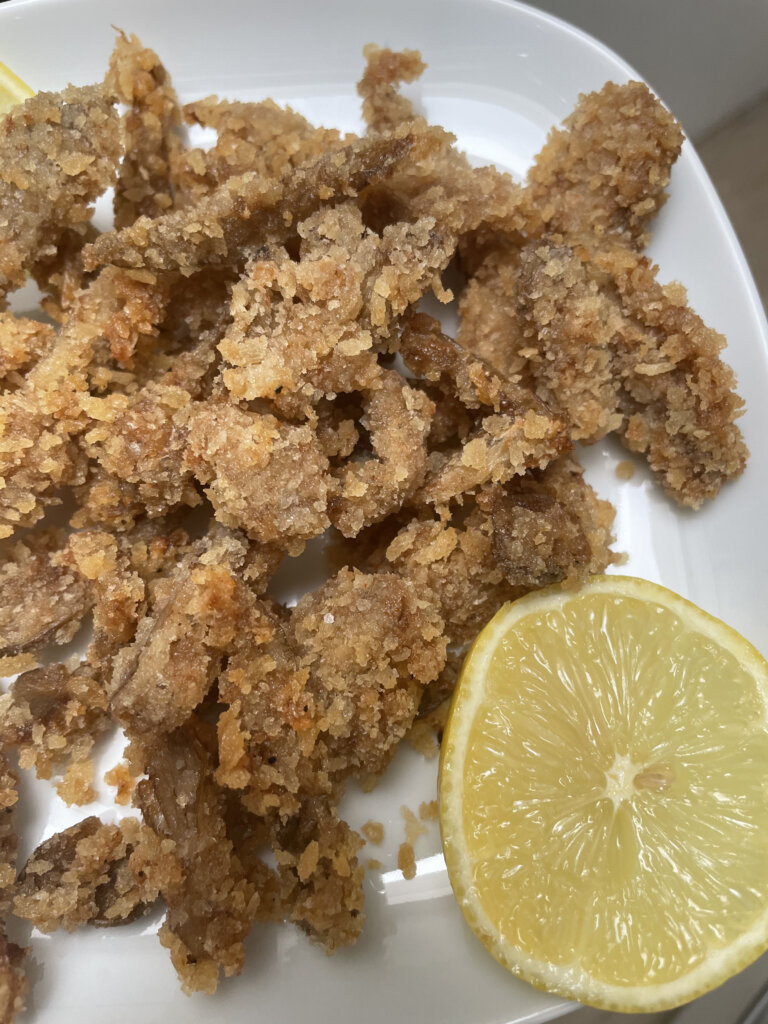 Does this recipe require deep frying?
Crispy vegan calamari is best when fried to its crispiness. You may choose to alternatively bake it, but we can't say we've tried that to approve it!
We hope you enjoy this veganised calamari recipe, we know we did!
If you love this recipe feel free to bookmark this page for future use.
Drop a comment with your thoughts, and share this with a vegan ally or omnivorous skeptic – They won't be disappointed!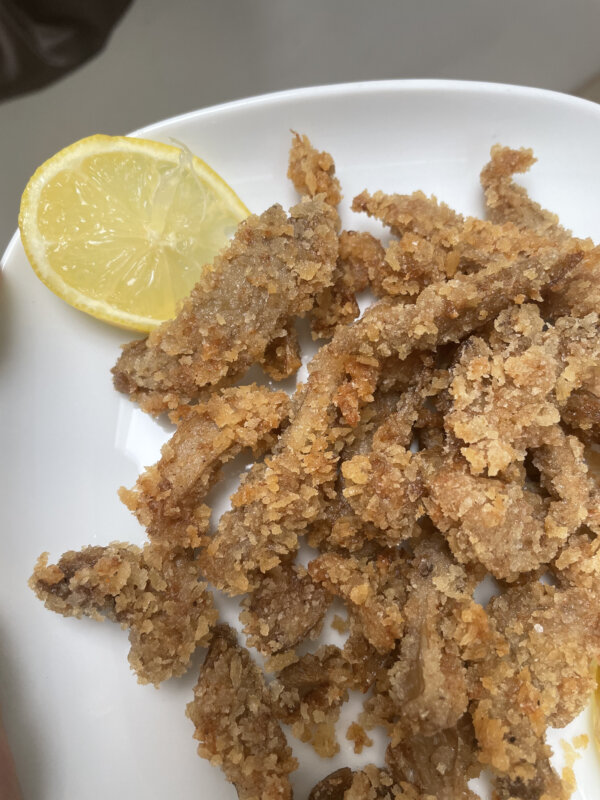 | | |
| --- | --- |
| | |
Wash and scrub the mushrooms gently to get rid of any excess soil, but not to disfigure the mushrooms.

Cut oyster mushrooms into rings (for the tops) and thin strips for the rest; keeping the thickness at around 1cm max, to ensure they cook through, set aside.

In a clean bowl, add in 1/2 cup of flour and 1/2 cup of water, mixing with a whisk. Add in bladderwrack powder, salt and pepper. Whisk until smooth, then set aside.

On a plate, pour out 1/2 cup of breadcrumbs, mixing in a sprinkle of salt, pepper, smoked paprika and garlic powder, set aside.

In a small saucepan, heat oil, it should be around 1 inch deep. In the meantime, dip mushroom pieces into the batter, ensuring it's covered in batter. Then, place into plate and coat with breadcrumbs.

Repeat this process for the rest of the mushroom until all the batter and breadcrumbs are used up.

Once oil is hot, add calamari in gently, and cook for 5-7 minutes, or until golden, flipping once halfway.

In a large bowl lined with kitchen paper, place cooked mushrooms to get rid of excess oil.

Serve and enjoy while hot!
Add a wedge of lemon on the side to serve for full authenticity.