Now, who doesn't love banana bread? Even people who don't like banana like banana bread. A simple, naturally vegan dessert that tastes great on its own or smothered in vegan custard or cream.
What ingredients do I need?
Flour
Ripe Bananas
Baking soda
Butter
Brown sugar
Vegan milk
Cinnamon
Nutmeg
Vanilla Extract
Pinch of salt
A very simple recipe that doesn't require eggs to rise, very easy to make, and a great go-to for kids and adults alike. Great for a snack, dessert or even a nutritious breakfast bread – Bananas are great for energy!
Do you need cinnamon for banana bread?
Cinnamon is an essential ingredient for the perfect vegan banana bread; it complements the banana so well and adds an undertone that is so satisfying.
You can leave it out if you want, but you won't get the same results, so we recommend including it for this recipe.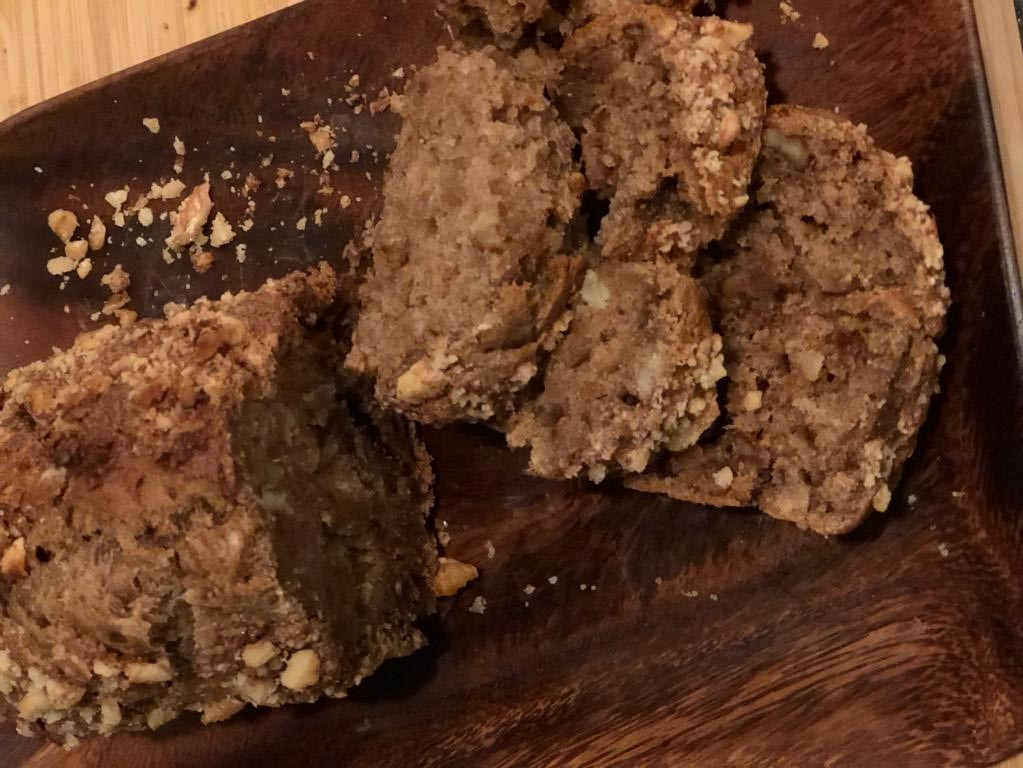 Is banana bread naturally vegan?
Some recipes call for egg to help the mixture rise, but it's not necessary at all. The baking powder helps the mixture rise when in the oven, and the dough naturally expands so there's really no need.
Replace the milk in traditional recipes for a plant-based alternative, then you're good to go.
How ripe should the bananas be?
The ideal ripeness for a perfect banana bread is the very spotty, almost black type, the darker the better. Ideally, we want to avoid using green bananas, as they aren't fully ripe.
If you use yellow, ripe bananas and don't have patience to ripen them anymore, add another one for good measure. The ideal bananas for this vegan banana bread recipe are the really ripe type.
What pairs well with it?
Banana bread pairs beautifully with some custard, coconut cream or even some ice cream! Banana bread in itself is great on its own.
I love this veganised banana bread recipe; I've been eating it throughout the day, as a snack or dessert, but it also goes great as a vegan breakfast idea.
Can you eat banana bread for breakfast?
For breakfast, allow it to cool; toast some slices and enjoy with some butter. Or even peanut butter or vegan chocolate spread!
Maybe you prefer it warmed up and smothered in maple or agave syrup; as an alternative to pancakes, possibilities are endless.
Try our veganised banana bread recipe today, it's light, fluffy and beautifully sweet.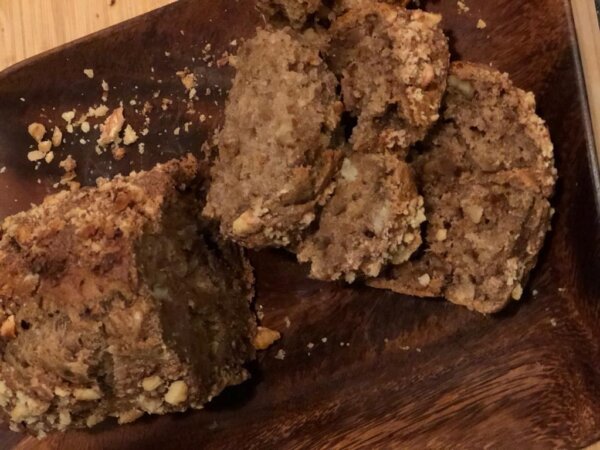 | | |
| --- | --- |
| | |
Peel and mash your ripe bananas in a mixing bowl, try to make it as smooth as possible, mashing all lumps so it's practically liquid.

Melt some butter until it's liquid and add it to the mashed bananas with the vanilla extract, stir well to combine.

Sift flour, and the remaining dry ingredients (baking powder, nutmeg, cinnamon & sugar) into a separate bowl, mix well with a whisk, and set aside.

Preheat oven to 200 degrees, then gradually pour in the banana mix into the flour mix; As you do this, with a baking spatula, mix it accordingly so its well-combined.

Slowly pour in the vegan milk bit by bit and mix it within the cake mix. The mixture should now be thick and taste great, don't lick too much of the bowl though.

In a large baking tin, or two small tins (like I did), grease the bottom and sides with a little spare butter. Pour in the mix, and top with chopped walnuts, if using.

Bake for 40 minutes, or 30 minutes for the small containers, or until golden brown, the sides should be crisp and the centre fluffy.

Serve and enjoy with your favourite pairings, as a dessert, snack or breakfast!
Stays good for 3-4 days in a bread bin.