Never really been a fan of Greek food, tbh most of it is barbequed stuff and cheese.
However, my whole perspective changed when I noticed that Greek food is a lot more vegan friendly than one would think. Many Greek dishes have a simplistic composition, made of minimal ingredients, the essential notes needed for the dish I guess, I admire it.
What's in Greek black-eyed peas?
This recipe is incredibly simple, made up of only the following ingredients:
Black eyed peas (dried and soaked)
Lemon
Olive oil
Fresh dill
Spring onion
Black pepper
Salt
…So few ingredients that I even included salt and pepper. But don't get it twisted, this is the perfect formula for some banging black eyed peas for the summery months of light lunches and salads.
What pairs well with Greek-style black-eyed peas?
This specific style of black eyed peas goes well paired with a salad, on its own, or paired with my vegan cilantro lime quinoa to complement the acidic flavours and neutralise the palette.
Of course there's no rules with this, I usually make me a batch and mix it in with my salads for an iron & protein boost, you could mix it in with pasta probably, I don't see how that can go wrong tbh.
Easy vegan black eyed peas recipe
This recipe is probably the easiest one on this website.
The key is making sure you soak black eyed peas for 8 hours, cook it perfectly, then all you have to do is combine the remaining ingredients and we blessed.
Give it a try, it may be another to add to your weekly meal rotation.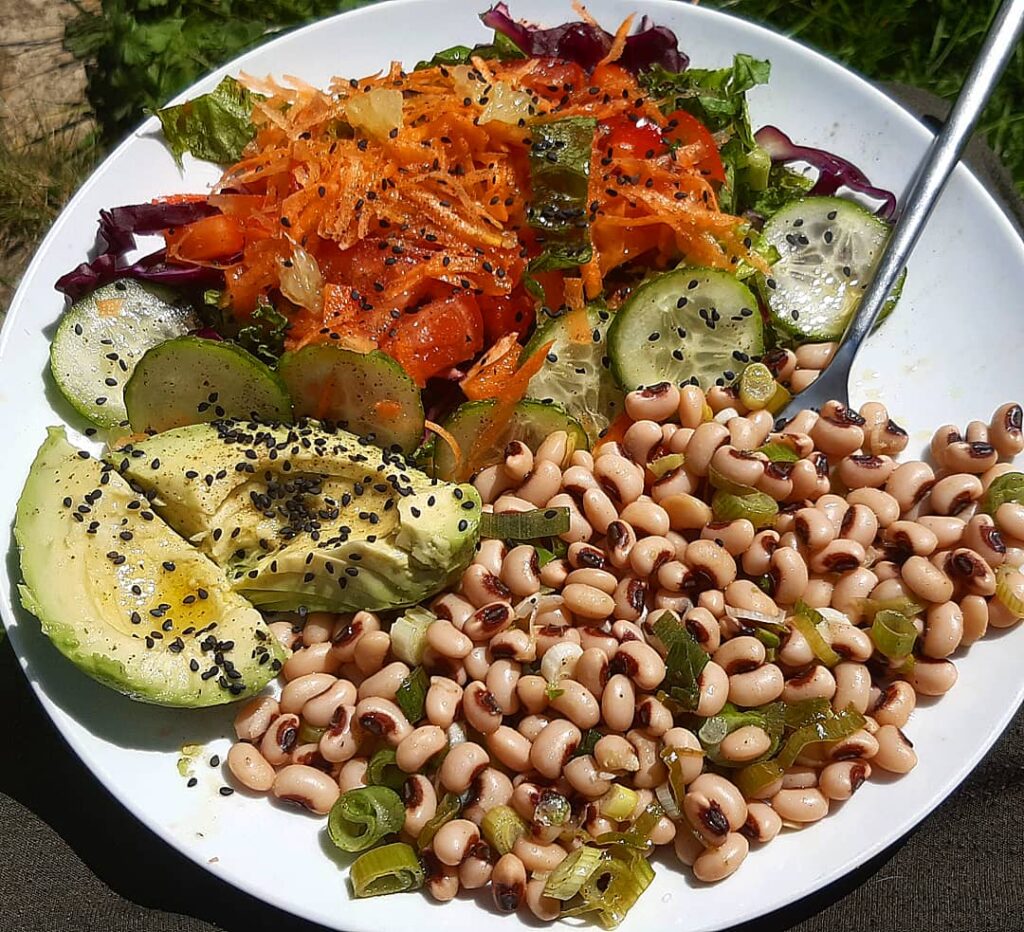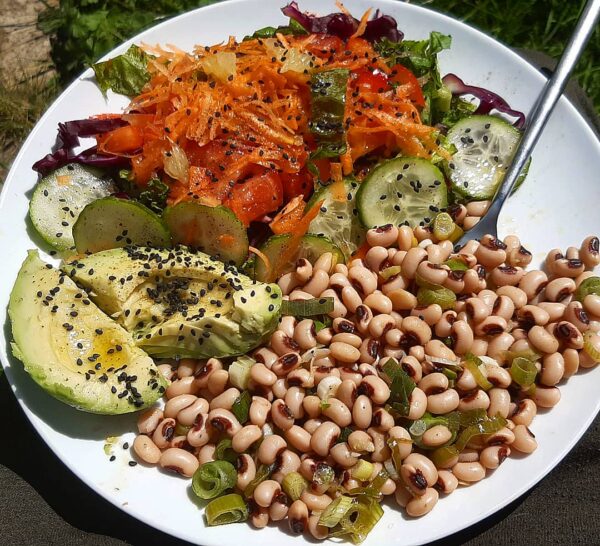 | | |
| --- | --- |
| | |
Rinse the soaked black-eyed peas through running water with a colander.

Pour water into a saucepan, add black-eyed peas, bring to a boil, and cover and simmer for 30-40 minutes or until all water is absorbed.

Chop dill, finely slice the spring onion and juice a lemon in the meantime.

Once peas are cooked through, drizzle in olive oil, chopped fresh dill, lemon juice, sliced spring onion, then crack some black pepper and salt.

Stir and leave to suit with no heat for 5-10 minutes before serving, enjoy with a salad, on its own, or in a pasta!