I only really started eating quinoa properly when I became vegan for the first time.
It's a powerhouse of nutrition, comes in three different colours, and with that comes a range of nutrients.
Red quinoa happens to be one of the most nutrient dense of the list; being high in iron, and cooks just as well as white quinoa, so that's the one we're using for today.
For those looking for a quick and easy quinoa recipe to master and remember for future use, you've come to the right place.
What does red quinoa salad go well with?
Red quinoa salad pairs well with stewed lentils, vegan burgers, and on the side fo some mix and match tapas.
I personally prefer it on it's own, but a fat portion of it to fill me up if I feel like a light lunch.
We hope you like this vegan red quinoa salad recipe, it's quick and easy to make. Made of clean, unproblematic ingredients and a creative variation of a regular schmegular salad.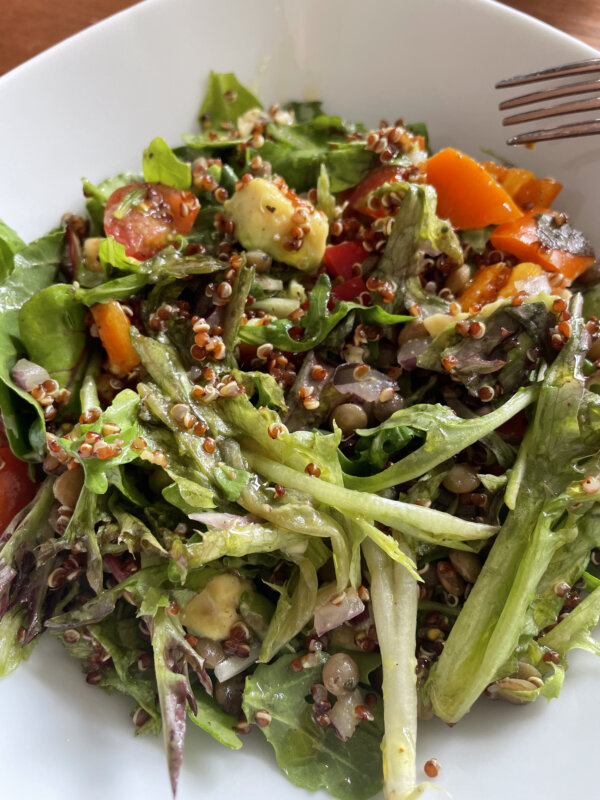 | | |
| --- | --- |
| | |
Rinse red quinoa well using a sieve, getting rid off all excess saponins, set aside in a saucepan, and add water. Bring to a boil, lower the heat, cover and simmer for 15-20 minutes.

Wash your other veggies, finely dice red onion and garlic, cut cherry tomatoes in quarters and bell pepper into squares.

Prepare an avocado by cutting it up into cubes, combine all ingredients into a bowl, with lemon juice and olive oil, toss and combine.

Once quinoa is cooked and all water absorbed, allow to cool for 10-15 minutes prior to adding to the mix. Then add it in and sprinkle on salt, pepper and oregano to your taste.

Adjust seasonings accordingly and when ready, serve and enjoy!