Who doesn't love a good salad in the summer?
I know I do, and since going vegan, I can no longer have a "normal" salad, can't stand boring flavours, so to jazz things up, I tend to experiment with different legumes, beans and seeds on a regular basis.
This vegan chickpea salad recipe is ideal for those who want a quick fix, which is high in protein, simple to make, and flavourful.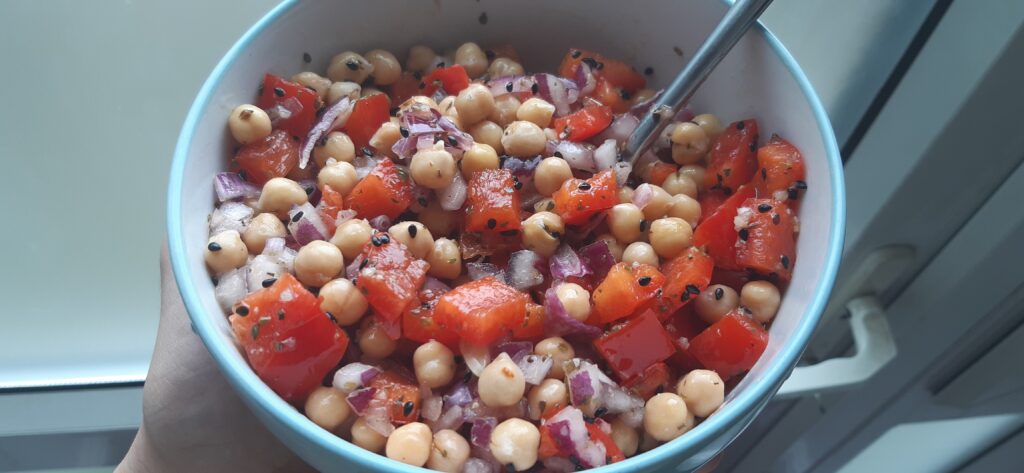 Can you use canned chickpeas in this chickpea salad?
Yes you can, in fact, this recipe calls for canned chickpeas specifically. I personally prefer dried, soaked chickpeas, that's cooked from scratch.
But hey, we don't always have the time to be going about that long process, so for the sake of convenience this recipe required canned, but not dried chickpeas.
You can also use fresh chickpeas if you want a bit of bite in your salad, as they tend to feel more whole than the canned counterpart.
What does chickpea salad pair well with?
The good thing about this vegan chickpea salad recipe is that it goes well with a good variety of foods. These can range from a side of sweet potato fries, perhaps my red lentil sundried tomato quinoa recipe or even a veggie cous cous.
Chickpea salad tends to pair well with other similar Mediterranean/Middle Eastern flavours, including hummus, one may even choose to scoop it into a tortilla and wrap it up – Be creative with it!
This chickpea salad recipe is quick, easy to make, and colourful. Perfect for a side salad with a protein boost, to bring your bit at a summer barbeque, or to put in wraps and pittas.
If you enjoy this vegan chickpea salad recipe don't forget to bookmark and share with your loved ones!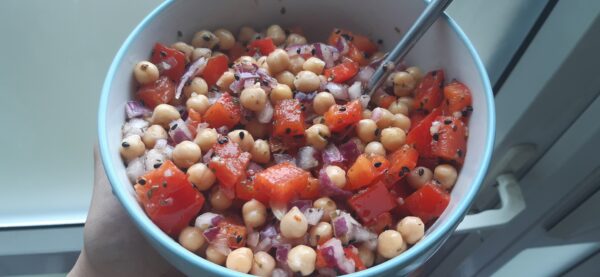 | | |
| --- | --- |
| | |
Drain and rinse the canned chickpeas using a colander or sieve, set aside.

Wash your red bell pepper and slice into small cubes, peel and finely dice your red onion.

Combine the chickpeas, red bell pepper and onion in a salad bowl, cut a lemon in half and juice it, pour over the mix.

Drizzle atop some olive oil, sprinkle some salt and pepper to your taste, let sit for 5 minutes to infuse.

Serve and enjoy with your favourite mains or as a wrap filler, enjoy!