One of my favourite things about red lentils is that they cook so quickly.
They quite literally take like 15-20 minutes to completely "dissolve" if you will, also making them an ideal legume to use for curries.
This quick potato and red lentil curry recipe is great for those who like a cheeky curry, but don't want to feel like they're spending their whole evening preparing it.
What's in your potato red lentil curry?
This recipe combines fairly simple ingredients, including red lentils, potato, spinach, carrots, peppers, coconut milk, as well as curry powder, leaves and spices.
This recipe is fairly easy to source as well. With only some ingredients required fresh, the rest can easily by kept in your pantry ready for preparation!
What goes well with this curry?
A traditional pilau or boiled basmati rice works beautifully paired with our red lentil potato curry. You can also go the extra mile and include a side of onion bhajis, or even some homemade naan!
My common go-to is a side of rice and sometimes salad. Who doesn't love a good curry though? Especially when it's homemade.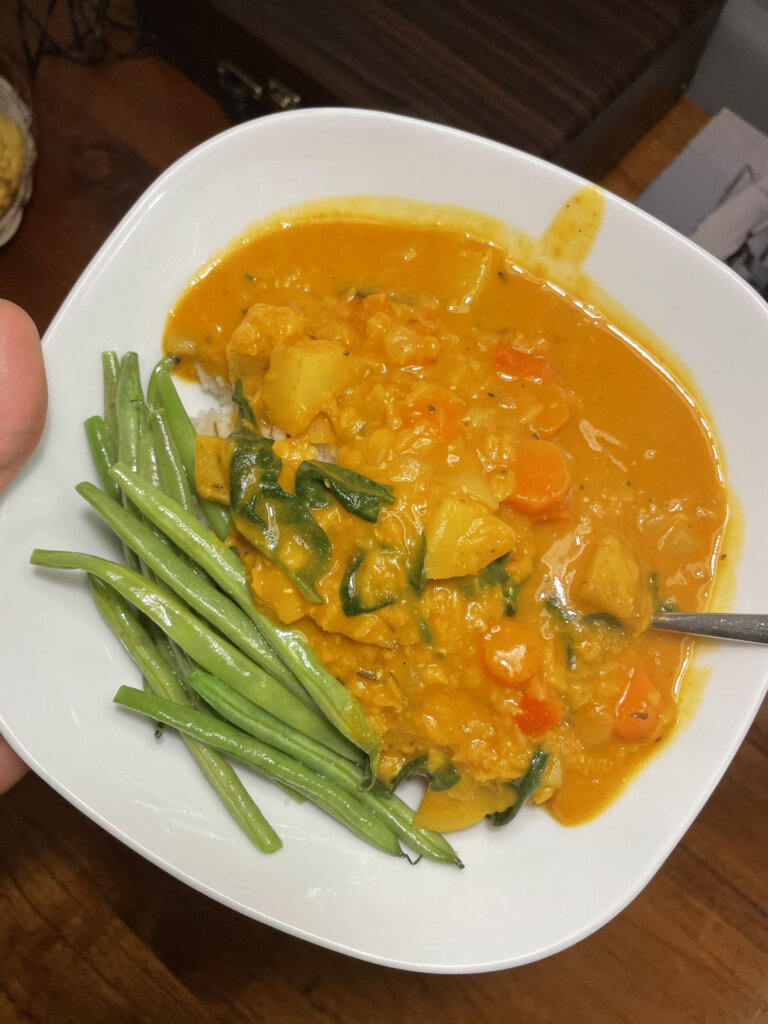 We hope you enjoy this red lentil potato curry recipe. It's a great addition to my monthly rotation, and is pretty budget friendly!
Thank you for choosing veganising it for your recipe inspiration. Be sure to bookmark this for future reference, drop a comment with what you think, or share with a friend.
Thanks for stopping by, and stay blessed.
| | |
| --- | --- |
| | |
Start by washing and peeling your carrot and potato, then slicing potato into cubes and 1cm slices for the carrot.

Wash your sweet peppers and slice into 2cm wide cubes, set aside. Cut off the skin from your ginger and slice into thin cubes, along with your onion.

Rinse your red lentils using a sieve or using a saucepan, ensuring to get rid of as much starch as possible prior to cooking. Heat water in a kettle ready for use.

Heat oil on a saucepan, then add in onion and ginger, allowing to sizzle on medium for 2-3 minutes.

Add in curry powder and leaves, followed by the rest of the herbs, tomato paste, and a splash of water. Stir and ensure herbs are dissolved into a paste.

Add in the red lentils, peppers, potatoes and carrot, then stir to coat in the spices. With the hot water from the kettle, dissolve a stock cube into a mug (same size as the one to measure lentils), then pour into the saucepan.

Add a further 2 cups of water, then bring to a boil. Allow to cook for 10-15 minutes, on a gentle simmer with the lid on, while you prepare your sides.

Once lentils are softened, add your half can of coconut milk. Stir gently, then add in spinach, lemon juice, salt and pepper (and hot sauce, if using), then cook for a further 10 minutes.

Once potatoes are cooked through, taste for flavour balance, adding more salt if needed. Serve and enjoy with your favourite sides.