I love me some quality crackers, even better when they're homemade; With gf almond flour sesame crackers, this is genuinely something I personally can't get enough of.
This recipe is a special one, was the first successful cracker recipe I've ever made – These sesame almond flour crackers are made with simple ingredients, high in nutrition, and suitable for celiac sufferers.
What's in our almond sesame crackers?
Gf flour
Almond meal
Baking powder
Black sesame seeds
Rosemary
Garlic powder
Olive oil
Cold water
Salt
Pepper
---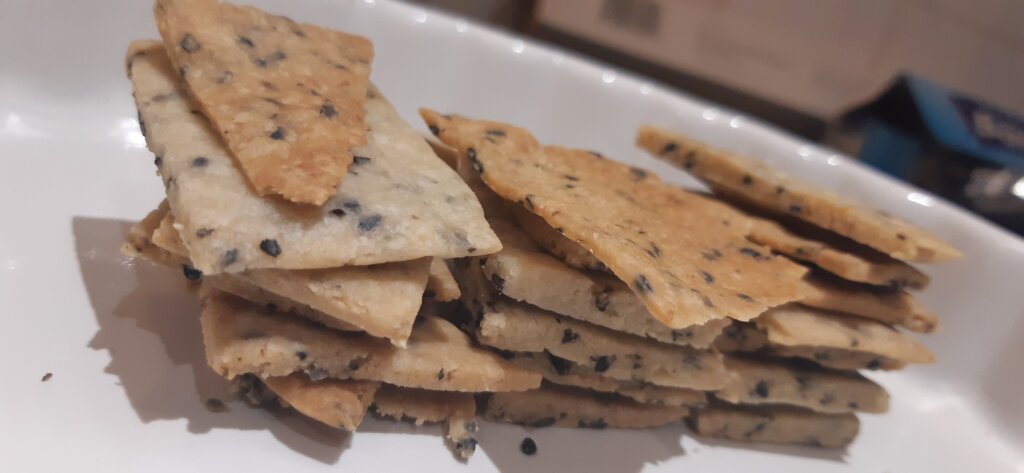 Are almond flour crackers healthy?
Almond flour crackers are very healthy. This is due to the high in protein, calcium, iron and zinc content in the crackers.
This is a healthy alternative to regular crackers, gluten free and a great, light, and easy to make. A great way to use up any spare almond meal lying around the house.
---
What does almond crackers go well with?
These homemade almond sesame crackers pair well with vegan cheese, homemade hummus, babaganush, our vegan guacamole or even some veganised sour cream.
I'll be real, I demolished my first batch of these, made about 30 crackers in total and ate a good 15 in one go, just with some vegan cheese.
Maybe you just like crackers and butter, all to their own; I personally made this recipe so I could eat more black sesame seeds without smothering my salads with 'em.
Is almond flour the same as ground almonds?
Typically found in the baking and gluten-free aisle, almond flour isn't actually a type of flour, it's actually made of ground almonds. Other names for almond flour could be almond powder, almond meal or ground almonds.
---
This recipe calls for some GF flour and almond meal to make the bulk of it all; these make for a much lighter, lower crab cracker than your average.
We hope you enjoy these gf almond flour sesame crackers, if you like the recipe, drop a comment, bookmark and share with your loved ones.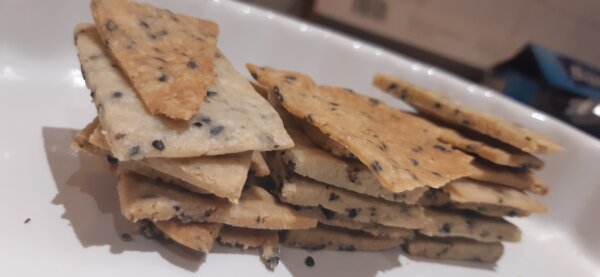 | | |
| --- | --- |
| | |
Combine all dry ingredients in a food processor, including all seasonings, and pulse until combined well.

Preheat oven to 180 degrees, line a baking tray with parchment paper.

Once combined, change the food processor blade from regular to pastry cutter, then slowly add the olive oil until the powder mixture becomes crumbly.

Slowly add water one tablespoon at a time while pulsing, you should then see a ball of dough start to form, the consistency should now be mouldable, if too crumbly, simply add another tablespoon of water.

Transfer dough onto some parchment paper, layer another bit of parchment paper over the top and roll out until dough is 3mm thick.

Use a knife, or whatever cutter you have on-hand and cut the crackers to your desired shape (I was random and went for random triangle and rectangular shapes).

Place the freshly cut dough into the fridge for 30 minutes to harden. After 30 minutes, transfer the dough (once hardened) onto the baking tray, you may need to cook in batches of 20-30, the recipe yields around 50 crackers.

Place the prepped mixture into the preheated oven, ensuring they're not too close together to prevent sticking and to allow to cook through, bake for 15-20 minutes or until browned (bear in mind not all crackers will cook at the same pace).

Once cooked and crunchy, you can enjoy these with your favourite toppings, or allow to cook and keep in an airtight jar for roughly 1 week.
Keep in an airtight container to maintain freshness, keeps for a week or so, if it lasts that long!