One of the hardest things to give up when going vegan is eggs, in particular, scrambled eggs, so I just had to make me a veganised scramble of some sorts.
I personally am not a massive fan of tofu, I usually buy it solely to whip up a vegan tofu scramble when I'm feeling a big breakfast on a weekend, but in this case, it's the star of the show.
I know what you're thinking, but tofu, it doesn't taste like egg – Correct, but the texture can be extremely similar to it. It's literally a case of mashing the tofu with a fork to get scramble-y shreds, adding the right flavour balance, and frying it up in no more than 10 minutes.
How can you make vegan scramble taste eggy?
So the important part, the eggy part. We achieve the sulphuric taste from a little thing called Kala Namak, otherwise known as Indian black salt. So when I used to make scrambled eggs I kept it simple; oregano, salt, pepper and probably some cheese or ham; depending on what I was feeling for the day.
With the tofu, you need it to absorb the flavour you give it. So essentially, you can use the same ingredients, but have to bear in mind the tofu scramble needs to sit in a marinade of sorts to absorb that.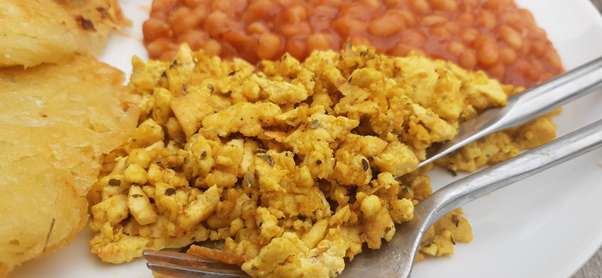 What does tofu scramble go well with?
I guess that's all a matter of preference. On a casual weekend I'd whip up a tofu scramble and enjoy it with some avocado toast, baked beans, fried mushrooms and hash browns – One example of a big breakfast I'd incorporate it in.
This tofu scramble can also be used in other recipes, for instance, our veganised fried rice, or mix it in with mayo for a vegan egg mayo sandwich filler.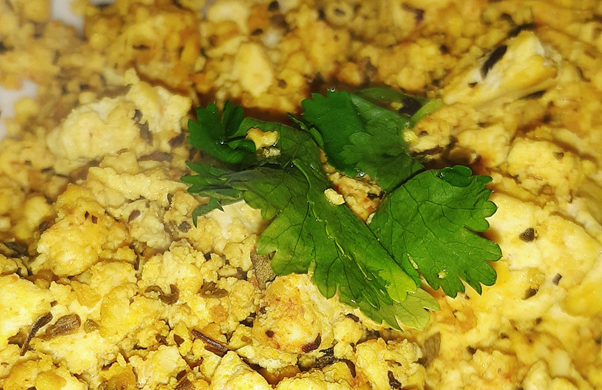 This veganised tofu scramble is kid-friendly, an ideal vegan breakfast food, high in protein and very satiating. I made a quick breakfast the other day with some vegan bacon bits, was banging.
Try this recipe on for size today and drop a comment below to tell us how it went!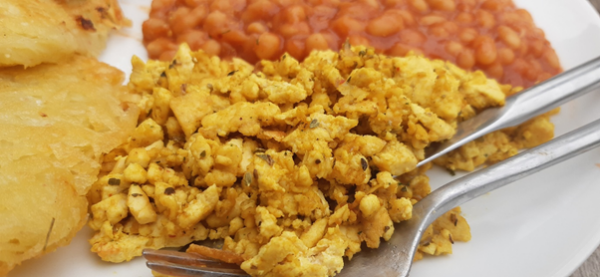 | | |
| --- | --- |
| | |
Drain firm tofu of its water, transfer to a bowl.

Mash/crumble tofu with a fork (or your hands) into scrambled pieces you're satisfied with, sprinkle and stir in the seasonings, mix well and allow to sit for 5-10 minutes.

Heat oil o butter in a frying pan, when hot, add the tofu scramble mix – Sautee for 10 minutes as you would scrambled egg, stirring and ensuring tofu is cooked through.

Taste mix and adjust salt/pepper quantities accordingly, serve while hot with toast, beans, on its own or as part of another recipe!
Parsley is optional as it tends t balance the palette nicely in this dish in particular.