For those looking for a vegan snack they can make from home; Those looking for a healthy, vegan snack that can be made from things from your pantry? These vegan coconut, date, cacao bars may be right up your street.
This recipe only calls for a mere 4 ingredients:
Cacao powder
Cashews
Coconut flakes
Degleet noor dates
The best part about these coconut cacao bars are that they contain no added sugar; These are actually good for you to eat!
A vegan source of iron, copper and healthy fats from these natural ingredients make for a great breakfast on the go, or for an ideal pre- or post-workout snack.
Do you need a food processor to make these?
I'd highly recommend using a food processor for these; you want to get a texture similar to naked bars. Where you got chunks of cashews for a crunch. With a body of dates to provide the sweetness and chewy texture.
The process is literally as simple as pitting some dates; throwing in some cashews and cacao, blitzing it up and coating it in coconut.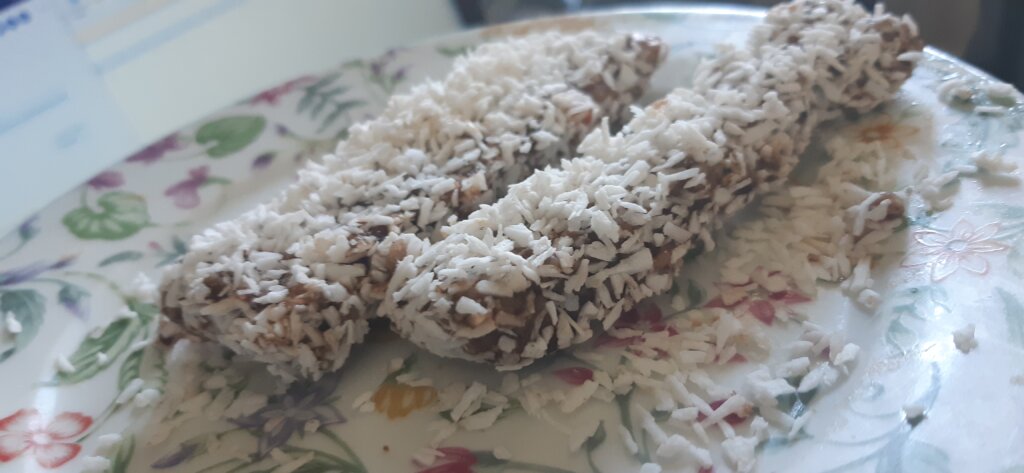 Raw vegan cacao date bars
Oh, did I mention that these homemade cacao date bars are raw vegan?
Yeah, these require no cooking, just chilling, lol. Very easy to make and a great way to get your key nutrients in a small package!
Ready to make these vegan cacao date cashew bars?
Find the simple recipe below. If you like this cacao date bar recipe, be sure to share with family, friends and even enemies, it helps a lot.
| | |
| --- | --- |
| | |
Start by pitting the dates, once done place them on a chopping board.

In a food processor, add the pitted dates, cashews, and raw cacao powder. Pulse for 30 seconds to 1 minute, until cashews are small chunks, and dates are practically goo, the cacao should be fully infused in the mix.

In a tray or even a food container, lay out some parchment paper. Transfer the date, cacao and cashew mixture onto the parchment paper using a baking spatula.

Flatten the mixture to be 4 inches deep, try to shape it into one big rectangular shape. Cover and place mixture into the freezer for 30 minutes to harden.

Once solid, score across the date cacao mix to form small bar-size shapes. Separate them to be at least 1cm apart.

Sprinkle half the coconut flakes on the bars, carefully rubbing on the top to let it stick.

Flip the bars and repeat for the other side, any blank spots cover up with any excess coconut flakes, typically on the sides of the bars (it's a bit fiddly).

Once coated properly, the bars are ready to eat, I'd let 'em return to room temperature as they may be quite cold already. Enjoy as a post-workout, quick breakfast or healthy, nutritious snack.