Creamy potato salad has always been a staple for many barbecues. Who doesn't love the creaminess of the potatoes on the side of a big summer salad, juicy burger or on the side of some southern fried vegan goodness?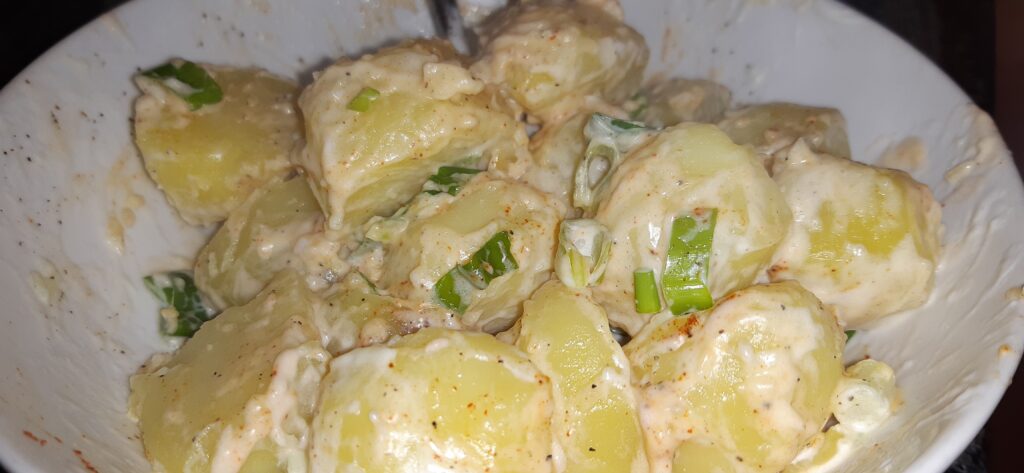 When I was growing up the main three elements that made a good potato salad for me was: A good balance of creaminess, zing from spring onion, and saltiness of the potato itself.
How to veganise potato salad
The main part about veganising potato salad, is ensuring you've got the right mayo for the job. I'm sure people have had bad experiences with vegan mayos in the past, made primarily from oil based ingredients tasting sub-par, to say the least.
The only vegan mayo I can say has never let me down, other than vegan restaurant quality or nandos perinaise, is the Hellman's vegan mayo. It just bangs, I don;t know what it is about it.
For a perfect vegan potato salad you pretty much only need:
Potatoes
Vegan mayo
White pepper
Salt
Spring onion (or chives)
What does vegan potato salad pair well with?
Once you realise how easy this recipe is, and if you like potato salad as much as I do, you'd want some recipes to whip up with these bad boys.
Some ideas can include some vegan burgers, sausages, paired with "meaty" vegan dishes, and perhaps some sweet and sour dishes that call for a creamy contrast.
In essence, this potato salad is rich, tasty and can go well with pretty much anything you wish, and you can whip it up in 20 mins; best to chill for an hour after prep for best results, though.
Passive Time

1 hour

15 minutes
Passive Time

1 hour

15 minutes
Rinse the potatoes well, cleaning thoroughly, in the meantime, heat salted water in a saucepan.

Cut potatoes in halves, place in boiling water to cook for 10-15 minutes. Chop spring onions into thin slices on a chopping board.

Once potatoes are cooked drain well in a colander, add salt and pepper to your taste. Add 3 heaped tablespoons of vegan mayo to the mixture, combine spring onions and mix well.

Place bowl in a fridge for 30 mins - 1 hour, serve and enjoy!
Hellman's vegan mayo was used for this recipe, for a little kick, add 1 tbsp of Nando's vegan perinaise with 2 tbsp regular vegan mayo - Trust me, it bangs!