If you asked me 5 years ago, there's no way I'd be eating a tempeh mushroom fusilli pasta.
Tempeh is one of those great vegan foods you start off skeptical about. I know I did.
With tempeh essentially being a different version of tofu, I didn't really see the appeal until recently.
This pasta is tasty, filling and high in vegan protein, from tempeh as the lean protein source.
What's in your creamy tempeh pasta?
This recipe is fairly easy to put together.
Main ingredients include: Fusilli, tempeh, mushroom, spinach, sweet peppers, vegan cream & cream cheese, tomato paste, herbs and spices!
We like to think of it as a tasty vegan meal that's easy for anyone to make, with ingredients that are easy to source and reasonable for the bank account.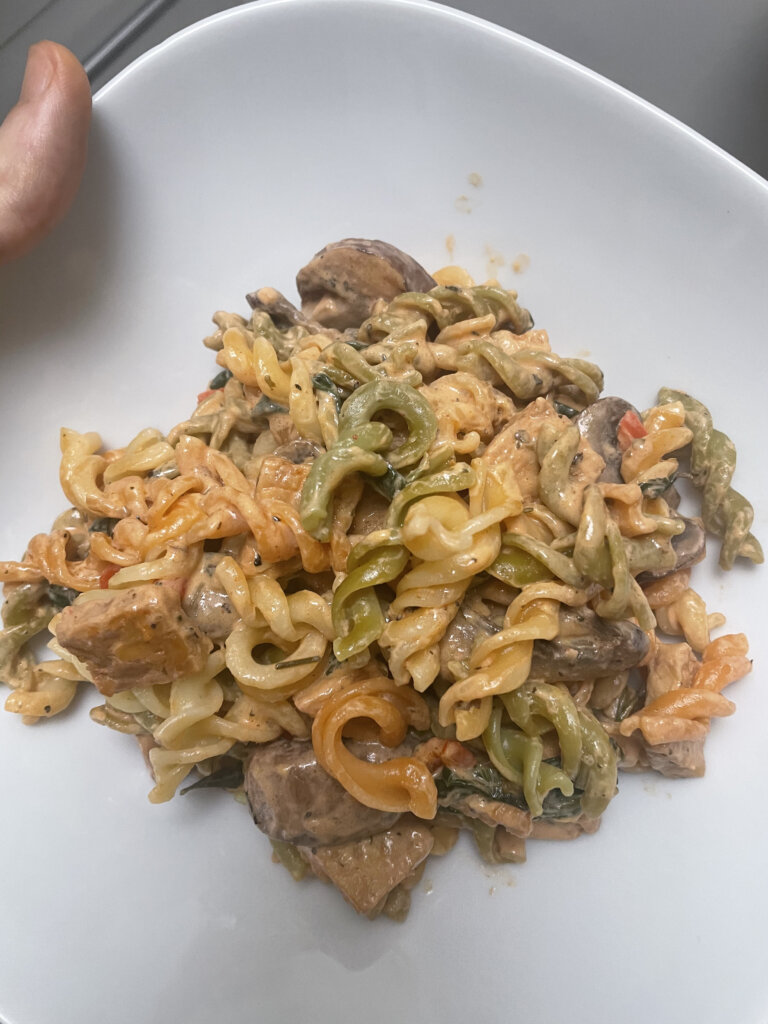 This recipe is tasty, high in nutrition, and a great vegan pasta for eating hot or cold. Can also be enjoyed fresh or in a packed lunch.
With the creaminess of this pasta it's also kid-friendly. A great way to sneak extra veggies into your child's plate.
We hope you enjoy his tempeh mushroom pasta recipe. If you love it be sure to bookmark this, send to a friend, or leave a comment.
Thanks for considering Veganising It for your recipe inspiration, be sure to come again soon.
| | |
| --- | --- |
| | |
In a large saucepan, bring salted water to a boil, then add in dried fusilli. Cook according to package instructions.

In the meantime, prep the veggies. Wash brown mushrooms of excess dirt, rinsing the sweet peppers too. Slice mushrooms into thin pieces, peppers into small cubes and your red onion into fine dices.

Slice tempeh into 1 cm thick pieces, then into quarters (or bitesize pieces).

Heat oil on a frying pan, then add red onion, cooking for 2-3 minutes, or until sizzling and fragrant. Then add in mushrooms and peppers, followed by tempeh. Cook for a further 3 minutes, ensuring the tempeh is sizzling too.

Add in soy sauce and tomato paste, a splash of pasta water, then the Italian herbs, garlic powder, coriander, salt and pepper. Stir to combine and ensure ingredients are coated in soy/spice mixture.

Cooking for 2 minutes on a medium heat, slowly pour in the vegan cream, followed by the cream cheese. Stir gently to infuse the cream cheese into the sauce, bring to a gentle boil, then turn off the heat.

Drain cooked pasta in a colander, and transfer back to the saucepan. Scoop in the pasta sauce and combine with the cooked fusilli.

Taste and adjust for salt/pepper, then serve while warm!