Black eyed peas is something I didn't really have much of growing up. More so blackbeans and kidney beans, in stews and casseroles, something my mama used to specialise in.
For those looking for something to do with black eyed peas, this stew is for you.
This stew incorporates the light, yet moreish texture of black eyed peas, the homely feel of macaroni, with a banging vegan broth
Black eyed peas are a great bean to use in stews, high in fibre and iron; it's great for the digestive system and making sure you stay regular.
What makes a good black eyed pea stew?
We believe a good stewed black eyed peas meal has a nice balance of savoury, with sweet tones and complimentary spices, such as cumin and coriander.
This stew is made of black eyed peas, bell pepper, carrot, potato, onion, tomatoes and spices.
Should I use canned or dried black eyed peas for this recipe?
Whilst canned black eyed peas could also work, you won't achieve the desired consistency needed to make this meal what it is.
We advise soaking black eyed peas for a minimum 6-8 hours, that way when you cook them they have more bite – Trust me it's worth it.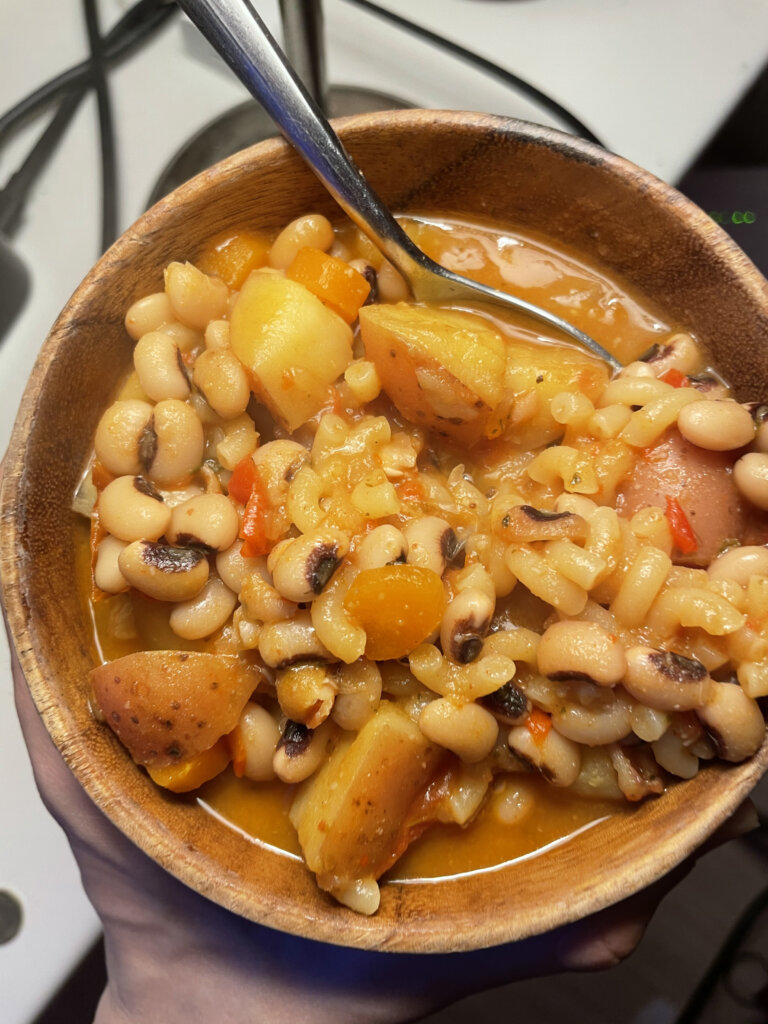 A great mid-week meal to make, kid friendly, and moreish for those looking for a filling vegan meal.
If you like this recipe, add it to your bookmarks for future reference, share with a friend, or drop a comment with your thoughts.
Thanks for picking us for your vegan recipe inspiration, stay blessed.
Passive Time

1

Hour 10 Minutes
Passive Time

1

Hour 10 Minutes
Wash potato and bell pepper well. Cut pepper in half, discard the stem and seeds, then chop into fine cubes, cut potato into 2cm cubes (you can choose whether you keep or discard the skin), peel and slice carrots into 1cm thick slices.

Heat oil in a saucepan, peel and cut a medium onion into small cubes, adding into the pan and cooking on a medium heat, until fragrant and softened, add in tomato paste, a splash of water.

Followed by garlic powder, onion powder, cumin, coriander and oregano, with a stir into a thicker paste, then toss in the bell pepper, bring to a gentle boil for 2-3 minutes.

Rinse and drain black eyed peas and add into the pan with potatoes and carrots, stir into the seasonings to coat well. Bring water to a boil and add to the pan, then add a finely chopped stock cube. Gently stir to dissolve and bring the pan to a boil, add in your bayleaf.

Cover and simmer for 40-50 minutes, or until black-eyed peas are cooked through, there should be a considerable amount of water left over. Add in the macaroni, with a pinch of salt and pepper to taste. Bring to a boil, cover and simmer on a low heat for a further 10 minutes.

Once cooked, taste the broth and adjust seasonings if necessary, serve while hot and pasta is freshly cooked!