Growing up my mum made a lot of stews, where she would through pretty much anything in there. Blackbean sausage and macaroni being a go-to combo growing up.
Ingredients included beans, pasta, potatoes, veggies all married together in a tomato-ey sauce.
It's quite typical in Portuguese culture to cook this type of meal along with meats such as chorizo, as well as other pork.
As we're veganising it, we're not going to need any of that, although you can add some slices of vegan sausage if you'd like, for more authenticity.
What's in black bean macaroni stew?
For this recipe, you'll need some blackbeans, carrots, onion, macaroni, potato, chopped tomatoes, stock and some simple seasonings.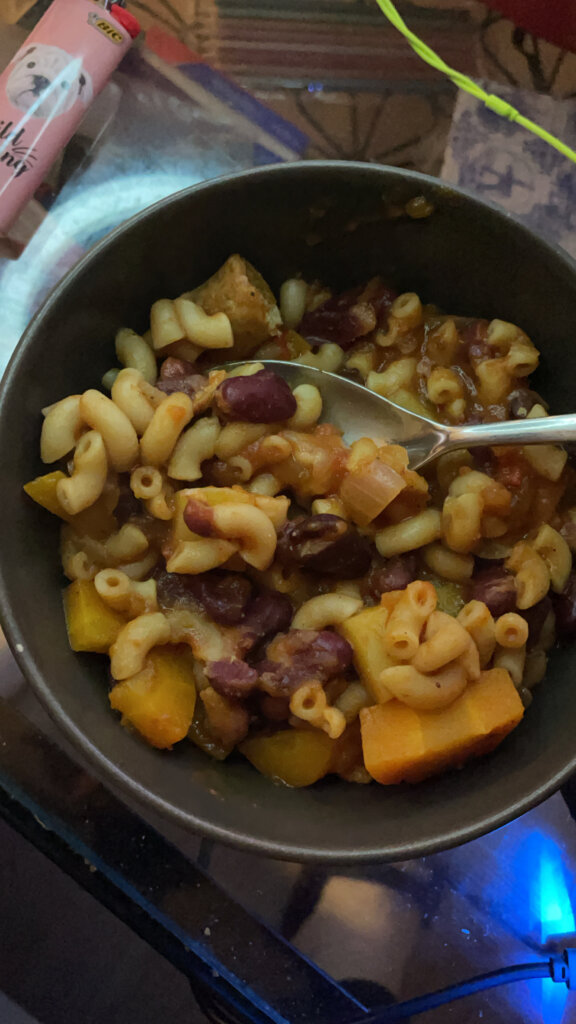 It's a simple vegan recipe that you can eat for a mid-week feast, and doesn't break the bank.
What pairs well with this stew?
I love eating this meal on it's own in a nice sized bowl, with some good bread to dip into the sauce. It also pairs well with a side salad too.
It's a pretty good balance of foods across food groups and is satiating in itself. If you like this blackbean macaroni stew, feel free to also try our black eyed pea macaroni stew on for size.
We hope you enjoy this vegan black bean stew recipe. Be sure to bookmark it if you loved it, leave a comment and share with a friend!
This recipe is kid-friendly, great at a vegan pot luck, and a perfect meal for the regular rotation. Thanks for considering veganising it for your recipe inspiration, stay well and stay blessed.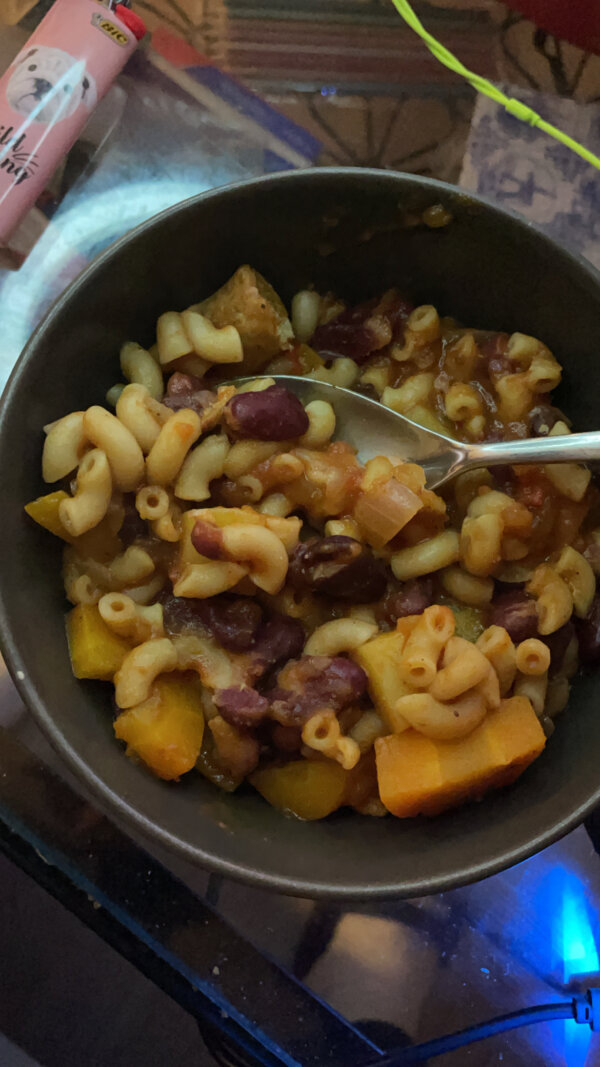 Passive Time

1

Hour 10 Minutes
Passive Time

1

Hour 10 Minutes
Drain off the blackbeans in a sieve and run water through, set aside. Wash and peel the sweet pepper and carrot, and slice into 1cm thick pieces, set aside. Peel and dice an onion, peel crush and dice the garlic cloves, then bring 1l of water to boil in a kettle.

Meanwhile, wash and peel your medium potato, cutting it into cubes around 1/2 an inch thick.

Heat olive oil in a saucepan, once hot, turn the heat down to medium and add garlic, sizzling for 30 seconds, then adding in the onions. Cook for 3-5 minutes until slightly softened and fragrant, then add in sweet pepper.

Squeeze in tomato paste, and a splash of water from the kettle, followed by the seasonings, all but salt and bayleaves. Stir with a spoon and then add in your canned tomatoes, mixing to combine with the aromatics and herbs.

Cut a stock cube thinly into powder, then in a large mug, combine the stock with hot water from the kettle, dissolving, then adding into the mix. Bring to a boil, then add in black beans, carrot, and potato, stir and gently cook on low for 3-5 minutes.

Slice up vegan sausages and add into the mix, if using, then 1 and a half more mugs of hot water and the bayleaves. Once boiling, cover the pot and simmer for 15 minutes.

Remove the lid, add in macaroni, stir, then cook for a further 10-15 minutes. Once pasta is cooked through, remove the stew from the heat. Leave to sit for 15 minutes before serving.

Serve and enjoy with your favourite sides or some good bread.