Mung beans are another legume I recently discovered having gone vegan. Much like lentils, these are another versatile bean-like food that's filling a void in my life I never knew needed it!
Mung bean stew is easy to make, naturally vegan, and just tasty as hell, you'd be missing out if you don't try this recipe.
What goes in mung bean stew?
This recipe is very simple, only calling for mung beans, cabbage, onion and seasonings in this case, with a stock base.
Pretty simple right? We know. You probably won't believe me but I came up with this recipe by accident – A happy accident at that.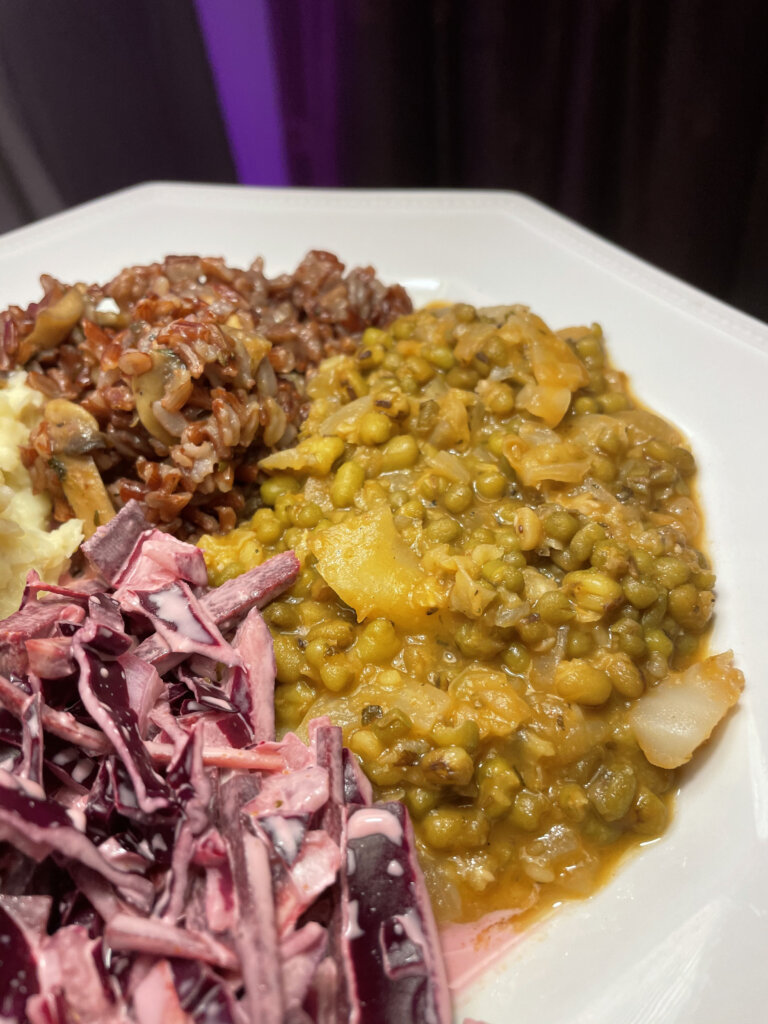 Do you need to soak mung beans before cooking?
Mung beans cook the best when soaked for a few hours before cooking.
We recommend, like with all dried legumes and beans, to soak them for a minimum 3-8 hours prior to cooking, that's how you'll keep to recipe timings, etc.
What do mung beans taste like?
Mung beans I'd say are similar to lentils, starchy, yet nutty and earthy. Mung beans are also a great source of vegan nutrients, lowering cholesterol and being rich in antioxidants.
What goes well with mung bean stew?
Mung bean stew pairs well with rice, quinoa, cous cous, roast potatoes, pretty much any solid side dish you can think of.
I'd keep it simple though, my personal go-to is pairing mung bean stew with rice, salad and roast potatoes and seasonal veggies, like carrots and parsnips – Real soul food.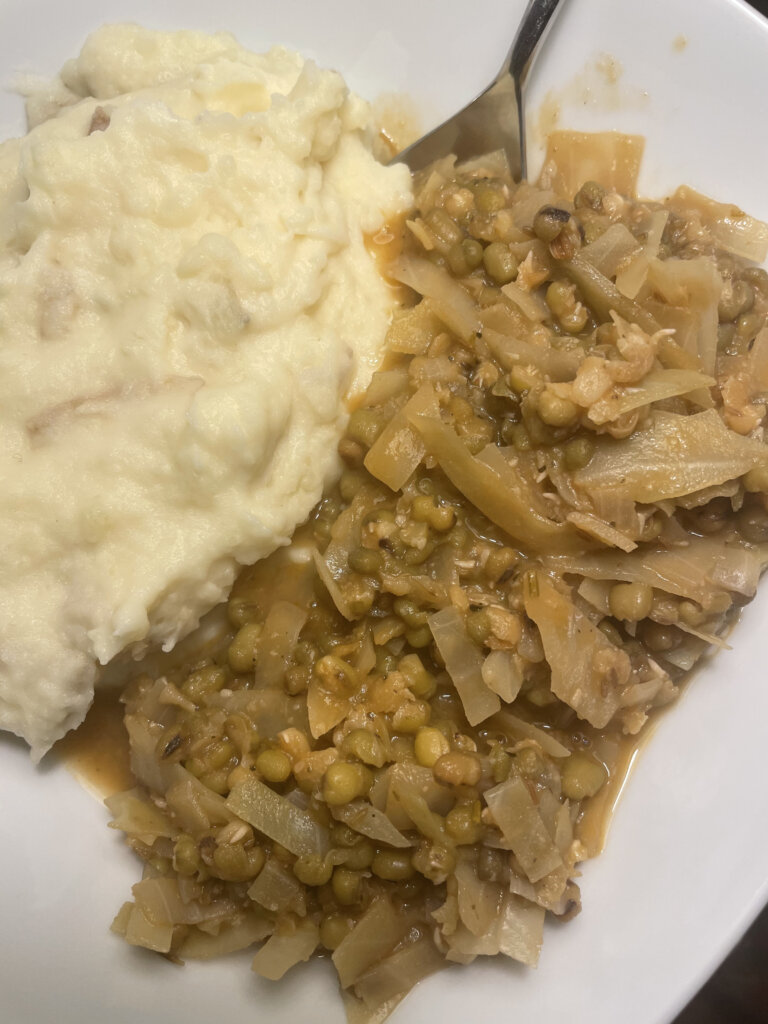 Thanks for stopping by and considering us for your recipe inspiration today. We hope you love this recipe, sure to turn heads for vegan skeptics, and hopefully give you some inspiration for what to do with these mysterious beans.
If you love this recipe be sure to bookmark for future reference, drop a comment with your thoughts and share with a friend if you really, really love it!
Thanks again, and stay blessed.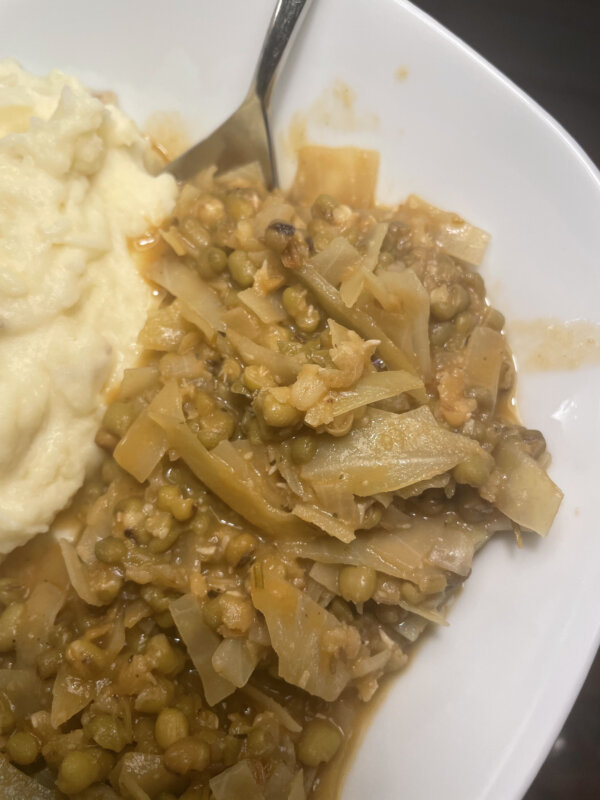 Passive Time

1

Hour 10 Minutes
Passive Time

1

Hour 10 Minutes
Peel and cut an onion into chunky cubes, set aside. Wash your cabbage using a fine mesh sieve, discarding the top layer.

Slice thinly like you would for coleslaw, with pieces no longer than 4 cm.

Heat oil on a saucepan and boil water in a kettle. Once oil is hot, add in onions, cooking for 3-5 minutes on a medium heat until they slightly soften. Add in all purpose, Italian herbs, cumin, coriander, chilli powder and vinegar, with a splash of water to form a paste and dissolve the spices.

Add in the cabbage, and once sizzling, cook for 3-5 minutes. Meanwhile, dissolve the stock cube in a cup of hot water from the kettle, then add to the pan, followed by mung beans. Give it a good stir, then add in 2 more cups of water, bring to a boil, then add in bay leaves, cover and simmer for 40 minutes to 1 hour.

Check halfway to ensure water is absorbing okay, if you need more add in half a cup at a time, then bringing it back to boil, stir to ensure the bottom isn't burning.

Once mung beans are cooked they should be soft to the bite, and the sauce thickened.

Serve with your favourite sides and entrees, enjoy!
If you have the time, leave to sit for at least 30 minutes after cooking, you get the perfect consistency.