When I first went vegan, one of my first questions was: Where are quality vegan sources of calcium? As well as vitamin D, Iron, even protein LOL.
But as I grew more into the lifestyle, I started educating myself, and realised there is an abundance of vegan sources of calcium out there, you just gotta know where to look!
Do vegans get enough calcium?
It's commonly known that non-vegans can get their calcium from dairy products, supplements as well as other foods in trace amounts. Vegans sources of calcium include: leafy greens, sesame seeds and soybeans, to name a few examples.
In fact, a study has shown that there is no correlation between low calcium and well-planned vegan diets. The keyword here of course being "well planned", which may be why people are slipping here and there. But with any diet, if it isn't well-planned, you may become deficient in certain nutrients.
Vegans can get more than enough calcium through whole foods, fortified foods, as well as supplements, but let's cover some staple whole & fortified food options for you to add to your shopping list.
Our list of vegan foods high in calcium
We'll now cover some vegan sources of calcium, as well as fortified foods that also provide that.
Pak choi
A great addition to any stir fry or oriental-inspired soup or broth-based dish.
Pak choi is a leafy green Chinese vegetable packed with calcium, providing you with 158mg per cup of shredded greenage.
Kale
Kale is another millennial food that has recently got a lot of hype. Arguably a vegan superfood to some extent, kale is great chopped up in salads, roasted into crisps and sauteed on the side of a main dish.
1 cup of chopped, raw kale provides you with 150mg of your daily recommended calcium, which is 15%!
Sesame seeds & tahini
Another food commonly eaten in Asian cuisine, I personally prefer them topped on my salads, in my falafels and baked in bread! 1 tbsp of sesame seeds provides 87.8mg of your daily recommended calcium.
Tahini I personally love in falafel wraps, also being the secret ingredient behind homemade hummus, 1 tbsp of tahini equates to 63.9mg of your DRV of calcium.
Poppy seeds
Poppy seeds are also great on top of salads, baked in bread and on other foods.
You may not notice the significance of poppy seeds for calcium, 1 tbsp provides 126mg, or 12.6% of your daily recommended amount.
Chia seeds
One of my favourite seeds to have on top of salads, mixed in omelettes, to bake in cake as a binder or in my smoothies, chia seeds for the win!
These, as well as being a complete plant-based source of protein, 1 ounce (28g) equals 178.9mg of your daily recommended calcium.
Almonds
Almonds are one of my favourite nuts to eat, I enjoy them in the form of almond butter, in my smoothies, as a raw snack, or even roasted with cinnamon and sugar!
½ cup of raw almonds provide you with 18.6%, or 186mg of calcium.
Chickpeas
Chickpeas, the star of hummus, falafel, and one of my favourite beans. Did you know they're rich in iron, folate and protein, and also alkaline?
1 cup of cooked chickpeas provides you with 80.4mg of calcium.
Navy beans
Navy beans are great stewed up with some veggies, quinoa and salad, a great staple food to have in your pantry.
1 cup of boiled navy beans provides you with 125.6mg of calcium.
Tofu & soybeans
Tofu is something I had to get used to, there's two types, silken and firm. In this case we're specifically speaking about calcium set firm tofu.
Once you get the seasonings right you can easily bring tofu into your regular diet, I recommend doing so by starting out with a tofu scramble recipe as an alternative to eggs for breakfast.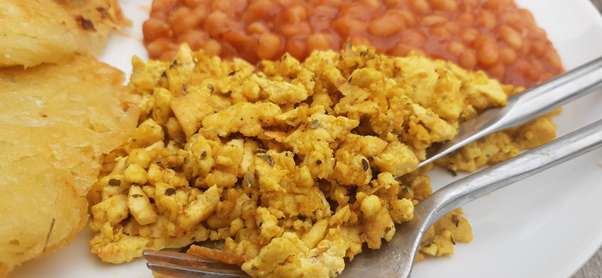 ¼ of a block of tofu is about 406mg of your daily calcium, 40% of your daily recommended.
Soybeans, in its edamame form, boiled, provides 51mg per 50g, around 5%.
Oatmeal
A daily staple for many, oatmeal is a great option for those looking to boost their calcium levels from the start of their day.
In merely one cup of cooked oatmeal, you can expect to receive 187.2mg of calcium, or 18.7% of your DRV.
Bread
Bread is something you'd usually overlook in terms of being a source of nutrients.
But other than zinc naturally occurring in wheat, since it's part of the law to fortify wheat with calcium, it is also part of what makes bread.
2 slices of brown bread provide you with 79.9mg of calcium, or 7.9%, so you can feel a little less bad about that almond butter jam sandwich.
Blackstrap molasses
These are commonly used in baking recipes but is so high in calcium that I though it too good to not incorporate into the daily diet.
My solution was to add it to my smoothies, which I usually put almond butter, hemp and chia seeds in also. 1 tbsp of blackstrap molasses provides 41mg of calcium, or 4%.
Fortified vegan sources of calcium
There are also an array of fortified foods rich in calcium. We'll go through a few name brands available in the UK below.
Cereal
With cereals it's a matter of checking the labels and making sure they're vegan, many are in fact vegan, just gotta know where to look!
With cereals you should see the percentage of calcium on the back of the box, to help educate your decision, but you could expect anything between 3-30% of your daily recommended calcium.
Milk
Oatly, Alpro as well as most supermarket brands of vegan milk are fortified.
Alpro provides around 15% per 100ml of plant-based milk. So, around a glass of Alpro almond milk should put you on 30-40%, first thing in the morning!
Yoghurt
Have you tried vegan yoghurts? They're great, especially with a coconut base, packed with friendly gut bacteria, and made from plant-based goodness!
Alpro, again, makes a mean vegan yoghurt, and 100g of it provides you with 120mg of calcium, or 12%, I usually go through half a tub in one go!
Oatly also provides a natural "oatgurt" which contains 15% of your recommended calcium in a mere 100g serving.
Vegan calcium food sources
We hope you enjoyed this post on the best vegan wholefoods and fortified foods rich in calcium. Now you know, you can be sure not to drop into risk of deficiency anytime soon, stay woke!