When you think about it, vitamin K is mostly only abundant in vegan foods, especially greens. Browse our vegan sources of vitamin K.
Kale
As mentioned, greens are the greatest source of Vitamin K as compared to other foods. It's no wander your parents said to eat your greens.
In merely one cup of kale, you can expect to receive a whopping 684% of your daily recommended Vitamin K. Think about swapping your regular lettuce for kale next time you make a salad!
Mustard Greens
Mustard greens, also a great source of Vitamin K for one who may not want to eat raw greens and prefers to have them steamed instead on the side of a vegan roast.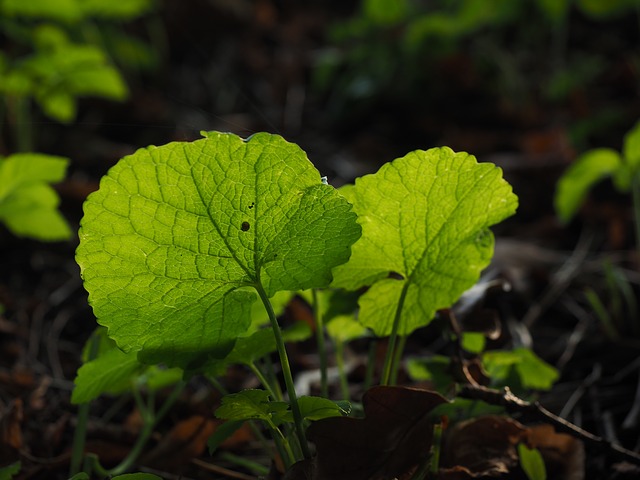 1 cup of boiled mustard greens also gives you a great quantity of 524% of your day's Vitamin K.
Cabbage
Probably a more affordable food on the list, cabbage is a vegetable easy to get a hold of, and high in a range of nutrients as well as Vitamin K.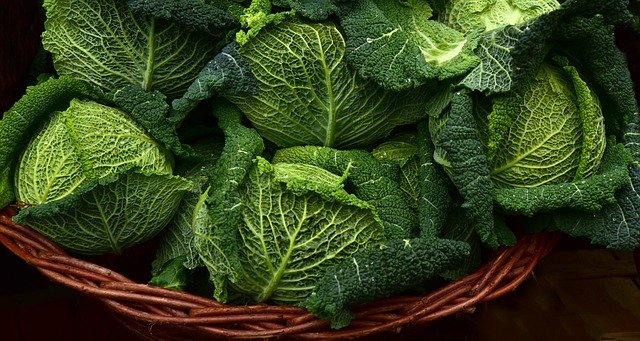 But in this case, 1 cup of raw cabbage you can expect to get 85% of your day's Vitamin K. To get this raw cabbage in your diet, try our rainbow coleslaw recipe today.
Broccoli
A nice veggie to have on the side of some boiled potatoes, vegan fish fry and some other steamed vegetables.
½ a cup of steamed broccoli gives you 138% of your day's recommended Vitamin K. Add it to your weekly shop.
Asparagus
It's good to know that a vegetable you may or may not like, regardless, comes with nutrients within.
One ounce of asparagus gives you 15% of your daily recommended Vitamin K.
Sauerkraut
Jam packed with other nutrients, a vegan form of probiotics and great as a condiment for a range of meals.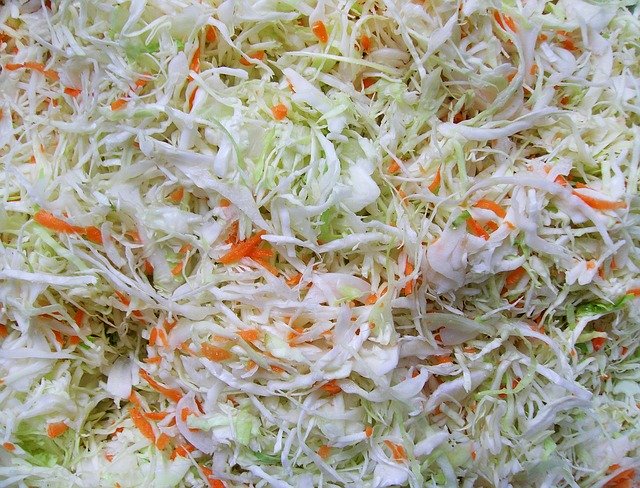 It's good to know sauerkraut also comes with a bit of Vitamin K for good measure, what with it being made from cabbage and all. One ounce of sauerkraut gives you 5% of your day's needed Vitamin K.
Prunes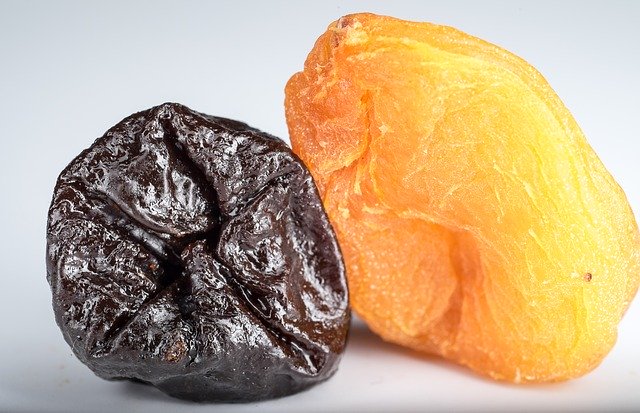 Great for relieving constipation, with oats (an acquired taste), and it's a great snack. Just 5 prunes gives you 35% of your daily Vitamin K.
Kiwis
Kiwis (or Chinese gooseberries) are one of my favourite fruits.
Rich in Vitamin C and Calcium (must be the black seeds) and also Vitamin K, providing 38% of your daily allowance in one medium fruit.
Try two kiwis sliced up thinly with a segmented orange sprinkled with pumpkin seeds for a highly nutritious breakfast.
Avocado
Well known for its creaminess, and trendiness, but not so much its nutrition. It turns out the avocado is a great vegan source of potassium, as well as being one of the healthiest fats to consume.
1 whole avocado also provides you with 53% of your daily recommended Vitamin K. Try our vegan guacamole recipe today to incorporate it into your diet.
Blackberries
Another one of my favourite fruits. I remember when I was younger around my older sister's house and we used to pick them from the bush growing in the cul-de-sac. It was like a goldmine that no one was tapping into.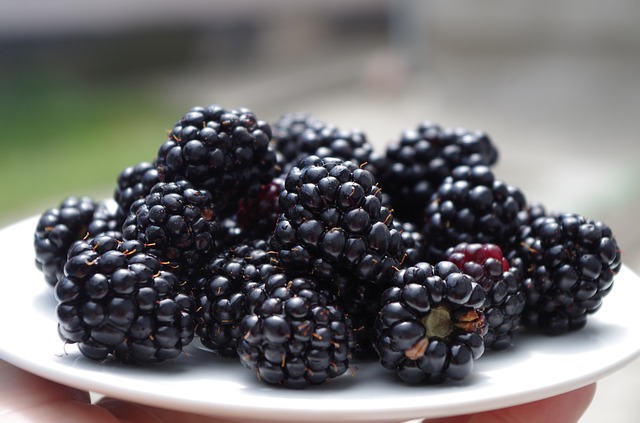 Naturally, as I got more into my nutritional research, I learned they're also a great source of both soluble and insoluble fibre, vitamin C and also, vitamin K.
1 cup of blackberries in fact provides you with 36% of your day's Vitamin K. Enjoy it as a nutritional, refreshing breakfast.
Cashews
Cashews are a great contributor to the vegan world, being a great base for cheesy pasta sauces, to pestos and vegan cheeses.
It turns out merely 1 ounce of these provides you with 12% of your daily recommended vitamin K.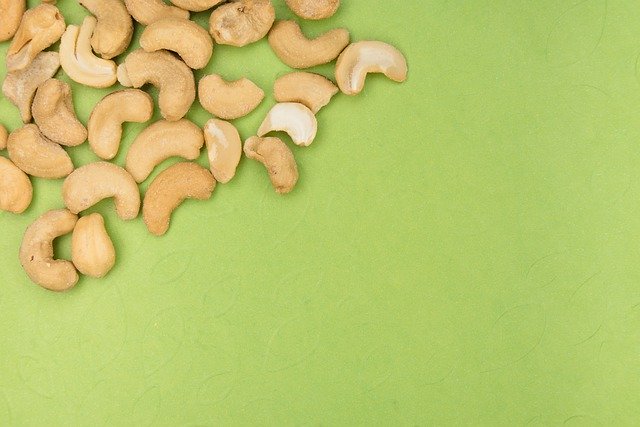 I personally enjoy these as a snack or eat them for breakfast alongside some fruit; This usually including kiwis or oranges.
Already being a great way to jump on the vitamin K early in the day.
Pine nuts
This is an ingredient I don't buy much mainly for the price, as it's great to use in pasta dishes, pesto as an example; but I hate the fact that they taste great and I end up eating all of them.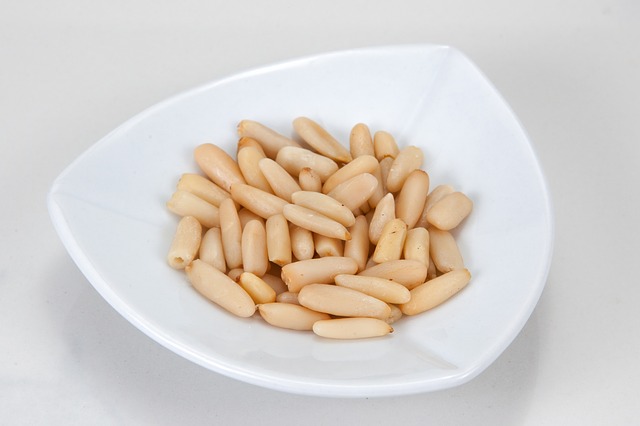 Nonetheless, if you were to make a pasta dish or pesto and use pine nuts, 1 ounce would provide you with 19% of your daily recommended vitamin K.
Why do we need Vitamin K?
Vitamin K is a blood soluble Vitamin, that plays a role in blood clotting and bone metabolism. This works with how Vitamin K stimulates the production of prothrombin. Vitamin K is also very important in the regulation of blood calcium levels.
Symptoms of low Vitamin K
When you're low in Vitamin K, there are an array of symptoms that may be telling signs:
Easy bruising
Excessive bleeding/Slow healing wounds
Bleeding in the stool
Bleeding in the urine
Although some are extreme symptoms, they are symptoms that could relate to a potential Vitamin K deficiency.
How can you increase absorption of Vitamin K?
As Vitamin K is a fat-soluble nutrient, it would be wise to pair Vitamin K rich foods with healthy vegan dietary fats i.e. Avocado, walnuts, seeds, etc. This in turn, like Vitamin D, can help in the absorption of the Vitamin.
There is an array of foods that are rich in Vitamin K, from fruits to grains and greens. Here is the list of the best vegan sources of Vitamin K.
Best vegan sources of vitamin K
So that was the list of the best sources of Vitamin K. Be sure to bookmark this if this helped you add stuff to your shopping list today.