Ever tried a loaded hummus salad before? We all want to eat healthy, but when it comes to salads, in general, they tend to lack luster. Especially when eating out, salads are just disappointing options to pick; Often with minimal seasoning, and generally overpriced.
This vegan loaded hummus salad is going to change your perspective on salads, loaded with a mixture of the following ingredients:
Hummus (try our homemade vegan hummus)
Red cabbage
Avocado
Mixed leaf salad
Cherry tomatoes
Walnuts
Brazil nuts
Hemp seeds
Olive oil
Salt
Pepper
This loaded salad recipe features hummus as the star of the show. Even better when it's homemade!
How to make a salad filling
I'm sure if you clicked here you love hummus as much as I do. I wanted to find a way to get the best of both worlds, without having to compromise for a side salad.
This loaded hummus salad is filling due to the high protein in the hummus, a combination of crushed brasil and hemp seeds to take the cake.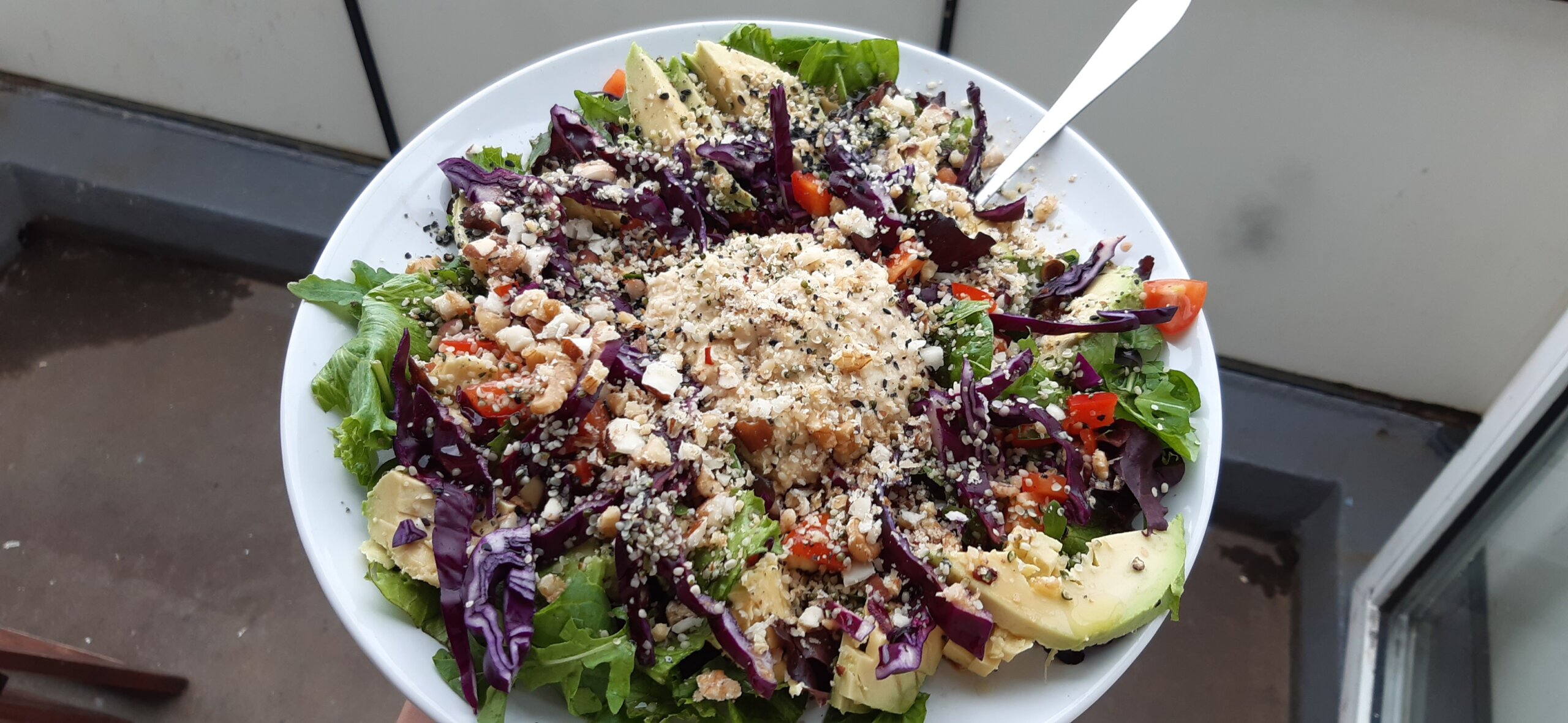 This salad is very high in plant-based fats, as well as being rich in complete proteins. All from the likes of the hemp seeds and avocado thrown into the mix.
Not to mention the high iron, selenium and omega content from the walnuts and brasil nuts; The hummus itself is highly nutritious, so makes for a perfect post-workout meal to refuel them muscles.
Is houmous healthier than salad dressing?
When you compare to the typical fatty dressings, and salad dressings with excessively added sugar, hummus is a considerably healthier choice to eat as a garnish for salad.
The high protein content, healthy fats and lemon juice naturally incorporated in the hummus, helps with the absorption of key nutrients and vitamins such as Vitamin A, C & K.
Does it pair well with salad?
Hummus pairs really well with salad? The garlicky, bold hummus flavour pairs very well with the subtle taste and crunchiness of salad ingredients.
The hummus also adds for an additional creamy, almost nutty texture, different to the typical salad dressing.
We hope you enjoy this vegan loaded hummus salad recipe as much as we do. If it turns out well, or you have an improvement, leave a comment below!
Save and share with your friends, stay blessed.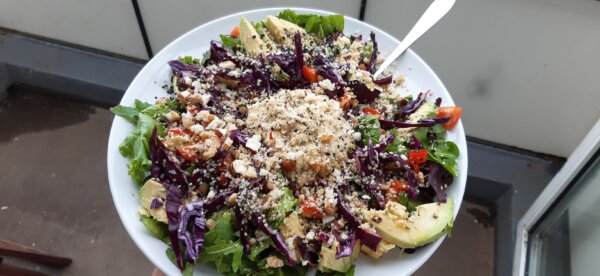 | | |
| --- | --- |
| | |
Wash all veggies thoroughly, transfer to a chopping board and chop cabbage and leafy greens into thin strips, cube the tomatoes into quarters.

Peel and cut an avocado in half and score lightly across the surface to get long chunks.

In a spice crusher, crush up the walnuts and brazil nuts into little pieces. If you don't have a spice crusher, chop them finely.

Combine veggies and avocado in a salad bowl, toss until well-combined.

On a plate, place a generous helping of hummus in the centre, and place the salad mix carefully around the dip.

Sprinkle atop the hemp seeds, walnuts and brazil nuts, followed by a drizzle of olive oil, a crack of salt and pepper.

Serve and enjoy your loaded hummus salad, enjoy as a satisfying lunch, a post-workout meal or a creative salad idea.