If you're a new vegan, you've probably been thinking of how to use tempeh. We've got the perfect tempeh salad recipe for you to try on for size.
You may of heard of tempeh, being the fermented form of soy. Known for being super high in protein.
Is tempeh good in salad?
Tempeh tastes great in salad, works very well as a protein for those looking to "beef" up their salad and make it more satiating.
I personally love the texture when it's lightly sautéed, pairing perfectly with greens, leaves and seeds!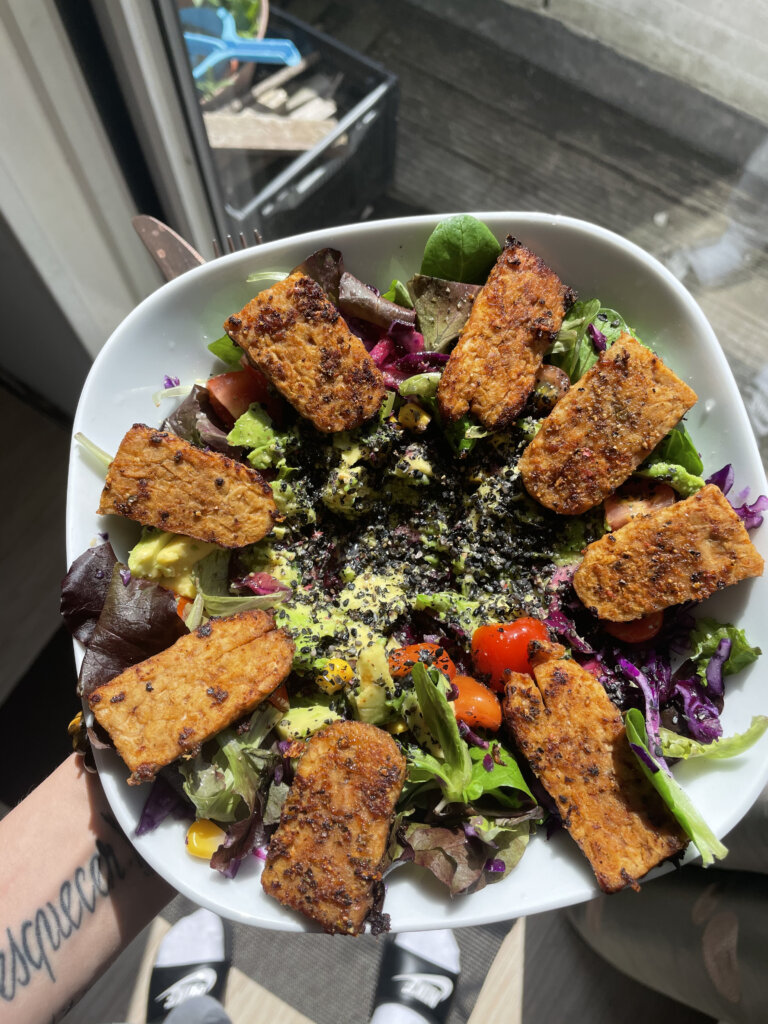 Do you need to cook tempeh for salad?
It depends on where you source it from. If you've bought yourself some pasteurised tempeh from the shop, technically no.
But it does taste a lot better and has an enhanced texture if it's cooked prior to eating!
Is tempeh high in protein?
This tempeh salad recipe is great for first-time vegans trying to find healthier options, whilst not compromising for protein.
This recipe calls for 100g of tempeh per portion, that alone contains 19g of protein.
Try this recipe today and consider it for your next light lunch or potential post-workout meal.
We hope you enjoy this vegan salad recipe. If you love it, be sure to try our tempeh breakfast wraps.
If you love it, be sure to bookmark for future reference, tell a friend and drop a comment with any thoughts.
Thanks for considering us for your recipe inspiration, stay blessed.
Salad veggies and dressing
| | |
| --- | --- |
| Salad veggies and dressing | |
Wash all salad vegetables well, drain and transfer to a chopping board.

Finely chop cabbage and mixed leaf salad into thin strips, cut tomatoes into quarters and cube bell pepper, peel and cut a ripe avocado into cubes set aside.

Drain your tempeh and cut in half lengthways, heat oil in a frying pan and cook tempeh with soy sauce, garlic and onion powder, stir frying for 5-8 minutes, or until crispy. Turn off heat, and set aside.

Combine avocado, leaves, sweetcorn and veggies in a large bowl. Drizzle on olive oil and vinegar, using salad tongs to combine well. Sprinkle on some salt and pepper, then evenly distribute tempeh pieces on top of the salad.

Sprinkle on the black sesame seeds, serve and enjoy!