You know what goes really, really well on the side of pretty much every Mediterrainean food? Tabbouleh.
It's basically a whole grain infused with lemon, mint, and salad veggies, quick to make, and great hold or cold.
Ready to find out how to make it? Let's go…
First of all, what's in Tabbouleh?
Bulgur wheat
Cucumber
Lemon juice
Mint
Olive oil
Parsley
Red onion
Tomato
Pretty much, that's what makes up the infamous side dish.
It's a perfect balance of zing from the lemon and freshness from the cucumber, mint and parsley. All marrying together beautifully, to create a banging naturally vegan tabbouleh.
Is it good for you?
Tabbouleh is essentially a salad, rich in minerals from cucumber and tomato.
As well as the added fresh mint and parsley, you've got yourself a much healthier side dish than plain rice.
As a coeliac, what can you substitute for bulgur wheat in this?
For those who can't eat bulgur wheat for obvious reasons, you could always substitute for either quinoa or millet; both respectable grains to use for the same thing.
For those who are able to digest gluten, you can feel free to use couscous or cracked wheat if you don't have bulgur wheat on-hand.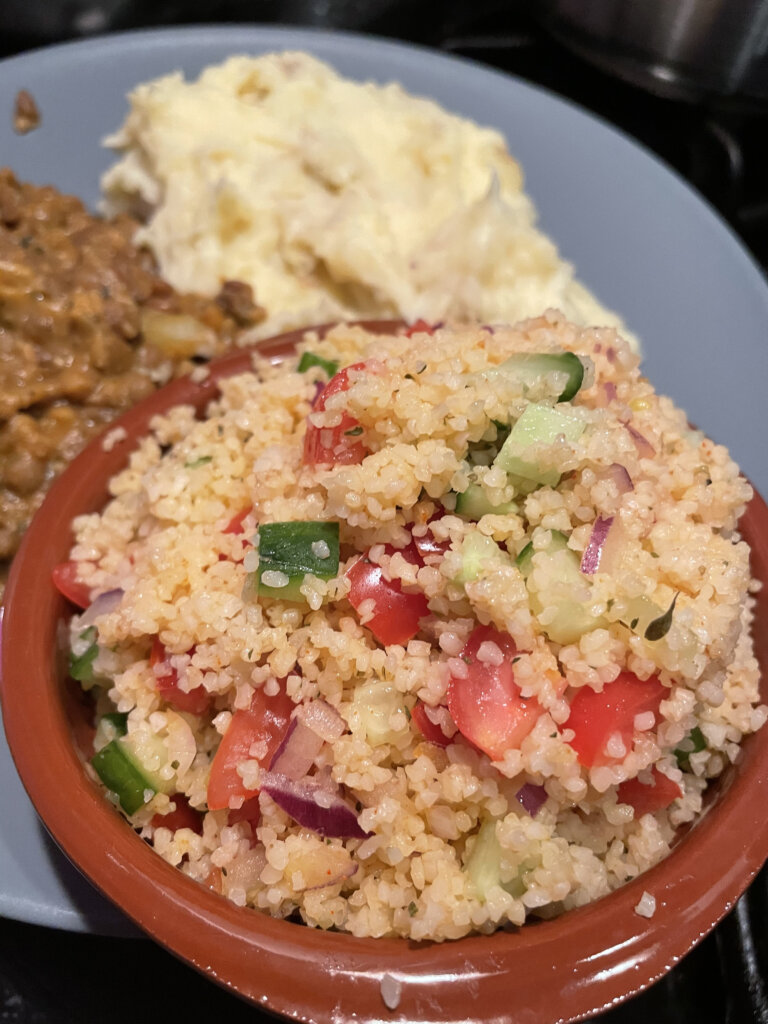 What does tabbouleh pair well with?
Tabbouleh goes perfectly with some homemade vegan falafels, tzatziki, as well as a mediterrainean spread including all of the above, with hummus, vine leaves and all the extra trimmings.
You may find it preferable, and more hearty than the average side salad, and might want to experiment having it with different meals.
I personally enjoy as part of a platter or alongside chickpea or lentil stews.
Can you eat tabbouleh by itself?
By any means you can, if eaten in a big portion you can enjoy this as a light lunch, although I personally prefer something heartier. Each to their own!

We hope you enjoy this Mediterranean tabbouleh recipe.
If you like it feel free to share with a friend or vegan skeptic, bookmark and leave a comment with your feedback!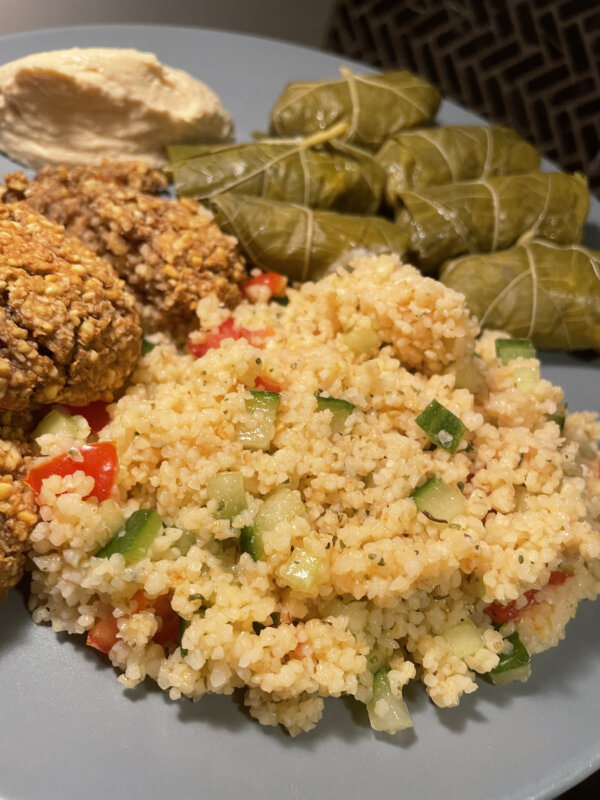 | | |
| --- | --- |
| | |
First, rinse off the bulgur through a sieve to wash off excess starch. Heat water in a kettle in the meantime.

Add rinsed bulgur to a saucepan, and 1 cup of hot water to the mix, ratio's 1:1 incase you want to use more or less than specified.

Heat water till boiling, then cover and simmer for 10-15 minutes, or until water is fully absorbed, set aside to cool once cooked.

Chop remaining ingredients (cucumber, tomato, onion into small dices, and set aside. Grab fresh herbs mint and parsley and finely chop too.

Once bulgur wheat is cool, transfer to a large bowl, add in the olive oil, lemon juice, herbs and veggies, toss and combine well.

Add a sprinkle of salt to your preference and taste the mix, adjusting for salt.

Once combined fully and you're happy with the flavours, you can serve immediately or keep in the fridge for up to a week, enjoy!