I don't know about you but I love me a good wrap for breakfast. Tempeh is a great source of lean vegan protein to start your day with, and the perfect balance of mushrooms gives you a fantastic balance of taste and texture.
A great recipe that takes all of 15 minutes to make, great for those who love a morning workout and need that post-workout fuel; also for those who want to incorporate a bit of tempeh into their diet.
Is this wrap only good for breakfast?
This wrap doesn't need to be reserved only for breakfast. You can enjoy this tempeh wrap as a lunch, a post-workout snack, or a hearty breakfast as I personally prefer.
I do also have it for lunch sometimes too, just depends how I'm feeling.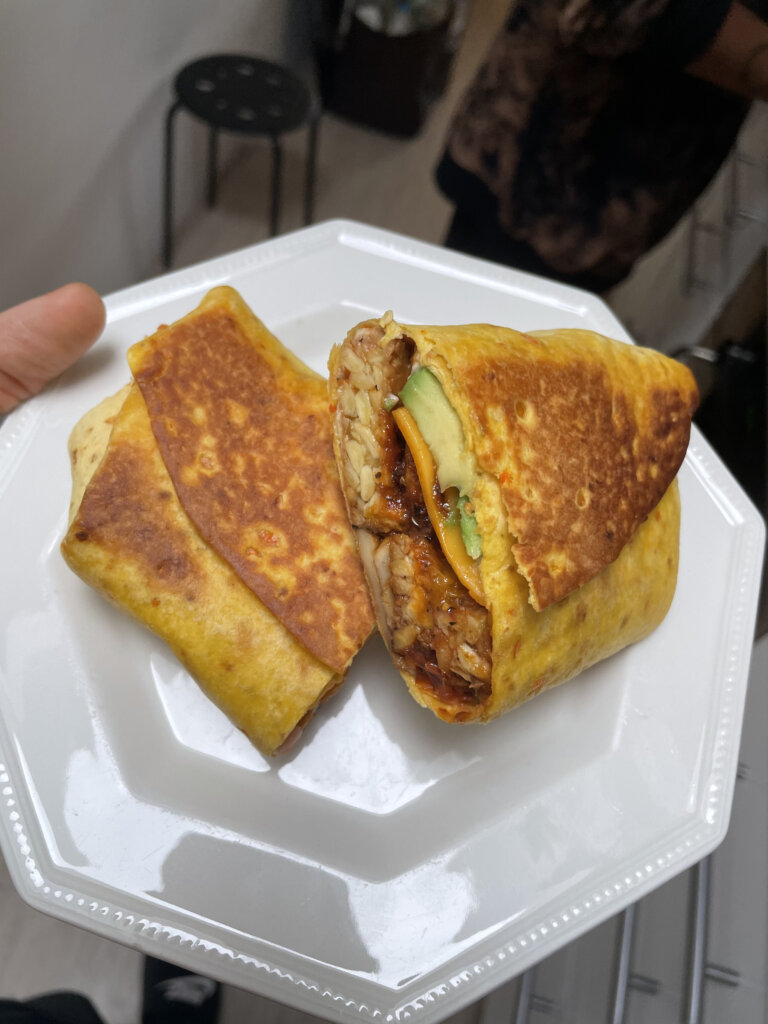 Does tempeh go well in a wrap?
Tempeh goes great in wraps, pairing well with leafy greens and carrying flavours very well.
Personally I wouldn't recommend a tempeh wrap with minimal toppings, you've got to double down on the extras to get tempeh to taste great – I don't like it very much by itself.
How did I come up with this recipe? By accident really.
I was getting bored of tofu scramble and my everyday breakfast wrap and wanted to try something new.
I've always loved mushrooms for breakfast and wanted to incorporate it into a breakfast that didn't need too much work.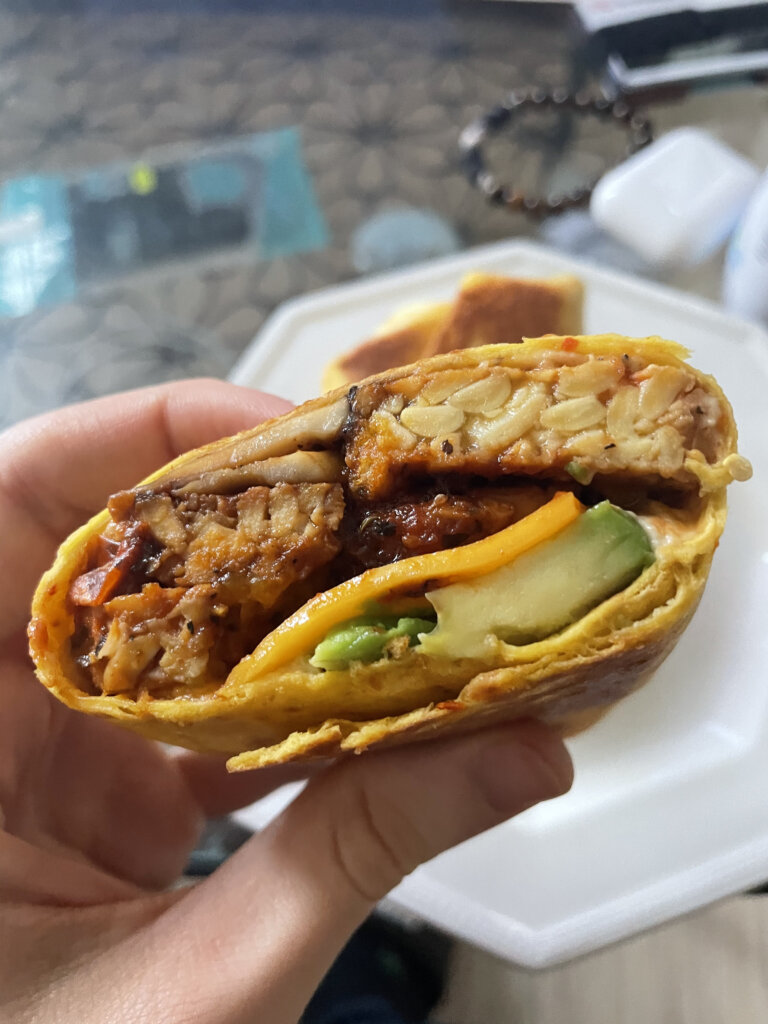 I knew would be tasty and filling too, which is what I was going for as I was bulking up at the time.
So I developed this wrap to solve that problem, a happy accident if you will, and it's one of my go to's now.
Hopefully you love this recipe as much as I do. Thanks for choosing Veganising It for your recipe inspiration; Stay blessed.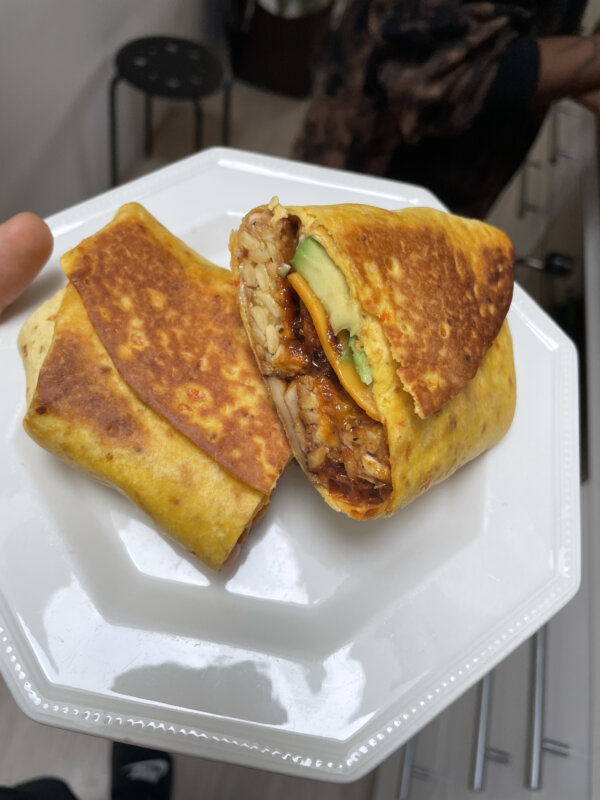 | | |
| --- | --- |
| | |
Wash the mushrooms of all soil and set aside, then clean the cherry tomatoes and lettuce, then drain.

Cut the onion into thin strips, set aside. Cut tempeh into long strips, about 1cm thick width-wise, then into quarters. Thinly slice mushrooms and tomato into quarters, set aside.

Heat oil on a skillet/pan, when hot, add in cherry tomatoes, mushroom and tempeh. Add in garlic powder, smoked paprika, salt, pepper, tomato paste and soy sauce. Once sizzling, turn heat down and stir fry for 5-7 minutes on a medium heat.

Thinly slice onion into strips, finely chop lettuce and avocado into long strips.

Lay out 2 wraps on separate plates. With the back of a spoon, layer the wrap with hummus, then place lettuce and onion.

Spoon in half of the cooked mixture, and top with avocado. Try to keep the mix in the middle of the wrap 1 inch away from each side, so it can still be wrapped properly. Squeeze sriracha on top and fold the bottom inward, then tuck the right side of the wrap under the left, like the image shows.

Once the wrap is made, keep it steady with a toothpick. Repeat the process for the other wrap.

Serve and enjoy for a protein packed breakfast, or as a quick work lunch idea.